Bride Lingerie: Ultimate Behind The Scenes
Essentials That Will Surprise You

Bride Lingerie - As any bride will tell you, there's a ton of prep and behind the scene details that go into making your debut as a beautiful bride.
From hair, makeup, nails, facials, to the perfect wedding dress, beautiful lingerie, and all of the other things that go into setting the stage for your stunning entrance.
We're revealing the best insider lingerie essentials that will make any bride look her most lovely:

Bridal Bustier
Brides Lingerie:  The Inside Scoop

You can count on your best girlfriends, and on us, to give you the real truth about all things lingerie. From what works best, to common faux pas, these brutally honest tips will steer you towards bride lingerie success.
Bridal Bras
Beautiful Lingerie Tip
It can be a VERY long day in a scratchy bras, bustiers, and intimate apparel that is too rough or coarse against your skin. 
Consider smooth silk, satin or microfiber wedding lingerie styles for a soft and easy fit that doesn't irritate.

Getting The Best Bridal Lingerie Fit

No matter the bride or the lingerie, the only way to ensure you look your very best is by perfecting the fit of your bridal underpinnings. We're here to share our top tips for nailing a great fit.
Bridal Bustier
Bra Shopping For The Best Bridal Bras

Trying to navigate the stores in search of the perfect bridal lingerie pieces can be daunting for even the most seasoned shopper. Save time and money with these shopping secrets for scoring the most elegant items for your wedding day.
The Best Bargain Bridal Undergarments - It's no secret that weddings can cost a small fortune, luckily your elegant bride lingerie doesn't need to. Our savvy cost saving secrets will keep you looking and feeling posh, with enough cash leftover for your honeymoon fund.  Affordable Tips & Tricks.
Beautiful Bridal Nightgowns - While it's tempting to skip this step, we're revealing why it's make or break important for you to try before you buy when it comes to bridal nighties and lingerie.  Learn What You Should Know.
Honeymoon Lingerie - Save yourself from honeymoon humiliation with helpful hints from brides who have already been there. Learn from their mistakes and sidestep any disasters of your own so you can focus on looking your most beautiful.  How To Avoid Embarrassing Agony.
Bridal Nightgown
Did You Know?

Many online stores carry regular and plus size lingerie. And the bonus is you can do all of your wedding lingerie shopping 24/7, from the comfort of your own home.
When shopping online, be sure to double check sizing charts, and return policies.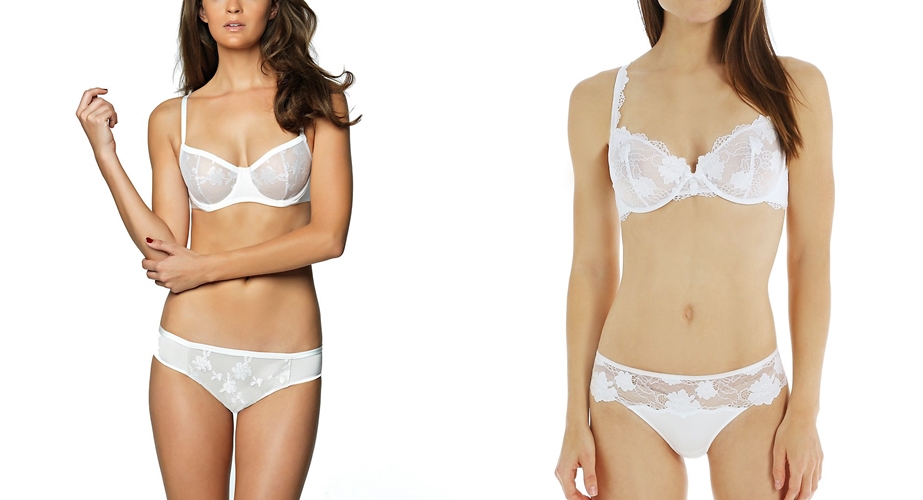 Mastering The Art Of Beautiful Lingerie

From specialty sizes to mastering certain lingerie looks, these expert tips will help any bride ace even the most advanced bridal lingerie issues.
Elegant Bridal Lingerie Thongs - Shop for beautiful bride lingerie and calm your nerves with these easy tips on wearing thongs for your wedding. Any bride can pull off this stunning style with our guide to facing your fears and looking fantastic.  Find The Perfect Panty.
Elegant Bridal Lingerie Thong - Ease your fears with our stripped down secrets on how to wear bridal thongs in a way that's both adventurous and elegant.  How To Be A Daring Bride.
Plus Bridal Lingerie Fundamentals - These essential lessons go beyond the basics and teach any bride the must-haves on beautiful lingerie for her big day.  What You Need To Know.
Bridal Underwear
Beautiful Lingerie > Bride Lingerie