*FTC Disclosure - If you make a purchase through a link on this site, we receive a small commission at no extra cost to you.*
Best Panty Brand - Choosing That Perfect One For Everyday Wear

Best Panty Brand – So, you're looking for new panties but aren't sure where to start or which brands offer what? Aren't they all the same?

It can be confusing. With pesky problems like panties not staying in place, VPL - visible panty lines, uncomfortable waist bands, etc., it's no wonder so many end up at the back of the drawer.
Just like bras, panty brands vary. A lot. Some are everyday basic, some are more fashion-forward; some have a smaller fit, some are roomier; some have a limited size range while others offer up to 3X, etc.
That's why it's important to have the information you need before you buy.
In this article, we take a look at popular women's underwear brands - from the styles and fabrics to what they have to offer to help you make your best choice.
Best Panty Brand - Popular Picks
Jockey is a contemporary lifestyle and lingerie brand that has it all, from casual loungewear to stylish bras and underwear. They offer an extensive selection of popular styles, including-
Boyshorts
High cuts
Hipsters

Plus size

Slipshorts
Thongs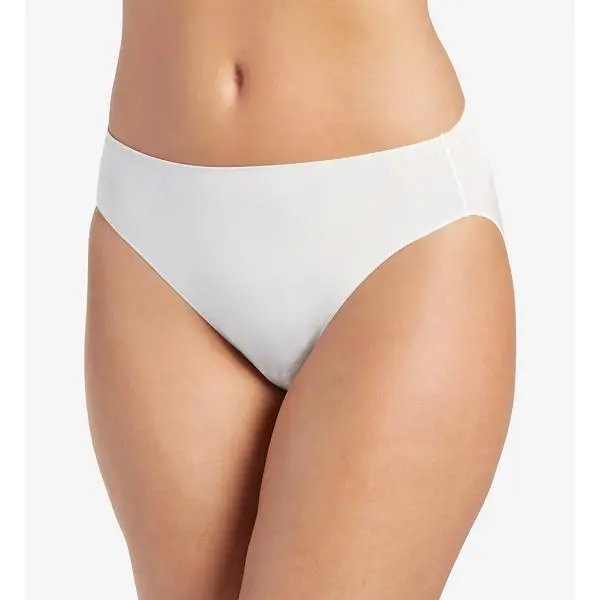 JOCKEY
Jockey has a variety of classic underwear collections that cater to different preferences and occasions. Each one is designed for maximum go-about-your-day comfort and an easy fit.
Whether you're wearing your favorite tailored pants or leggings, Jockey No Line Panty Promise offer a no visible panty lines look. Sizes 5, 6, 7, 8, 9 and 10.

For smooth and stylish essentials, opt for their silky Elance collection. Sizes 4, 5, 6, 7, 8, 9, 10 and 11.

Prefer light control shapewear? Skimmies & Slimmers contour and slim problem areas. Sizes S, M, L, XL, 1X, 2X and 3X

Looking for a solution to pesky bladder leaks? The Worry Free collection offers built-in leak-proof protection. Sizes XS, S, M, L, XL, 1X, 2X, 3X and 4X.

Jockey is all about comfort and simplicity without sacrificing style.
What about materials and colors? Their focus is on soft easy-wear materials like cotton, cotton blends, and synthetics in muted prints and basics along with seasonal colors. 
Get Your FREE Lingerie Planning Guide!
Get updates on style and fit tips, advice from a lingerie designer, a FREE e-guide, and more, straight to your inbox.  CLICK HERE!

An environmentally conscious brand, Hanky Panky embraces both femininity and a sweet dash of sex appeal.
Designed and manufactured in the United States, they offer a extensive selection of luxurious styles -
Briefs
Boxer briefs
Brazilian bikinis

French Briefs
High / low rise
Hipsters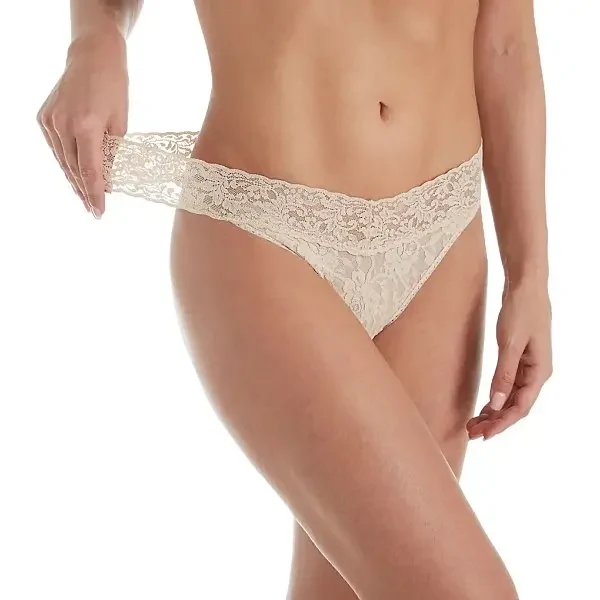 HANKY PANKY
Their palette includes a beautiful rainbow of basic and bright colors and captivating prints and patterns.
What sets Hanky Panky panties apart from other brands? Their signature S-T-R-E-T-C-H nylon lace.
Super soft, this lace is designed to adapt effortlessly to your shape, ensuring a comfortable fit that's designed to move with you.
Their size range includes OS, XXS, XS, S, M, L, XL, 1X, 2X, and 3X. Individual sizes are determined by each style.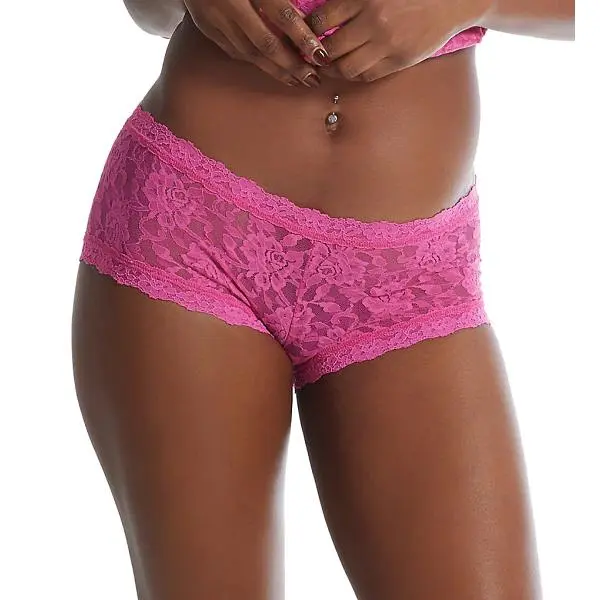 Looking for something other than lace?  Not a problem.  Hanky Panky panties are also available in a variety of other fabrics including, cotton, plant-based rayon, spandex, and mesh blends.
While Hanky Panky tends to be a bit pricier side, they are one of the best panty brands if you're searching for a stylishly edgy look and soft, stretchy fit.
As American as apple pie, Hanes is one of the largest intimate apparel and clothing manufacturers in the world. This best panty brand is all about the simplicity of day-to-day underwear essentials.
Popular tag (and chafe) free styles provide full coverage in styles like -
HANES
When it comes to materials, Hanes focuses on comfort and dependability for day to day wear.
From organic cotton to polyester and spandex blends, if you're a fan of easy peasy panties, Hanes is, in our opinion, one of the very best.
An economical "best panty brand," Hanes makes it easy to stock up and save on your favorite styles with pre-packaged 4 and 6 pair value packs that offer significant savings.
Sizes include OS, XXS, XS, S, M, L, XL, 1X, 2X, 3X. Each panty style has its own size range.

A gender-inclusive lingerie brand, Calvin Klein has a fresh modern vibe that's cutting-edge.

Known for their high-profile advertising campaigns, Calvin Klein has featured supermodels and celebrities from Kate Moss and Brooke Shields to Natalia Vodianova, Kaia Gerber, and Kendall Jenner.
Best-selling Calvin Klein underwear styles -

CALVIN KLEIN
Available in breathable cotton, microfiber, lace and recycled nylon, they are a great pick if you're looking for a panty that's simple, soft, and sexy.
And what about fit and feel?  It's worth noting that Calvin Klein underwear tends to have less stretch and fits on the smaller side, so you may want to consider a slightly larger size for optimal comfort.
Calvin Klein sizes include XS, S, M, L, XL, 1X, 2X, and 3X. Individual sizes vary by style.
>> Popular Calvin Klein panty styles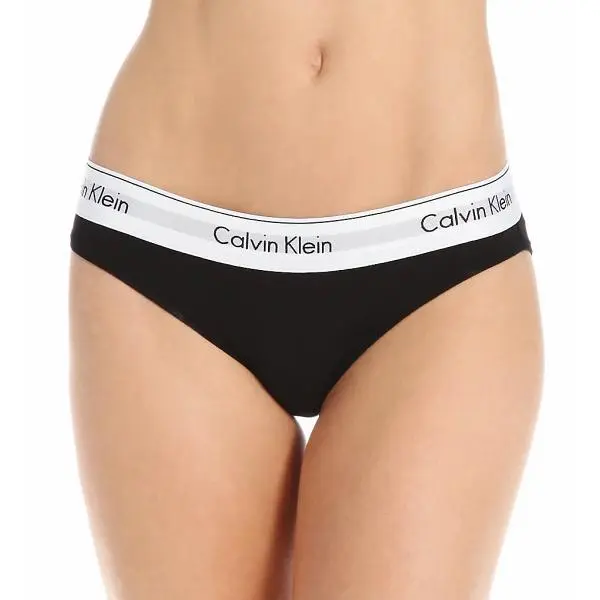 For more than 70 years Olga lingerie – yes, there really was an Olga – has been the go-to brand for curvy figures and plus sizes.  The secret to their success? They design "for real life and real comfort."
Olga underwear styles include -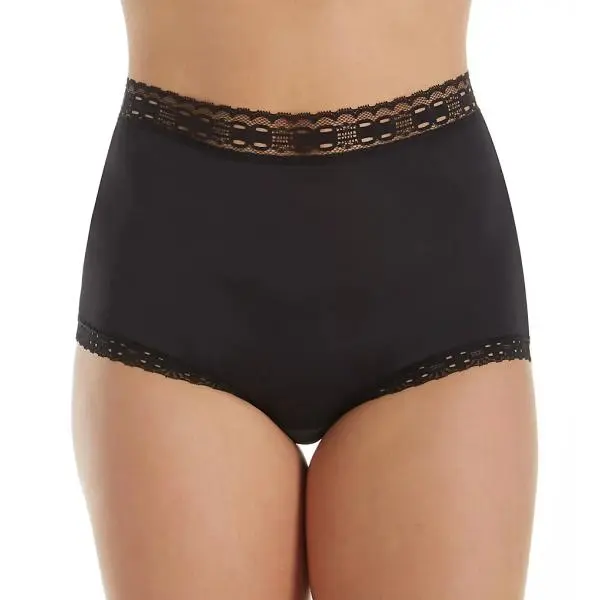 What do we like about this panty brand? Comfort, quality and durability. They also understand the unique challenges of curvier and full-figured silhouettes.
Olga panties range in sizes S, M, L, XL, 1X, 2X, and 3X.

What about materials? Silky stretch microfiber and lace fabrics that have generous full coverage with just the right amount of stretch and light support.

OLGA
Though Olga offers a very limited number of styles in basic colors, they enjoy tremendous customer loyalty as an intimate apparel favorite that fits and wears beautifully.
Vanity Fair is one of the oldest lingerie brands on our list and has been a leader in the intimate apparel world for well over a century.
Comfortable and long-wearing, they have a nice variety of classic styles that are perfect for all shapes both on and off the clock -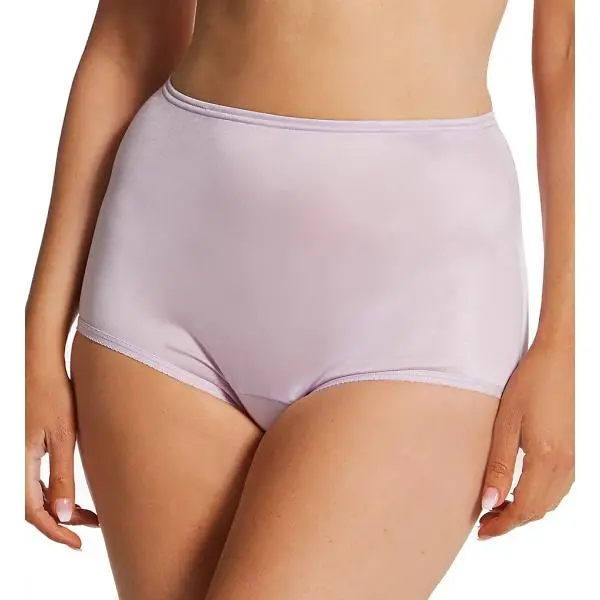 VANITY FAIR
Looking for Vanity Fair underwear, but not sure which fabric you prefer?  Here's are a few favorites - 
Illumination - smooth, sleek microfiber provides a seamless, full-coverage fit with a touch of stylish sophistication

Beyond Comfort - ultra-soft breathable fabrics with all-way stretch have a positively luxurious fit and feel that prioritizes comfort
Flattering Lace - smooth, stretchy microfiber with delicate lace detailing add a touch of elegance for a wonderfully feminine look

Perfectly Yours - silky stretch nylon in full coverage styles designed to stay in place without riding up are a VF classic
No Pinch No Show - seamless, tagless microfiber panties are designed for a worry-free invisible look under form-fitting clothing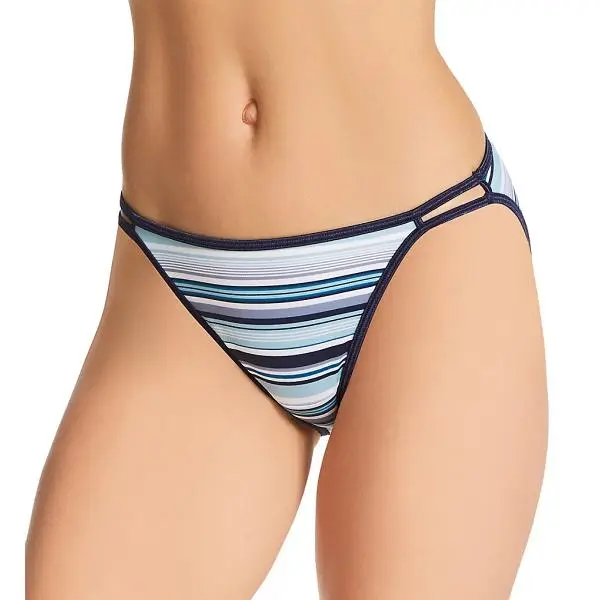 VANITY FAIR
And, what about sizes?  Vanity Fair panties offer comprehensive sizing that's very generous - from standard to harder to find plus sizes, making them a best-selling favorite.
Their size range includes 5/S, 6/M, 7/L, 8/XL, 9/2X, 10/3X, 11/4X, and 12/5XL. Style sizes may vary.

Bali - the underwear brand with the exotic-sounding name is a great pick for active and daily wear. We're big fans of its quality, affordability, and hassle-free style choices.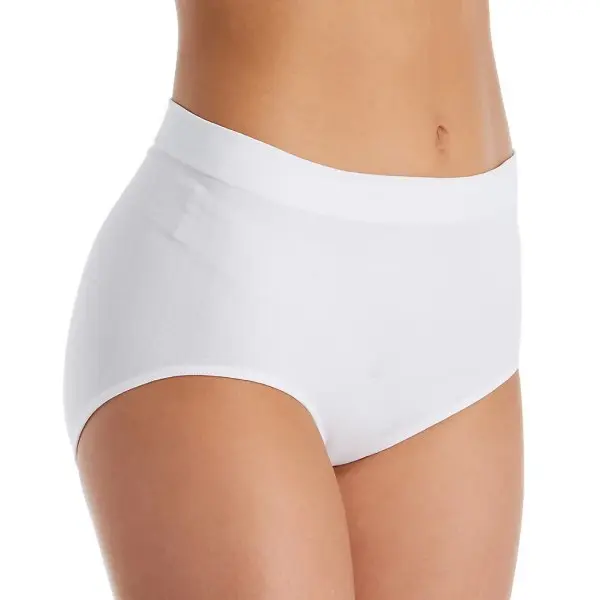 Here are a few of their most popular no fuss no muss collections - 
Comfort Revolution

Seamless edges help minimize VPLs - visible panty lines - for a super smooth look 

Soft, lightweight, & breathable fabrics offer a fresh feel and all-day comfort 
Flexible, stretchy fit that contours to your shape
One Smooth U
Waistbands designed to stay in place, prevent uncomfortable shifting or rolling 
Invisible edges make it ideal for fitted clothing
Full coverage for additional support and a smooth silhouette
Skimp Skamp
Lightweight cut on the bias stretch styles
Classic design with full coverage 
Silky-smooth texture
Double Support
Unique double-ply front panel provides extra support 
Full back coverage offers a smooth appearance under clothing
Comfortable waistband has a snug and easy fit
BALI
A best panty brand feature we really like? Bali panties are available in soft, neutral shades for greater wardrobe flexibility.
Discounted multi-packs allow you to mix and match while stocking up on your favorites without breaking the bank.
Bali sizes include 4/5, 5, 6, 6/7, 7, 8, 8/9, 9, 10, 10/11, 11, 12, 12/13, 13, and 14. Sizes may vary for each panty style.