Lingerie Garter Belt
A lingerie garter belt is a fantastic way to spice up any lingerie drawer.
Garter belt sets and sexy lingerie have been around a long time and never fail to please.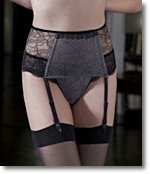 From the 1940s through the 1960s, before pantyhose gained popularity the garter belt was a popular & comfortable alternative to traditional corset and bustiers for holding up stockings.
You can get lots of ideas and shop online stores for a great selection.
If you prefer a bricks and mortar store, look for one that specializes in beautiful lingerie and intimate apparel and is respected for their quality.
Invest a bit more and buy better quality.

Lingerie Garter Belt

Cheaper garters tend to twist and sag making them very uncomfortable... and they wear out quickly.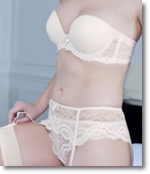 Lingerie undergarment fabrics with a touch of lycra are more comfortable, longer wearing and offer a good bit of support.
Select several garter belts and stockings styles and fabrics to try on before purchasing.
If you order from an online lingerie store, check their return policy before you buy.
Lingerie garters in silk or satin are very good choices. They are soft and less likely to chafe against your tender skin.
The most common mistake is not getting the correct size. It should have a snug and comfortable fit and not cause any bulges.

Take a good look for durability.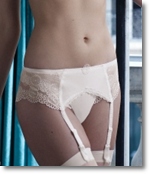 On cheaply made garter belt sets the clasps are usually the first thing to break, so invest a little more in great quality and you'll end up enjoying your garter for years to come.
The clasps and straps should be the changeable type, so you can adjust them for your body shape, height and comfort.
After a few practice tries it will become easier. Ask the salesperson for help.
If you're still having difficulties, it might be time to try another style. Don't be shy. You want to look and feel marvelous!