Bridal Undergarments -
The Best Styles That Look Luxurious

Bridal Undergarments - A bride wants to look and feel her most beautiful on her wedding day, but this doesn't mean blowing your budget on high end beautiful lingerie that eats into your savings and leaves you stressed about spending too much.
No worries - from luxurious lace to silk, satin and microfiber, we've rounded up with best bridal lingerie styles that give you all of the luxury you can imagine without the steep price tag. Here are our favorites.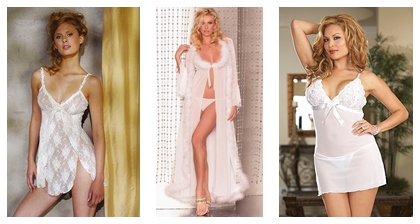 Bridal Undergarments - Insider Tips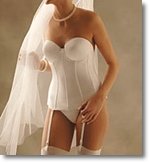 Bridal Lingerie
Airy, whispery chiffon lingerie looks lovely and strikes the perfect balance of sexy and sophisticated, making it a favorite choice of many brides.
Real silk chiffon can be pricy, so look for synthetic blends that have the same lavish style without the price tag.
Try a chiffon chemise and tap pants set, or a dreamy, sheer nightie to romance your new hubby, and save your pennies for other elements of your special day.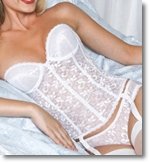 We adore microfiber lingerie for the comfort and cash savings, and the luxe look and feel that gives brides the opulent style they crave without breaking the bank.
Stretch microfiber or modal fabrics are silky smooth to the touch, feel weightless, and come in a vast selection of styles that will stun your sweetie while going easy on your savings. A swingy microfiber nightie or sleek bustier are sensational styles to consider for your big day.

If all-over lace lingerie is too pricy for your budget, look for beautiful bridal lingerie in an affordable fabric with lace trim instead.
Silky pair of boyshorts with lace trim around the legs, or a satin chemise with lacy straps can be just as romantic and beautiful without costing a fortune.
You'll still enjoy the luxurious look of expensive intimate apparel without having to shell out the cash for over the top lace lingerie.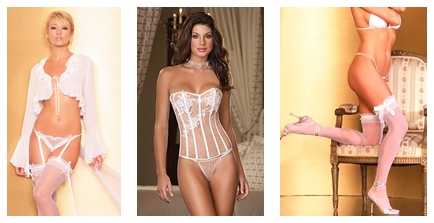 Intimate Apparel With Lace Trim
Even the most modest lingerie can look indulgent when you look for the little extras that make a world of difference - trims and finishes that elevate it to the special status of wedding lingerie.
A simple satin camisole with spaghetti straps becomes simply sensational when trimmed with a ruffled hem or a lace neckline.
An affordable shapewear slip gets the luxe look for less when it's trimmed with glamorous satin straps or a pretty lace panel.
Look for easy and economical styles that give you that special and sumptuous feeling that you want on your big day, without eating up your entire wedding budget.
Your new husband will be mesmerized by whatever you wear, regardless of how much or how little you spend.
Take the time to find styles with special details that give you that posh feeling for a fraction of the cost of high-end lingerie.