Bridal Undergarments
Choosing the right bridal undergarments and bride lingerie are an important part of any wedding dress and special day.
You might not think this, because the wedding guests won't see your wedding lingerie, but think about it this way; you are dressing up for the other guest of honor at the wedding!
Whether you're wearing strapless backless bras for a strapless wedding gown or a bridal corset to accentuate your curves, there are a few tips and tricks that you should keep in mind when shopping for your bridal undergarments.
Bridal Undergarments: Bustiers Or Longline Bras?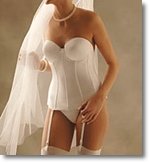 Bridal Lingerie
If you cannot decide between long line bras and a bridal bustier remember that comfort should be first and foremost in mind.
A waist cincher or corset might look great, but think about how you will feel wearing it during the wedding and the reception afterwards.
If you are worried about comfort on the big day, make sure the wedding bra and panties, and for that matter any bride lingerie you choose is comfortable! It can be a very long day when you're uncomfortable.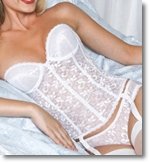 Of course, that is not to say that all wedding bra styles, waist cinchers and bustiers are going to be uncomfortable!

Bridal bras that are form fitting and constrict your body do require some practice and getting used to.
Try wearing them around the house and see how you feel. Get used to them. A little practice is sometimes all it takes.
If you are wearing a wedding dress corset, bustier or bra with boning, look into steel rather than plastic boning, as it will hold its shape.


Wedding Lingerie Colors

Consider color. What color of wedding lingerie is going to make you feel good, and what colors will make you shine?
Some women love the idea elegant bridal lingerie ...sweet and demure ivory, white or peach, while other women prefer colors that are more lush and passionate, like ruby red or emerald green.
Of course black is a classic wedding night lingerie color, so consider what your favorite colors might be.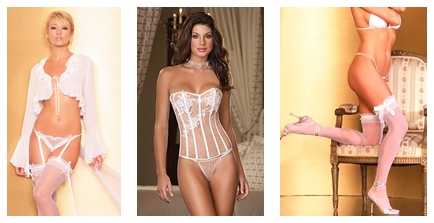 If you are wearing a strapless bustier or wedding bra all day, try on the whole ensemble and make sure that it all looks right.
Remember to take your bridal bra and all of your wedding lingerie to your dress fittings.
It's far better that you figure out beforehand whether your bridal undergarments feel uncomfortable than to be in the middle of the ceremony and to realize that there is an itchy bit of lace at the small of your back.
Trying on your bride lingerie ahead of time can also help you figure out whether the color is right, if anything shows through or whether your lingerie will affect the drape and look of the dress.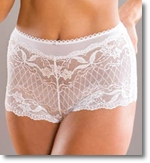 Choose bridal lingerie that is pretty and comfortable. Wear something that makes you feel good and that you feel is flattering on you.
This is an important day, after all, so make sure that you think about what you want and what makes you feel desirable and gorgeous!
When you are looking at bridal undergarments, you will find that there are a number of different considerations to think about.
Making the right choice is easier than you might think, though, so be patient and make sure that you are pleased with your decision!