How To Choose
Bali Bras And Lingerie
Bali Bras and lingerie offer today's woman unparalleled comfort, style, and wearability, all at affordable prices.
From Bali to Calvin Klein bras and sexy victoria secret bra and other bra brands, choosing the best bras in the correct bra size, style, and material for your shape can be a real challenge.
A poor choice can lead to back and shoulder pain, inadequate breast support, and a rumpled look under your clothing.
Thankfully, finding the right bra size and style for your shape is easy, once you know the basics. Let's take a closer look at a few simple steps.

Bali Bras And Lingerie

The first place to start is to make sure you know your bra size. Why? The wrong size can lead to back and shoulder pain, inadequate breast support, and a weird looking bra under your clothing.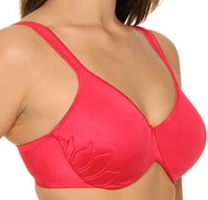 It's also important to keep in mind that bra sizes can change a lot over the years, as you gain or lose weight, become pregnant, or go through menopause.
For this reason, it's always a good idea to get yourself professionally measured every year or so just to be sure that you're wearing the right size.
The good news is that this service is usually free of charge and available at most prominent lingerie and intimate apparel retailers and department stores.
If you're shy or just uncomfortable about having someone else measure you, you can determine your bra size yourself with our easy bra size calculator.

---
Bra Fitting Tip
While being measured, wear a standard underwire bra or your most comfortable soft cup bra that has no padding or other "push-up" technology, as it can affect your bra measurements.
---
Know Your Bra Styles

If, it's variety you want, you're in luck. Bali Bras and lingerie offers a great selection of different bra styles and fabrics. Here are several popular styles:
Balcony bras or balconette bras are a good option for anyone who wants added support and lift with a touch of sexy without lots of padding that are associated with traditional pushup bras.

Demi cup bras are another beautiful option. They have bra cups that leave the top half of the breast uncovered. These are a good choice for revealing necklines that need a low-cut bra.


Minimizer bras are designed for women with larger breasts who want to "minimize" their look. They're particularly helpful when wearing shirts or blouses that button up the front, as they prevent the buttons from straining and popping.


Push up bras are a great choice for smaller-breasted women, or those who want a major lift.  Padded bras often come with additional removable foam or gel cookies to super-enhance their cleavage, and can be worn under just about any type of clothing.

 It's also a good idea to opt for a bra in a few different colors, keeping in mind that at least one bra should match your skin tone as closely as possible.

While white brassieres tend to be the cornerstone of any well stocked lingerie drawer, there are two more basic colors that Bali bras and other lingerie manufacturers offer.

Nude color T shirt bras will provide nearly-invisible bra support under white t-shirts (whereas a white bra worn beneath a thin white t-shirt will be quite visible).

Black bras are another staple. Beautiful lace bras can be a lot of fun to wear, but remember that smooth fabrics look best under tight, snug or clingy shirts.

The goal is for your brassiere to become invisible so that your own beauty shines through!