Elegant Bridal Lingerie Bras
Choosing the right elegant bridal lingerie bras, bridal panties, garter belt and bride lingerie to wear under your wedding dress is an important decision for every bride, as it effects how your gown will look on you.
Whether you opt for a silk wedding dress corset or a traditional
bridal bustier, the proper bridal bras and bridal undergarments can enhance, minimize, lift, support and even offer superb control to make your wedding gown as breathtaking as you are!
With this in mind, it's important to allow yourself plenty of time and choose carefully.


Elegant Bridal Lingerie Bras

The intimate apparel that you need will be mostly dependent on the style of your wedding dress.
Long, short, fitted or loose, whatever lingerie style you choose, here's an important tip - if the fabric of your wedding dress is lightweight, fitted or snug, be sure to choose intimate apparel and undergarments that are completely smooth with invisible seams.
Avoid lace detailing and trims that may create unnecessary bumps and bulges.
To make life easier, there are a few things you need to know before choosing your wedding lingerie. Let's take a look...
If your wedding dress is white, then you should choose an ivory color  bridal bra . The reason for this is because many times the wedding dress is not exactly white but more of a warmer colored white or ivory. An ivory satin bra or camisole also blends with most skin tones.
Your wedding lingerie should provide the perfect lift and support. Don't forget you will be not only exchanging vows but eating, dancing, greeting guests and posing for pictures.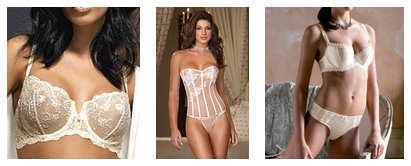 Bridal corsets, long line bras and classic bridal bustiers are the perfect brassieres for a wedding dress.

Why? These types of bras give you great back support and also won't wrinkle the trunk of your dress as the night wears on.

Another reason for this choice of wedding dress corset is that you can't see them under your dress.

So when you and your groom have your professional photos taken, you certainly don't want to see any brassiere lines.
Leave elegant bridal lingerie bras and return to beautiful lingerie