Elegant Bridal Lingerie Bras -
The Truth You Need To Know

Elegant Bridal Lingerie Bras - Consider traditional bridal lingerie to be a thing of the past.
Today's modern bride has endless choices when it comes to selecting underpinnings for her special day, and you'll be surprised to learn just how many options there actually are.
No matter your size or style needs, there are more choices for wedding lingerie and bras than a woman knows what to do with.
We're here as your trusted advisor, specializing in giving you the honest truth; from how to toss out the stereotypes, sift through the selection, and find the most elegant bridal bras. Here's what you really need to know for your big day.

Elegant Bridal Lingerie Bras
You can wear them again - Unlike your wedding gown, you can actually wear your bridal bra again and again, long after the celebration. If you can afford to spend a little more on a beautiful, elegant bra, it becomes a good investment piece when you choose a style that's versatile enough to wear every day, or as a special occasion item. Convertible styles are particularly great for wearing again and again.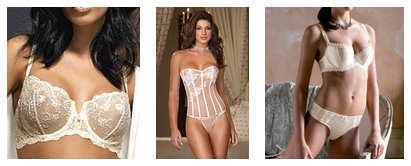 They can be comfy and beautiful at the same time - Your bra doesn't need to be plain, basic cotton to be comfortable. In fact, if you choose the right size and style, an elegant and opulent bridal bra can actually be comfortable, despite what you might think. Choose a bra that fits properly so you're not squeezed in, spilling out, or hitching it up. Trying it on before you buy lets you test out lace or trims to make sure they're not itchy or uncomfortable. With a little legwork, you can find wedding bras and lingerie that's as comfortable as it is pretty.
Lingerie Tip - long line bras, bustiers, and corsets are a great option under your wedding dress.  Seamless styles with underwire cups and vertical boning offer an amazing fit and look.

Elegant bridal lingerie bras don't need to be white and frilly - If the innocent ingénue look just isn't you, don't worry about fitting into traditional expectations. There are so many choices when it comes to bridal lingerie that you can easily find pieces that suit your own personal style, while still being elegant enough for your big day. Classic, unadorned silk bras are perfect for brides who prefer a clean, refined look. Brides who prefer fun and frivolous lingerie can opt for a bright color, prints, or unique trims. There are lots of ways to work your own style into your selection of the perfect bridal bra.
Lingerie Tip - If your wedding dress is white, opt for ivory or skin tone bridal lingerie that blends with your skin tone for a virtually invisible look.
There are beautiful bridal bras for every size - Plus sizes aren't relegated to sturdy or industrial looking pieces, and petites aren't destined to a lifetime of plain cotton training bras. When it comes to your wedding day, there are beautiful styles that are elegant enough for any bride of any cup size or shape. Do a little research online to find brands that cater to specialty sizes before you start shopping. Look for bras in your size that also have special, pretty details that make you feel luxurious and pampered for your big day. Don't worry about shopping in the bridal section, which may have limited size options. Any bra can work for your wedding, so long as it fits, flatters, and makes you feel utterly fabulous.
Beautiful Lingerie  >  Bride Lingerie  >  Elegant Bridal Lingerie Bras