*FTC Disclosure - If you make a purchase through a link on this site, we receive a small commission at no extra cost to you.*
Elegant Bridal Lingerie Bra Fit Secrets That You Need To Know

Elegant Bridal Lingerie Bra Fit - Choosing the perfect bridal bra and intimate apparel to wear under your wedding gown can be a whole new experience compared to shopping for the everyday styles that you usually wear.
This is a unique situation - a most special occasion when you're wearing something outside the norm and need to cover a number of functional needs, while looking absolutely stunning.
It's easy to ensure an elegant lingerie look in whatever gown and bra combination you choose when you follow these simple secrets for a gorgeous bridal bra fit.
Elegant Bridal Lingerie Bra Fit - Insider Secrets

You might not wear your usual size. Even if you've been a 36 C for as long as you can remember, your size in bridal lingerie might be quite different.
Because the bra that you end up wearing on your wedding day might be a totally different style than what you usually wear, you may also require a different size to get the right fit.
Elegant Bridal Lingerie Bra Fit Tip
If you're wearing a strapless dress, you may want to go a little snugger in a strapless bra to keep it in place, or size up or down in a backless bra that makes it as comfortable as possible.

A style that you thought would work may not. After buying your wedding dress you might assume that strapless or convertible bras are your best bet, but in reality you might be better off with another style, like a backless bra or halter style.
The best way to shop for an elegant bridal bra is with an open mind. Be flexible and willing to change styles for the best match between your dress and bra.
Elegant Bridal Lingerie Bra Fit Tip
Bring along all your bridal intimate apparel, including bras, panties, bustiers, corsets, etc., to your wedding dress fittings.

You might already own the perfect bridal undergarment. As the saying goes - if it ain't broke, don't fix it.
If you already have a perfectly fitting bridal lingerie in your lingerie drawer that fits beautifully and works under your wedding gown, you may be able to very well ignore the need to buy a new style.
Scoring the ideal fit can require a lot of legwork, so if you've already mastered a beautifully fitting bra and have it sitting in your collection, don't hesitate to wear if for your big day instead of trying to reinvent the wheel.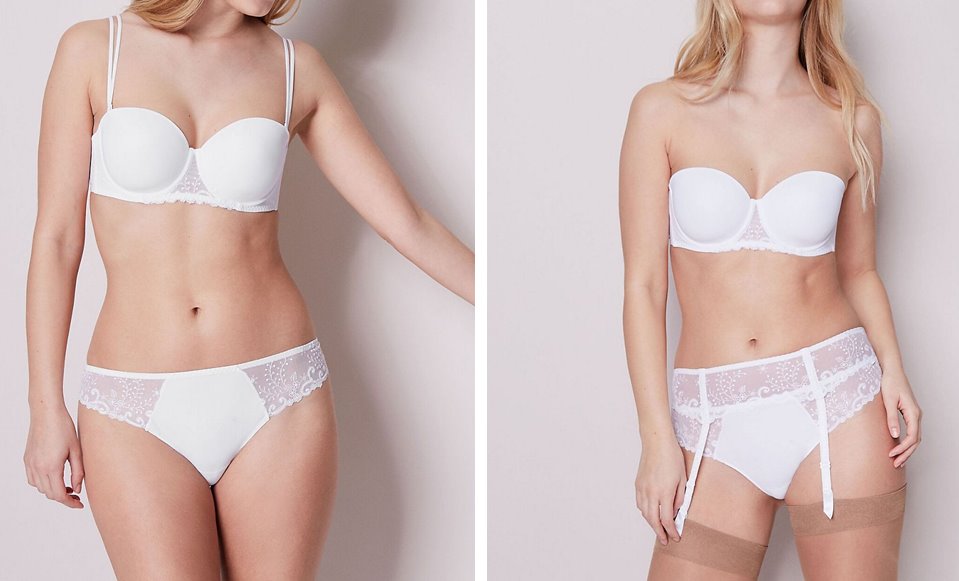 It's not all about fashion. Of course you want to wear a bra that makes you feel as lovely and romantic as possible on your special day, but when it comes to buying bridal bras and undergarments you need to be aware of function as well.
The right fit will let you move throughout the day comfortably, dance all night long, and hug every guest and relative in the receiving line.
Tip - Look for bride lingerie that combines the best of fit and function for your best look on your wedding day.


Keep it tasteful. There's a fine line between showing off an elegantly, feminine figure and going over the top with gratuitous over the top cleavage.
Your wedding day is not the best time for excessive sexiness, so you'll want to find a fit that keeps you covered enough that you're not busting out all over.
Keep your look comfortable and classy by trying on several styles and bra sizes to get a bridal bra that looks subtly sexy and elegant.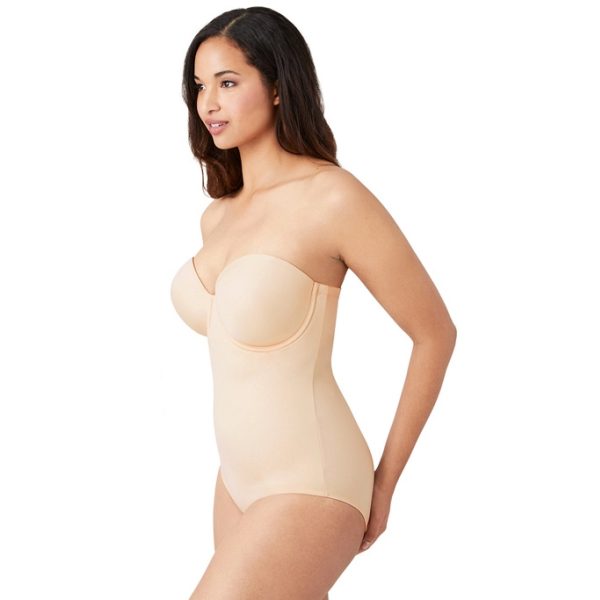 Try bridal bras that offer body shaping for best curves and support. One of the hottest secrets for creating gorgeous curves in your wedding bra is to look for a style that also offers a little contouring and body shaping.
Try longline bras, bustiers, or bras with attached shapewear slips to give your bust the lift and support it needs from below, and whittles your waist while doing it.