Elegant Bridal Lingerie
Bra Fit
Elegant Bridal Lingerie Bra Fit...
You've picked out the wedding gown of your dreams for your special day.
To complete the perfect look, your bridal bras, bridal panties, and any bridal undergarments will need to complement the neckline, silhouette and flow of your wedding dress, while providing smooth support and comfort.

Elegant Bridal Lingerie Bra Fit

The bridal bustier is among the most popular bra styles for the wedding dress, followed by strapless bustiers, and long line bras.
More traditional brides may choose a laced bustier, wedding dress corset, or even a victorian bustier corset.
Elegant Bridal Lingerie Bra Fit Tip - Bring along all your bridal intimate apparel, including bras, panties, bustiers, corsets, etc., to your wedding dress fittings.
Bride Lingerie
Wedding bras and undergarments always give a dress a slightly different form and shape.
Remember, you want to look your absolute best, so make sure your intimate apparel and wedding gown work perfectly together!
Whether you choose a popular bridal bustier, a traditional wedding dress corset, or even the very fashionable long line bras, the most important things to consider are comfort and bra fit.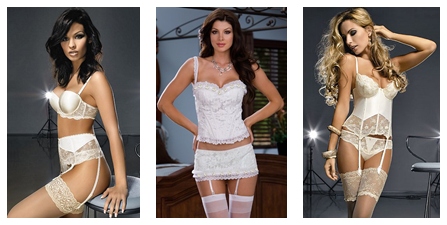 More Elegant Bridal Lingerie
Bra Fit Advice...
---
Here are a couple of things to keep in mind...
Choosing the correct bra size for your wedding dress is very important. Take a tape measure, stand up straight and measure your chest just under your arms.

If you get an odd number, add five inches. If you get an even number add four inches. So for example, if you measure a 30, your band size would be 34.

To find your bra cup size, measure across the fullest part of your breast which is the area across your nipples.

If the number is one inch more than your band size, you are an A cup.

If the number is two inches more than your band size, you are a B cup and so on. For more detailed information on determining bra size, read our easy bra size calculator.

When you put on your elegant bridal lingerie bra you'll want to lean forward and let your breasts fall naturally into the cups.
The front to back angle of your bra should be straight in the back.

The sides should not have any skin that puckers or pokes out. You want a sleek streamlined look, with no bunching or gathering.
The straps should fit comfortably with one finger able to slide easily and comfortably under the strap.
And your breasts should not come out of the cups.