*FTC Disclosure - If you make a purchase through a link on this site, we receive a small commission at no extra cost to you.*
Best Sleepwear For Women - 8 Styles For Sleeping And Lounging
Best Sleepwear for Women - If there's anything more relaxing than slipping into your favorite sleep wear at the end of a long day, we can't imagine what it is.
Maybe you like to kick back and unwind in silky soft pajamas. Or snuggle up in a cozy long nightgown and indulge in the latest on Netflix. Or, maybe you want to dazzle in a beautiful lace chemise for a romantic weekend getaway.
Whichever one of these escapes inspires you, here are 8 favorites that are just as stylish and comfy for sleeping as they are for lounging!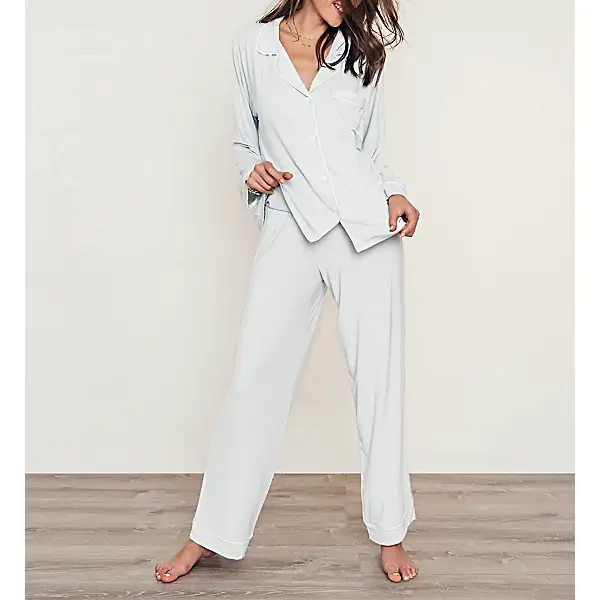 Get Your FREE Lingerie Planning Guide!
Get updates on style and fit tips, advice from a lingerie designer, a FREE e-guide, and more, straight to your inbox.  CLICK HERE!

Best Sleepwear For Women
We've long been fans of easy breezy capri pajamas. With a flirty Italian name, they've been popular since the 1950's, and are the epitome of summertime casual comfort.
With playful above-the-ankle length pants and a matching short top, they add a touch of style to any bedtime repertoire.
Whether you're lounging at home or enjoying a lazy Sunday morning, a capri pajama set is ideal for warmer temperatures, as it allows better airflow than traditional full-length pajamas.
Often made of soft, lightweight materials such as cotton, nylon, bamboo, satin and silk, or satin, in beautiful prints and patterns, this loose-fitting sleepwear is great for year round wear.
Finding the best sleepwear for women isn't just about the perfect style, or how it looks. It's also about fibers and fabric.
And if natural or eco-friendly fabrics are a must-have, then cotton nightgowns are definitely in line for a look.
They're made from breathable cotton, so you'll stay cool and comfortable whether you're reading a book or counting sheep.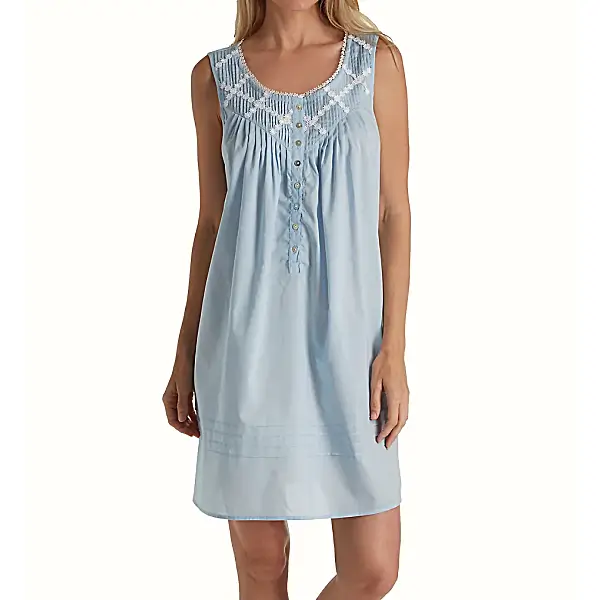 The choices are endless!
Traditional long flowing gowns offer a more relaxed and airy fit.
If you prefer something a bit more fitted, opt for a knee-length nightgown in a flattering A-line shape
And, if you're looking to add a little fun to your sleepwear, consider a short cotton chemise or nightshirt with flirty hemlines and accents
>> All about cotton nightgowns
Looking for the ultimate in cozy comfort with a hint of nostalgia? Flannel nightgowns come through with flying colors. 
They bring to mind memories of chilly winter nights, fireplaces and cuddling up with a cup of hot cocoa - and marshmallows, please!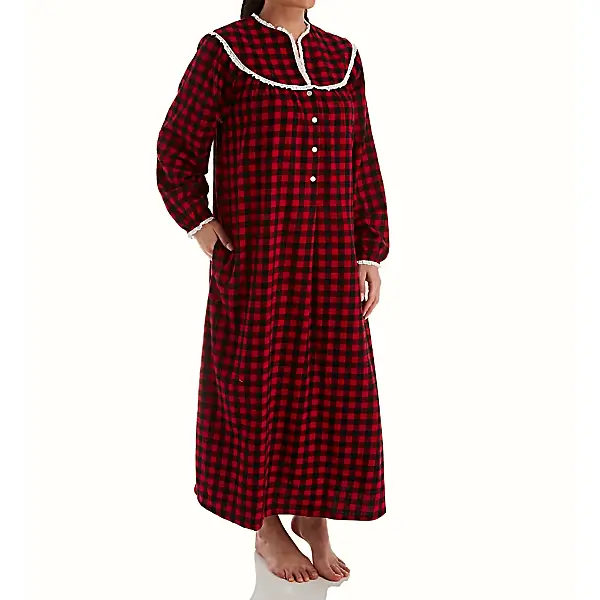 What do we like about flannel nightgowns for women? In a word - everything!
Available in a variety of classic tartan patterns, playful prints and colors to fit every taste, these cozy favorites make great gifts for yourself or a loved one throughout the year.
From classic, long-sleeved ballet length gowns with high necklines to fun knee length niteshirts, flannel nightgowns come in a variety of styles to fit every taste.
For added coziness, opt for a pair of matching warm slippers to complete your bedtime look.
>> Details about flannel nightgowns
Easy wear sleep wear that can be worn year round? Few choices deliver on comfort and style quite like the always on trend favorite, cotton.
From classic pajama sets and night gowns to relaxed sleep shirts and cotton camisoles paired with your favorite sleep separates, there's an endless variety for just about every preference and occasion.
Reading a book? Listening to music? Enjoying an afternoon nap?
Cotton sleepwear has you covered. The natural fibers of cotton knit, flannel, jersey, woven, seersucker and chenille also make it an excellent choice for those with sensitive skin.
Best of all, with its soft and breathable fabric, cotton is long wearing, easy to care for, and comfortable!
Curve-hugging and heart-stopping, lace chemises are also known as the sexy girl of sleepwear!
What is so special about a chemise with stretch lace? Lightweight and stretchy with a flattering look, they're a dress-to-impress favorite whether you're planning a romantic night in, a sexy night out, or the vacation of your dreams.
Lace chemises come in a variety of styles and colors to suit the mood. Strapless is a great choice if you're looking to show off a come-hither neckline and shoulders, while short and long sleeve versions tend to be on the more modest side.
They're often designed with intricate details such as scalloped edges, ribbon trims and ruffles, that can add a flirty and playful touch of oh la la to the moment.
In beautiful stretch floral fabrics, lace chemises are perfect for both daywear and nightwear, making them a versatile choice for today's busy woman on the go.
Every sleepwear drawer has its staples. The practical pajamas. The simple sleepshirt. The cozy robe you sip lattes in on Sunday mornings. And then there is the one easy essential for bedtime and beyond – long nightgowns.
Not only are they one of the best full-coverage styles that can help keep you warm, they're also one of the easiest to wear.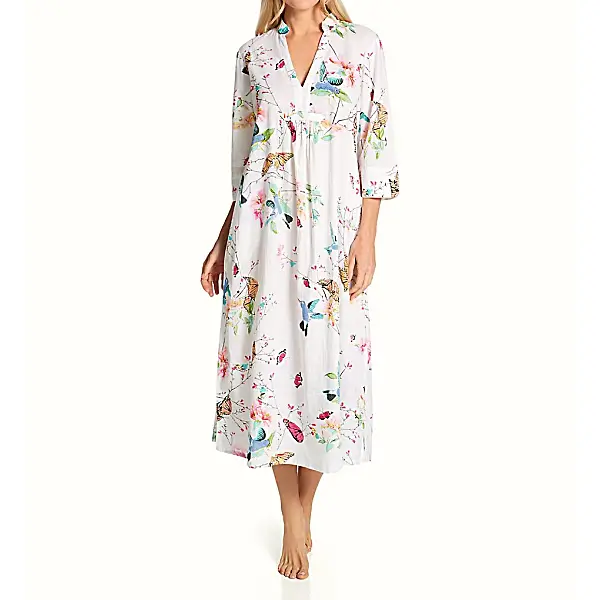 The best thing about ladies long nightgowns?  The choices are endless -  from traditional to modern - in beautiful styles and fabrics to suit every preference.
In this article, we go behind the scenes for a closer look at 5 of the most popular sleep wear brands.
From the cool cottons of Thea to the florals of Miss Elaine and the luxurious gowns of Natori, it has never been easier to relax in style.
>> A guide to popular brands of long nightgowns
Love romantic sleepwear? We do! Victorian nightgowns are like a dream for those who crave timeless elegance and vintage charm.
Recalling an era of grace and femininity, they offer a delightful dividend – easy movement with a comfortable fit.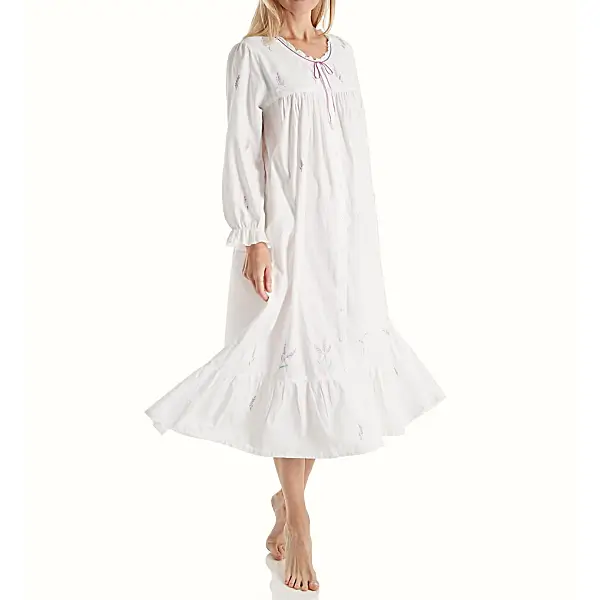 Inspired styles include long sleeve gowns, sleeveless nightgowns and night shirts in soft flowing fabrics with delicate details.
While best known as a light and airy sleep wear favorite, a Victorian nightgown can also be worn as loungewear (while relaxing with one of the Brontes?), making it a versatile and stylish addition to your collection of intimate apparel.
>> An overview of Victorian nightgowns
When it comes to the best sleepwear for women, pajamas fall into the category of much-loved favorites that are often so popular, they're worn into the ground.
A modest and comfortable alternate to night gowns that stay in place while you sleep and keep your legs warm, pyjamas are also wonderful for lounging around the house on lazy days.
Style wise, they're a winner in a delicious range of traditional notch collar pajama sets, modern cropped pjs, casual mix and match pants and tops, and our personal favorite - luxurious silk pajamas.
Whether you're a fan of eco-friendly cotton, silky satin, cozy flannel, lightweight nylon or jersey knit, stylish sleepwear has never looked or felt better.