Elegant Bridal Lingerie Bustiers
Elegant bridal lingerie bustiers are specialty bridal bras that help a bride to look wonderful on her wedding day.
The bridal bustier and laced bustier are traditional pieces of wedding lingerie that gently cinch a woman's waist in and push the breasts up, giving her enhanced cleavage and a smooth silhouette under the wedding dress.
These long line bra styles are ideal for many of today's tight fitting and sheath like wedding gowns.
Some brides love a tight push up bustier in silk or satin, or a sexy form fitting mesh sheer bustier while others prefer that it stays loose and only gives them a little bit shaping.
When you are thinking about purchasing corsets and bustiers for yourself, there are a number of things to keep in mind.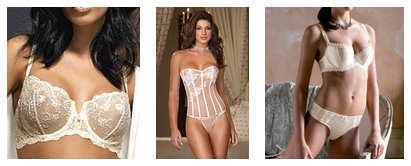 Elegant Bridal Lingerie Bustiers

You'll find that when you are shopping for elegant bridal lingerie bustiers there may be two different forms of intimate apparel.
In some cases, it will be a lingerie undergarment that is discreetly sewn into your wedding dress.
Lots of brides appreciate this extra support on their wedding day, and it can be a great way to fit into a tailored wedding gown. On the other hand, you might include a sexy bustier or a sheer bustier together with a matching bikini panty -  something that is just between you and the groom!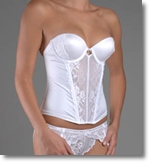 When you're shopping for bridal bustiers and bride lingerie there are a few things that you need to keep in mind...
If you are want a rigid fit, look for bridal bra styles with boning. Boning is the rigid vertical part that gives bustiers their shape.
Some long line bras and bustiers come with plastic bones, which will heat and mold with the heat of your body.
If your dress is a sheath, or very tight fitting and requires ultra support, look for supportive corsets that contain at least a few steel bones for firm support.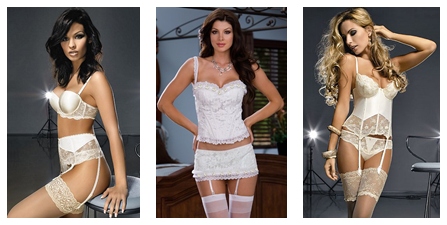 Shop For Bridal Bras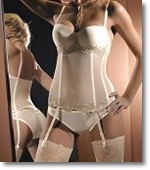 If this is your first time wearing corset or bustier tops, remember that you will need some practice. Get yourself laced into it before the big event.
This will allow you to get used to how it feels and it will give you some experience when it comes to figuring out how you can move in it, especially after you've eaten dinner.
Whether you opt for an elegant Victorian bustier corset, a sexy sheer bustier, or a perfect bustier for under your wedding gown, elegant bridal lingerie bustiers are a wonderful choice when you are considering your bridal attire; so see what this lovely piece of clothing can do for you!