*FTC Disclosure - If you make a purchase through a link on this site, we receive a small commission at no extra cost to you.*
Elegant Bridal Lingerie Bustiers - How To Get The Best Fit

Elegant Bridal Lingerie Bustiers - Sensational, stunning and a true show stopper that prompts a myriad of "oohs and aahhs" as you walk up the aisle, your bridal gown is the pièce de résistance (or masterpiece) of your special day.

No matter which dress style you choose - Ball Gown, A line, Trumpet or Mermaid, the secret to making your wedding dress appear elegant and tailor-made for your shape begins behind the scenes with the perfect fitting bridal lingerie. 
No matter how pretty a style is, if it's too big, too small, or the wrong shape for your silhouette, it won't highlight your best features and give you the flawless look that every bride craves on her big day.
Here, we take a closer look at bridal bustiers and the tips and tricks you'll need to find the perfect one that offers the best fit.  Check out these simple steps for an elegant bustier that looks like it was made just for you - on your wedding day.

---
Elegant Bridal Lingerie Bustiers - The Fit Fundamentals
Seek professional help. The intimate apparel options for today's bride are endless, which is wonderful, but it can also be overwhelming.
Point yourself in the right direction and seek the help of a lingerie professional at your favorite intimate apparel specialty shop.
Professional lingerie fitters who are experiences will be able to take your measurements, fit you properly, and recommend styles that will be best suited to your shape and your wedding dress.
---

LE MYSTERE
Try bridal bras on...more than once. This may seem like a no brainer, but many women are tempted to skip this step when shopping for bridal lingerie.
Eyeballing a bustier or any kind of intimate apparel simply won't guarantee a good fit the way trying it on does.
No matter how many items you have on your pre-wedding checklist, taking a few extra moments to slip a bustier on in the fitting room will pay off with a gorgeous look AND a comfortable fit on your special day.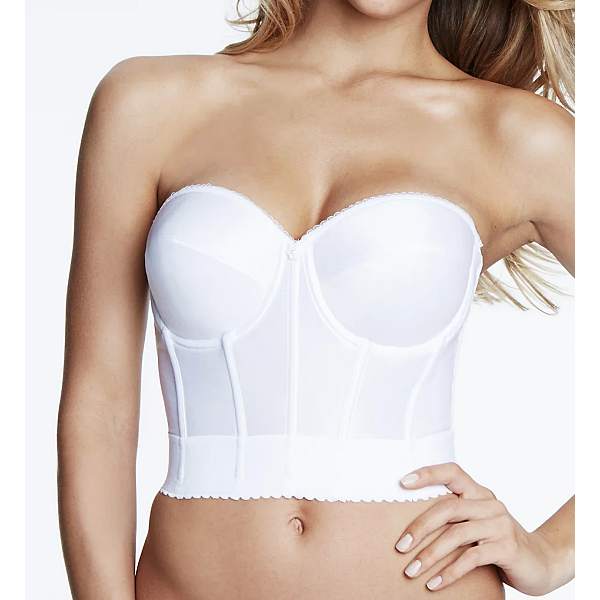 DOMINIQUE
Shop for elegant bridal lingerie bustiers for your body type. What are your must-haves when it comes to the bridal bras that you're considering?
Larger busted brides might have support as a top priority, whereas others may want to focus more on a structured bodice to help trim the tummy.
Identify what you're looking for, the problem areas that you want to mask, and most importantly, what parts of your shape you want to show off and celebrate in an elegant and beautiful way.
Elegant Bridal Lingerie Bustiers
If this is your first time wearing a bustier, get yourself laced into it before the big event. This will allow you to get used to how it feels and it will give you some experience when it comes to moving about throughout the long day.

Make sure you can move. There's more to getting the best fit than simply being the right size.
Keep in mind that you're not going to be standing statue-still when you wear your bustier. 
Whether you're planning to wear it all day, or just for the wedding night, make sure you can move, sit, bend down, and lift your arms comfortably.

Pay attention to every element. Bras and elegant bridal lingerie bustiers are complex lingerie styles with many different parts that all come together in one amazing piece, so the utmost care should be taken to make sure all of the elements fit properly.
Check the bra cups, the boning at the bodice, the back and the straps to ensure that they all fit well and comfortably.  Avoid anything that doesn't feel absolutely right.

If one element is too loose, too tight, or even too scratchy or stiff, you're better off to keep searching rather than settling for a bridal bustier that's anything less than perfect.
Shop specialty lingerie boutiques if needed. If you're coming up empty handed every time you browse a department store or major lingerie retailer, you may want to consider bra shopping at a boutique that specializes in fitting lingerie.
If you're large busted or on the petite side, typical sizes may not work for you.
Allow yourself the extra service and selection that a specialty boutique can help you find elegant bridal lingerie bustiers and wedding lingerie that's flattering and just perfect for your big day.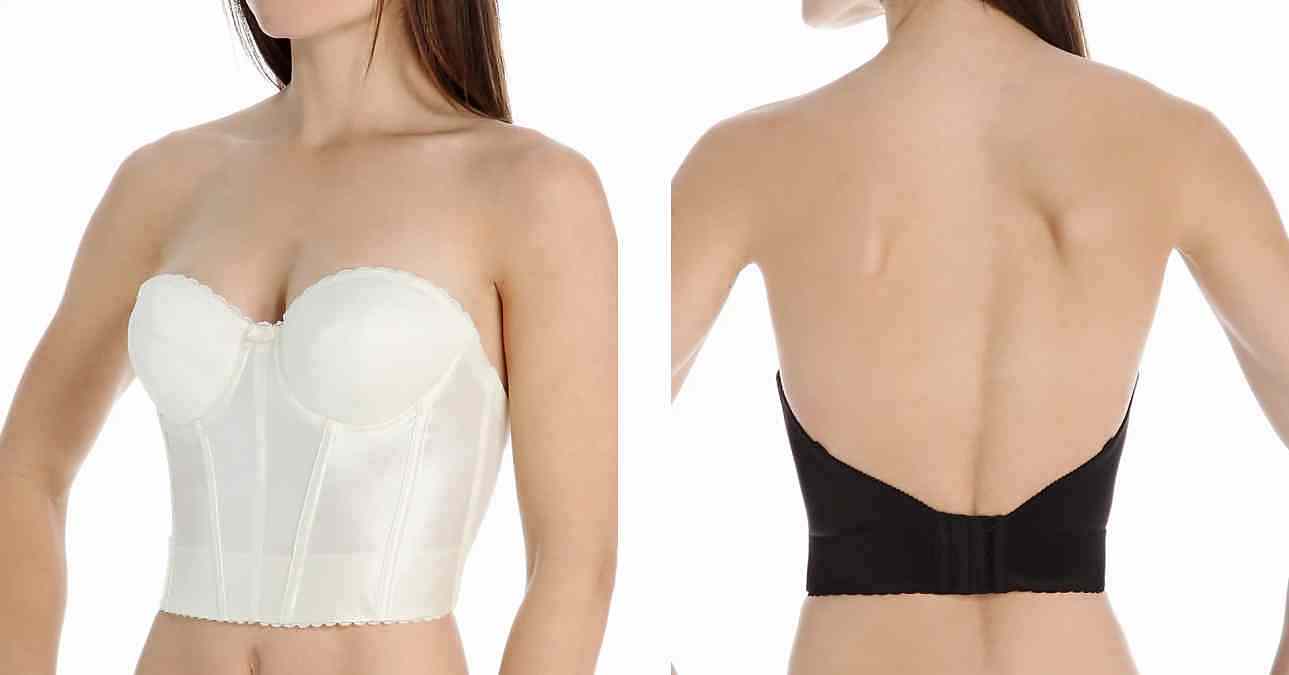 VA BIEN BRAS
Shop smart. Rushing your bridal lingerie shopping will usually lead to bad decisions or buying pieces that don't fit properly.
Give yourself plenty of time to try pieces on, talk to sales people, and to browse the store.  Do a little research online ahead of time for brands that cater to your body type.
Considering the day and time you go shopping can make a big difference in the service you get. If you can - plan to shop during off hours and avoid busy times.

All of these little factors can add up to help you find elegant bridal lingerie bustiers for a beautiful fit and look.

BUSTIERS