Shrug Jacket Lingerie Secrets
Shrug Jacket - With so many brides choosing strapless wedding gowns for their special day, as a lingerie designer a question I'm often asked is: what do I wear at the church to cover my arms?
My answer is, a shrug.
Sometimes referred to as a bolero or jacket, a white lace shrug or sheer shrug in a lightweight fabric is sexy and simple, and adds a touch of class and timeless elegance to any strapless wedding dress.
Shrugs come in a variety of different styles and fabrics to accommodate every gown. Your choice will depend a lot on the season.

A Shrug Jacket

In warmer climates like sunny California, Hawaii and Florida, brides tend to opt for 3/4 or short sleeves in lace or fine mesh. While brides who live in colder climates like New York City and Anchorage often opt for 3/4 or long sleeved satin or fur shrugs.
So, how do you choose a shrug for your wedding gown? In this guide we'll cover the essentials and show you how easy it is...

---
Sexy Lace or Smooth Satin?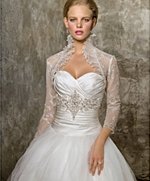 The first thing to consider is your bridal gown. What kind of fabric is it? Lace, silk or satin? Is it smooth and elegant or frilly?
As a rule of thumb, for frilly, lace, or intricate gowns with a lot of detailing, it's a good idea to choose a smooth and simple shrug.
For wedding dresses with a smooth and minimalist look your options are greater.
You can contrast the look with a shrug in lace, sheer or fine mesh. Or, continue the smooth and elegant look with a silk, or satin shrug or jacket.
The important thing I always tell all my brides is not to mix different laces. Why?
Too much lace will be too busy and confuse the eye. It's overkill and not a pretty sight; and one you'll really notice years later when you're looking at your bridal photos.

---
Choosing A Bolero, Ole!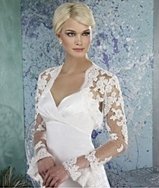 The second thing you'll need to consider is the style of shrug jacket you want to wear.
The most popular bridal shrug is the short bolero shrug that slides on easily over your shoulders.
There are also off the shoulder jackets or boleros done in an elegant sheer or lace that resemble a crop top.
They slide on over the head and cover the upper portion of the wedding dress, creating a very sophisticated look.
They're usually a 3/4 length sleeve with scalloped edging that is simply gorgeous.
Another great option that shows off the back of your gown (and those marvelous shoulders if you're the kind of girl who likes to work out) is the keyhole style.
This style of shrug has a high neck and long sleeves, with a stunning keyhole cut-out on the back; designed in a scalloped alencon lace or sheer fabric for a stunning look.



---
Lingerie Shopping Online on eBay Clothing

Shopping online for a shrug jacket, camisoles and cami sets, and intimate apparel is easy on eBay clothing.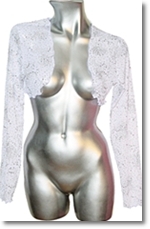 From a lace shrug or elegant white bolero for your wedding dress or strapless gown the selection of intimate apparel has never been better.
Everything listed is available right now - so if you see something you like, hurry and place your bid.
When you click on a link a new window will open and you'll see a sampling of what's currently available online.
Want to continue lingerie shopping? Just follow the view all items link at the end of the listings...