Bridal Bustier Secrets
Whether you're looking for a bridal bustier, bridal corset, push up bra, backless bra, long line bra, or even a sheer bra choosing the right bridal undergarments and bridal lingerie to wear under your wedding gown will have a great effect on how you look and feel on your wedding day.

Bride lingerie can ultimately make or break the way your wedding gown looks and most importantly how it feels, so give yourself plenty of time to shop around and see the available styles.
Lingerie Tip - take a picture of your gown with you when shopping for your bridal lingerie.
And, always wear your lingerie set to your dress fittings. This will ensure the perfect tailoring and fit for your wedding dress!

Bridal Bustier Secrets

When it comes to choosing the right brassiere for your wedding dress, one of the most popular bridal bras is the bridal bustier.
If your wedding gown is low cut, off the shoulder or sleeveless you'll want to include one of these sexy bras in your trousseau.
Whether it's a traditional or modern gown, many brides match a silk bustier with silk underwear like silk  panties or tap panties for their bridal lingerie set.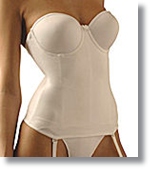 Corsets and bustiers are designed to enhance your natural curves by tightening and slimming the waist while boosting the bustline upward, giving you a curvy hourglass shape ...smoothing out any tiny imperfections along the way...think of curvaceous Hollywood glamor starlets like Sophia Loren, Lana Turner, and Jean Harlow.
Most bustier bridal styles are designed with boning for support and shaping.
They wrap around the torso, extending from the bust to just below the waist...many styles have garters and bustiers with delicate ribbons that are easily attachable to silk stockings.
Bustiers are also wonderful foundation undergarments for brides of all shapes and sizes.
The push up bra design of a bustier enhances a smaller bust, and provides excellent support for women of all shapes.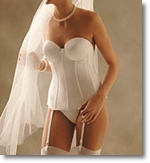 Bridal bustiers are sized based on traditional bra sizes.
So, you'll want to know how to fit a bra prior to shopping online, or have yourself professionally measured at your favorite lingerie store.
Try on several different styles...remember to move around and stretch up and down to make sure it's a great fit, so that everything stays in place.
And, if at any point during the ceremony you'll be kneeling, make sure the bustier is comfortable.
If you've chosen a tight-fitting wedding gown or a delicate fabric, you'll want a smooth, sleek fitting bustier style to avoid any unsightly lines, or lumps and bumps.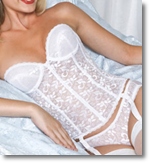 The traditional colors for bridal lingerie and bridal bustiers are white, off whites and creams.
Many brides also choose to carry through the creamy white theme to their honeymoon lingerie ...the choices, especially the online lingerie stores are endless!
Many brides decide to be a little more daring and opt for richer jewel tones and deeper colors. Black, of course is the ultimate sexy color.
Other brides like to include a tiny bit of black in their wedding day lingerie just to be saucy.

Bride Lingerie - Quick Links
---
Bridal Bras - From a traditional wedding dress corset to the more popular lightweight bridal bustier the type of bridal lingerie you'll need will depend largely on the style of your wedding gown, your curves and shape.


Bridal Nightgowns - Whether it's a silk nightgown, satin chemise, or satin and lace lingerie, your wedding night lingerie should be sexy, soft, and special.

Bra Size Calculator - Not sure what of your bra size? Here is an easy step by step guide that shows you how to determine your bra size.

Elegant Bridal Lingerie - From creamy silk wedding bras and satin bridal bustiers to mesh sheer panties and luxurious lace garter belts, you'll find a multitude of elegant wedding lingerie styles.

Types of Bras - A comprehensive intimate apparel guide to some of today's most popular bra styles and what makes them so popular.