*FTC Disclosure - If you make a purchase through a link on this site, we receive a small commission at no extra cost to you.*
Bridal Bustier Secrets That You Need To Know

Bridal Bustier - It's a simple fact - brides love bustiers. They're the perfect bridal lingerie to wear under your dress – they're a little more special than an every day bra, create a killer hourglass figure, provide all of the benefits of shapewear, give you an all-in-one bodice and bra, and are also sexy enough to debut for your new hubby in the honeymoon suite.
If you're one of the many brides looking for the perfect bridal bustier then follow along with our easy tips and tricks for looking amazing in this beautiful and beloved style.

Bridal Bustier Secrets

Shop around - Don't settle for anything less than perfection on your wedding day, and this often means putting in a little extra legwork when shopping for lingerie.
Shop around, try on a ton of options and styles, and check out the offerings from several different stores.
Don't settle on the first bridal bustier that you try on. You can always come back to it later, but you can rest assured that you've exhausted all options in your search for the best bustier for you.
Beautiful Lingerie Tip
Always wear your lingerie set to your dress fittings. This will ensure the perfect tailoring and fit for your wedding dress!
Pay attention to texture - Bridal bustiers come in a wide variety of textures, and the style of your dress will dictate which pieces are the best picks for you.
A lace bustier will look great under an appliquéd, rushched, or beaded gown, but will look lumpy and bumpy under a bias cut silk or satin dress.
Silkier fabrics look best with smooth and seamless microfiber or satin bustiers that give you all of the benefits without the added texture.


Bring photos of your wedding dress - Bring along a photo of your dress when shopping for bridal bustiers and you'll have a much easier time asking the sales people for help when they can see exactly what you're looking for.
A dress with a sweetheart neckline may give you different options than a strapless style or a backless gown.
Let your dress guide your selection for an amazing look that's suited especially to your dress.

Seek professional help - Lingerie professionals know beautiful lingerie inside and out and will be able to measure you for the perfect fit, and guide you towards the brands and bra styles that will work best for your body.
Save yourself a lot of frustration in the fitting room and time spent flipping through the racks when you seek out a sales pro to help you navigate the best bridal lingerie for your size, shape, and style.
If you've chosen a tight-fitting wedding gown or a delicate fabric, you'll want a smooth, sleek fitting bride lingerie that avoids unsightly lines, or lumps and bumps.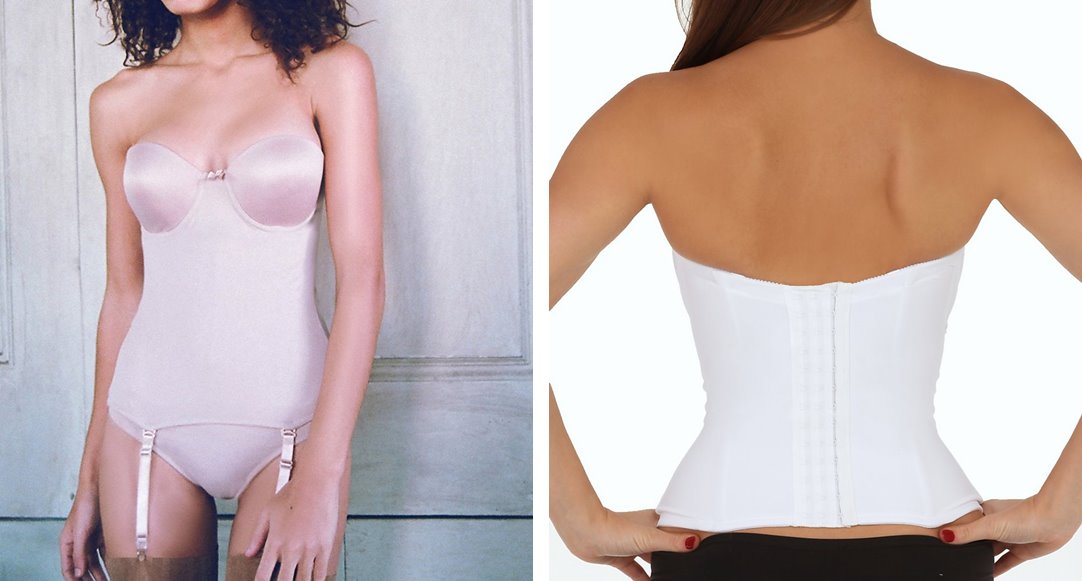 Make sure you can move - When it comes to bridal lingerie, perfection is made up of both fashion and function.
Make sure you move around in the fitting room so you glide though your big day with ease. If you can't sit down, dance, or breathe in your bustier, it's not the right piece, no matter how amazing it looks.

Size it just right - The perfect fit of a bustier may require a little fine-tuning.
You want it snug enough that it whittles the waist, hugs in your curves, and provides the best bust support, but not so tight that you can't take a deep breath or that it creates spillage out of the cups or rolls around the back or underarms.
You should be able to slide a finger in at the top and bottom of your bustier and still get the knockout curves you crave.
When you've hit the sweet spot of the perfect fit, you'll know it, so be patient and give yourself lots of time to get it just right and look amazingly beautiful on your special day.