*FTC Disclosure - If you make a purchase through a link on this site, we receive a small commission at no extra cost to you.*
The Smart Girl's Guide To An Affordable Bridal Bustier
Bridal Bustier - Let's face it, everything about weddings is expensive, and nothing is cheap. That includes bridal lingerie.
Buying a bridal bra, bustier, corset, or any kind of bridal intimate apparel can quickly add up, especially when you factor in the cost of your wedding dress, shoes, veil, etc.
Specialty bras and bustiers for wedding gowns can average anywhere from about $50 to $100 plus, depending on the style, fabric, size and lingerie manufacturer.
Here you'll find several ways to find affordable bridal bras, bustiers, corsets and lingerie to fit every budget.

How To Find An Affordable Bridal Bustier

Once you've chosen your wedding dress and know which bra style you want you're already halfway there....
Shopping Early - one of the smartest things you can do is allow yourself plenty of time and start shopping early. By doing so, you increase your chances of finding an affordable bustier and lingerie.

Online Shopping - a great way to save money is to shop online. Do a simple Google search for the brassiere, bustier or corset style that you want and then compare prices.

Don't forget to search sites like eBay.com and amazon.com where deep discounts are often available.

Also, many online lingerie retailers will advertise upcoming sales or offer free shipping if you spend a certain amount.
Beautiful Lingerie Tip
Opt into email mailing lists for insider discounts that often aren't advertised.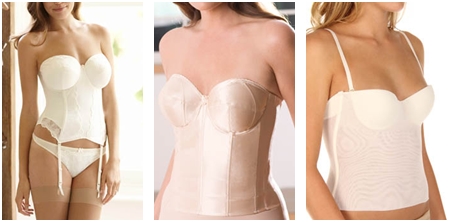 Bridal Lingerie Checklist
---
Here are a few more favorite shopping tips to help you save money....
Keep in mind that natural fibers like silk or satin tend to be quite pricey, while man-made fabrics such as nylon spandex are more affordable.
Opt for a smooth and seamless bustier that can be worn after the wedding with other items in your wardrobe. While, lacy and frilly or sexy lingerie is pretty for the wedding it quickly becomes obsolete if you can't wear it more than once.

Lingerie Tip
Consider a strapless bustier that comes with removable bra straps. You can wear it again and again.

Bustier & Bra Shopping Online
---
Shopping online for a bridal bustier, bridal corset or other bridal bras and bride lingerie is easy on ebay clothing.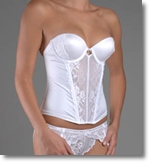 Everything listed is available right now - so if you see something you like, hurry and place your bid.
When you click on a link a new window will open and you'll see a sampling of what's currently available online.
Need help with bra sizes ? Check out our easy 3 step bra size calculator for sizing tips and finding the right bra size. Want to continue lingerie or bra shopping ? Follow the view all items link at the end of the listings...