*FTC Disclosure - If you make a purchase through a link on this site, we receive a small commission at no extra cost to you.*
Elegant Bridal Lingerie - 5 Tips For A Stunning Look

Elegant Bridal Lingerie - When it comes to shopping for wedding lingerie, we're living for the classics that deliver the perfect blend of style and flexibility.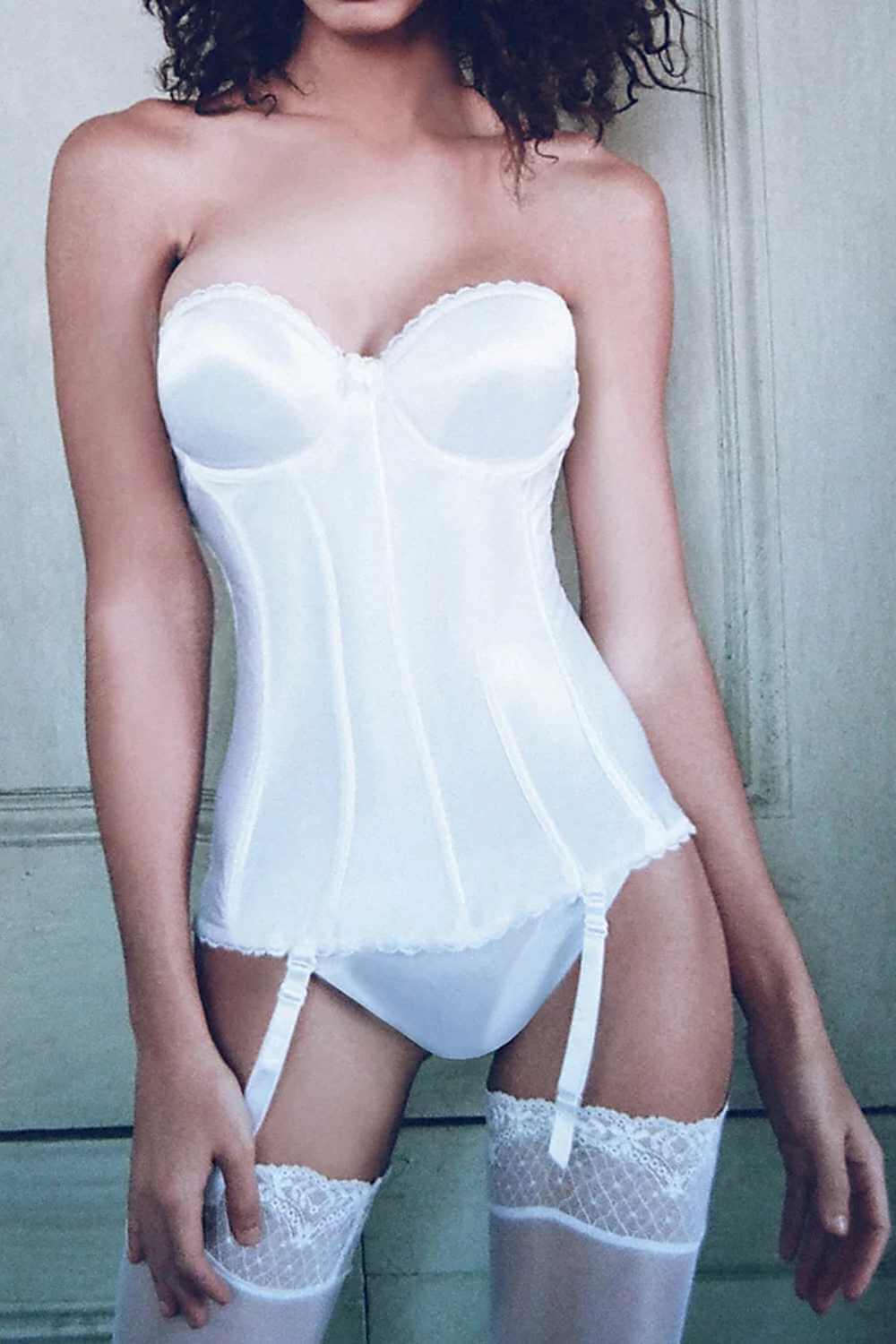 Whether you're a hopeless romantic who loves the timeless elegance of beautiful bridal bras and lingerie in delicate lace and ruffles or a modern maven who prefers the cool sophistication of silk or satin bras and undergarments with simple lines, every bride wants to look gorgeous on her wedding day.
From your wedding dress, and hair and makeup, to your shoes and jewelry - all the way down to the invisible but oh so important bridal lingerie, there are about a million and one details for a perfect head to toe look.
No worries. Follow along as we share our list of top 5 tips that will take you from so so to stunning on the day you say, "I do." 
---
Elegant Bridal Lingerie Tips & Tricks For A Stunning Look

Be yourself - No matter what your personal style is, or which bridal lingerie you've chosen, nothing makes a woman look more beautiful than being comfortable and confident.
The easiest way to achieve that effortless elegance is by wearing lingerie that suits you.
Whether you're into ruffles and romance, minimalist microfiber or silk, or want to rock a hot pink thong and bustier, wear whatever makes you feel like you.
You'll get that priceless attitude and allure that comes from feeling comfortable in your own skin, and you can focus on enjoying the occasion instead of worrying about your underwear.
---
VA BIEN
Bride Lingerie Tips

Bridal bras and form fitting lingerie like bridal bustiers, corsets and strapless bras are a great option for today's popular strapless wedding dresses.

Play up your best assets - No bride has the perfect body – we all have areas we like more than others, and elegant bridal lingerie is the perfect time to play up your best features.
Show off great shoulders and décolletage in a strapless bustier, enhance your cleavage with a pushup bra, or show off endless legs in a wedding night nightie with an ultra high slit.
Your new hubby will feel like he's won the lottery when you choose elegant bridal lingerie that fits and flatters your figure and lets you celebrate your best assets.
SIMONE PERELE
Did You Know?

Whether your wedding gown is sedate or sexy, having the right elegant bridal lingerie is essential.  The right or wrong bridal undergarments can make or break the entire look of your wedding gown, so it is very important to spend some extra time and choose carefully.
Years later when you look back at your wedding photos, you'll still marvel at how fantastic you looked in your wedding dress on your wedding day!

Sneak in shapewear - For all of our great features that we want to show off, there are others that we want to make disappear.
You don't need a magic wand to hide your problem areas in your wedding lingerie, just some strategically placed shapewear.
Whether it's under your gown, or for setting the stage for romance in the honeymoon suite, choose bridal lingerie with shapewear panels to smooth your silhouette and create a sleek and elegant figure that looks stunning, no matter your shape or size.
WACOAL
Bridal Corset - a supportive one piece lingerie undergarment that is structured with vertical boning to minimize the waist and push up the bustline.
The wedding corset starts just above the bust and ends slightly below the hips with a hook and eye closure. It is usually embellished with lace and made of silk or satin.
Choose multi-tasking bridal lingerie styles - Create a fuss-free look on your big day with multi-tasking lingerie that does the job of several individual pieces.
For example, one clever slip can trim the midsection, shape the derriere, and provide strapless bra support.
You'll be more comfortable in single pieces that can do it all than you will be in layers and layers of intimate apparel.

Bridal Bustier - a one piece breast to hip lingerie undergarment that comes in seamless and lace fabrics. Bustiers usually have flexible vertical boning for support with detachable shoulder straps, and garters.
---
Balance function and fashion - You want to look your best on your wedding day, in terms of both fashion and function, and both are equally important.
It's critical to choose bridal lingerie that works for your body, provides the support that you need, and works seamlessly under your dress - but it's just as crucial to adore the pieces you're wearing and feel like a goddess.
Exude elegance and ease when you slip into bridal lingerie that fits like a second skin whole also looking stunning.
You'll get the best of both worlds and will look and feel your most beautiful on your special day.
---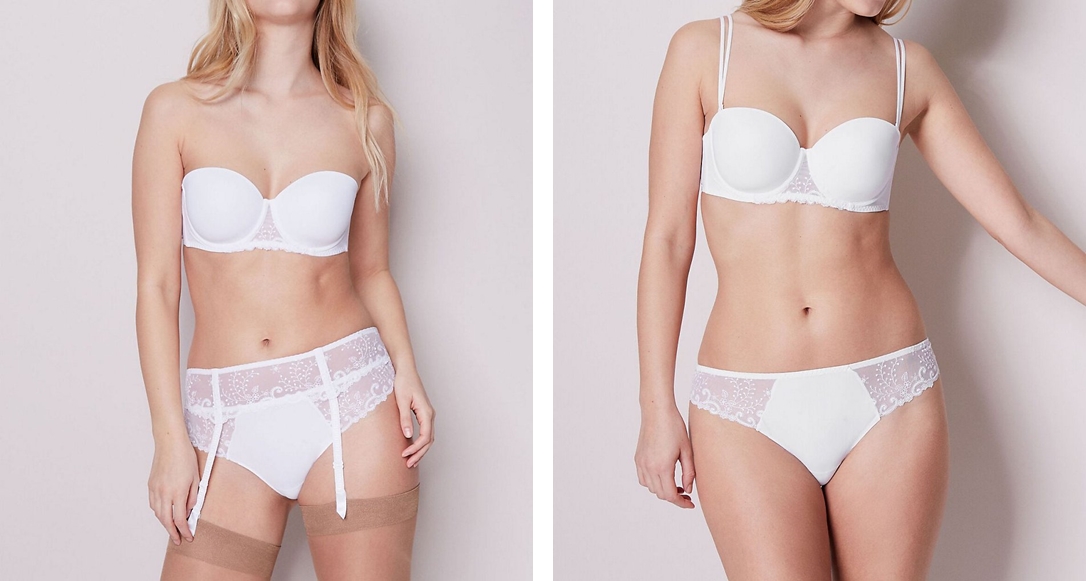 SIMONE PERELE