Elegant Bridal Lingerie
Thong Panties
The Elegant Bridal Lingerie Thong...whether your wedding dress is a sleek and form fitted sheath or a princess ballgown, the elegant bridal lingerie, bridal bras and bridal panties that you choose to wear underneath your wedding dress will effect how your wedding gown fits and looks on you.
Depending on the style of your wedding dress you'll first need to choose a bridal bra that complements your wedding gown and is comfortable for the long day ahead.
There are many popular wedding bra styles that include the traditional bridal corset to the more modern bridal bustier.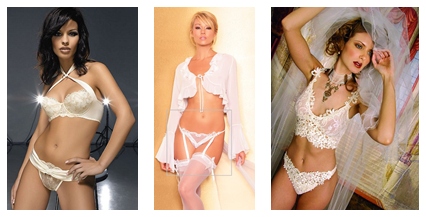 Elegant Bridal Lingerie Thong:  Panty Styles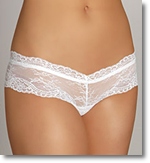 Another important piece of bride lingerie are panties to match the bra that you've chosen. Many brides are now opting for comfortable tanga panties or womens thongs to wear under their wedding gowns.
The advantages to this are thongs are lightweight and very cool, which can be a definite plus under a heavy wedding dress throughout the long wedding day.

Sheer bikini panties are also very popular styles for avoiding panty lines.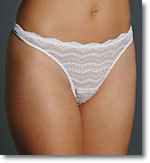 There are some things to pay close attention to since not all thongs are created equal.
First, be sure to look carefully at the intimate apparel fabric that the thong or tanga panties are made of.
Remember, being comfortable on your wedding day is very important, and you don't want to wear thongs or panties that are scratchy or itchy.



Thongs
---
When shopping for thongs, you'll want to look for:
Comfortable natural fabrics and fibres  that breath.
Stretchy thongs with a touch of lycra for close and form fitting wedding dresses.
Specific thong sizes in S, M, L, etc., not one size fits all
Several pairs of thong panties
It may seem odd to look for multiple pairs of a thong or
g string
, or whichever panty styles you choose, but let's be honest, once you fall in love with a particular style of thong or panties, you'll want to bring them along with your honeymoon lingerie as well.

Panties
But if you have worn a thong or g string for several hours through the wedding ceremony and the reception, you may want to freshen up with a new pair for your wedding night lingerie.
A stretchy soft material, especially in the crotch area is very important for those women who are not used to wearing elegant bridal lingerie thongs.
This will help to give the feeling that there is nothing there, so you'll feel comfortable in a thong throughout the wedding day...
And no matter if you are small shaped or a little on the larger size (there is a wonderful selection of plus size lingerie available online), a one size fits all is never advisable when it comes to a thong and g string panties.
If you want a comfortable fit then go with the correct size.
With a little time, effort, and consideration there is no reason you should not be able to find the perfect elegant bridal lingerie thongs for your wedding day and night.


Leave elegant bridal lingerie thong and return to beautiful lingerie