*FTC Disclosure - If you make a purchase through a link on this site, we receive a small commission at no extra cost to you.*
Elegant Bridal Lingerie Thong - How To Be A Daring Bride

Elegant Bridal Lingerie Thong - If your personal style is more daring than demure, don't feel the pressure to tone it down when it comes to choosing bridal lingerie.
Even when it comes to wedding undergarments, a bride can show off whatever look she wants while embracing her individuality.
Let your personality shine through when you slip into beautiful lingerie that shows off your sexy side.  A risqué thong or tanga panty offers a sensational combination of sultry and sophisticated intimate apparel AND comfort. 
Want to know how to be a daring bride?  Follow along as we share some of the best inside tips and tricks to make your day as special as it can be.

Elegant Bridal Lingerie Thong  Essentials

Choose an amazing color - Skip past the racks of traditional white bridal lingerie and dare to slip into a thong in a totally unexpected shocking shade of red, pink, black, turquoise, or plum.
No one will know that you're rocking a rainbow of shades under your elegant bridal dress, and choosing a bright color can be fun and rebellious way to sidestep the tried and true traditional bridal lingerie undergarments.
Panty Tip - Did You know that thongs are lightweight and cool - a definite plus under a heavy wedding dress throughout the long wedding day.

SIMONE PERELE
Juxtapose sweet and sexy - Try something totally different - a bridal thong that combines the demure wedding style of ruffles and lace with the daring cut of a barely there thong.
The exciting combination of sweet and sexy is a fun way to slip into a thong or tanga without stepping into tacky territory. This is your wedding day after all, so look for panties that are still elegant, with just a hint of erotic edge.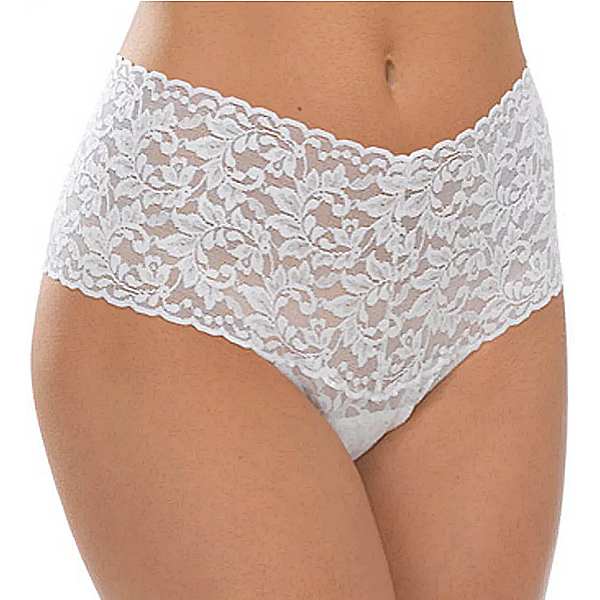 Create confidence - No matter what style of bridal lingerie you choose, the most stunning brides are the ones who feel the most confident.
Choose an elegant bridal lingerie thong that flatters your figure with the right shape and cut so that you're comfortable and look amazing.
Knowing that you're showing off your best silhouette will give you the killer confidence to rock any style of lingerie and look elegant and effortlessly beautiful.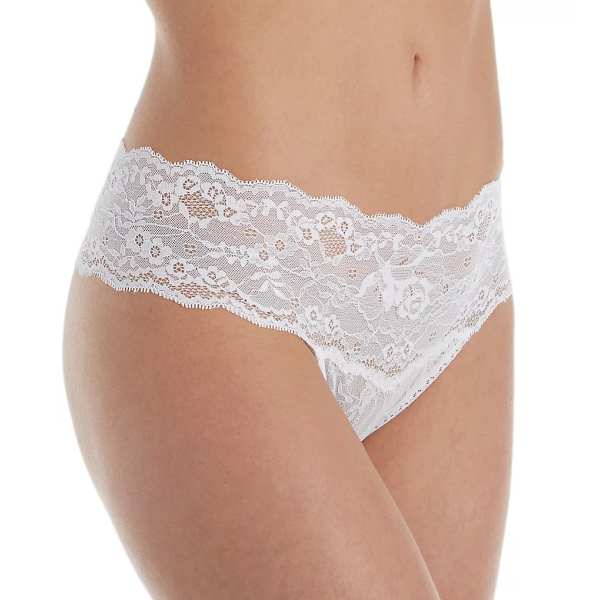 HANKY PANKY
Skip the other bells and whistles - If you really want a bold look try a simpler, more stripped down style that focuses on the fun and flirtiness of your thong.
How?  Forgo garters, bustiers, stockings and slips and let your thong take center stage.
Skip fussy lace, ruffles, and bows and choose a minimal silk, microfiber or satin panty that's completely unadorned - for a look that puts all of the emphasis on simplicity and chic elegance - a great look that can be worn long after your wedding day!

Bridal Lingerie Tip - Being comfortable on your wedding day is very important - avoid thongs, panties, and bridal lingerie fabrics that are rough, scratchy, or chafe.  Instead, opt for soft and smooth bridal underwear with an easy fit that feels like you're wearing nothing.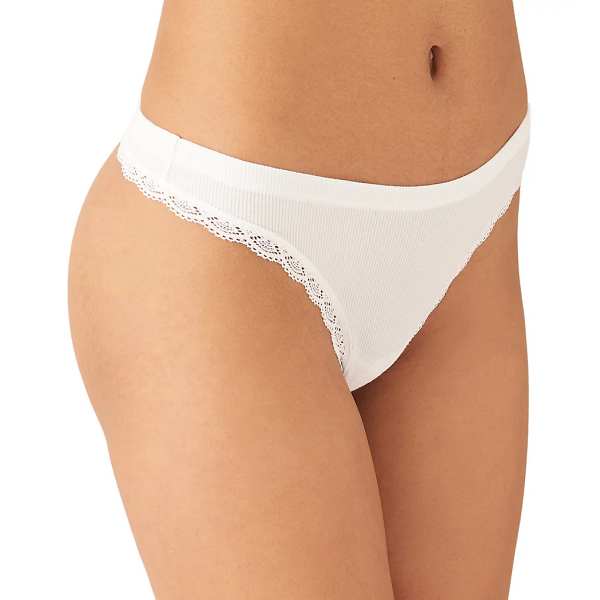 Choose non-traditional intimate apparel fabric - An elegant bridal lingerie thong doesn't need to be conventional, especially when you're going for a more daring look. Need some inspiration?
Try a mesh style instead of classic lace
Opt for a bolder and barer sheer nylon instead of opaque silk
Shake up your look in beautiful fabrics with avant-garde details that give bridal panties a sassy twist

Make it a barely there look - For the bride that really wants to debut a daring bridal lingerie look, choose an itty-bitty, barely there thong or even a string panty that leaves little to the imagination and lets your sexier side come out.
Who says bridal underwear needs to be bland or boring when you can play the role of a stunning bride, full of personality and exciting style in a skimpy cut, like a v-string or sheer panties that show off and celebrate your luxurious curves.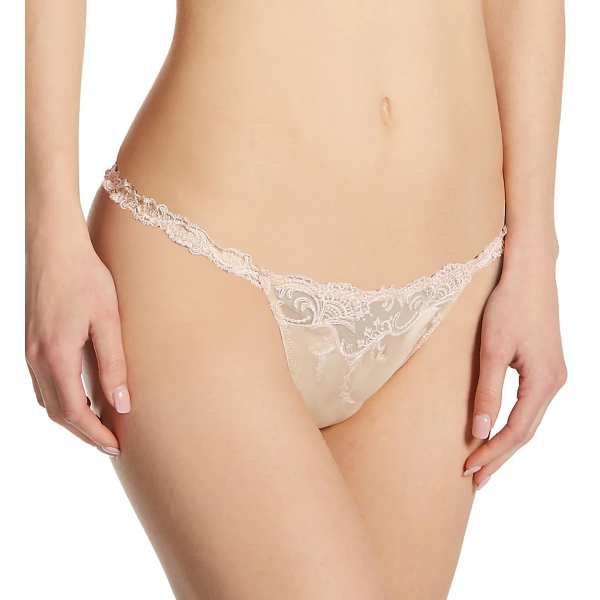 LISE CHARMEL