The Elegant Bridal Lingerie Guide
The elegant bridal lingerie and intimate apparel choices of today evoke thoughts of romance and tradition, combining the best of yesteryear and the present.
A classic bridal bustier, bridal bras bridal corset, or silk bras and silk underwear panties in shades of creamy white trimmed with lush laces, and paired with a pretty satin or silk bridal garter belt for your dream dress.

Ultimately, your wedding gown will dictate the style of bride lingerie bras and lingerie undergarment styles that you choose.
A strapless wedding gown is often more revealing and requires more structured shapewear and bridal undergarments than a traditional dress with long sleeves.
If your wedding gown is strapless or off the shoulder, a bridal bustier, long line bra, or one of the popular strapless backless bras are popular bra styles.


Bridal bustiers and corsets are similar to long line bras that start above the bust and extend down to the waist or hips.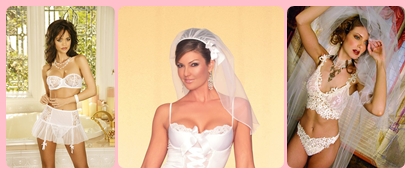 The Elegant Bridal Lingerie: Shopping Tips

Lingerie tip... Tight and clingy fabrics are unforgiving.
If your wedding dress is clingy or lightweight, look for bridal lingerie and bridal bras that are absolutely smooth and plain.
If your wedding gown fabric has some texture and weight to it, choose bridal undergarments that are embellished with lace and more, since they won't be so apt to show through.

Bustiers and corsets push up your breasts and narrow the waistline, enhancing your figure.
They have an inner flexible boning that extends from the top of the breasts to the waist and offers support and slimming all the way to the midriff.
These specialty bras can be worn under almost any type of wedding gown and are fantastic for accentuating all the right curves and giving you an hourglass silhouette!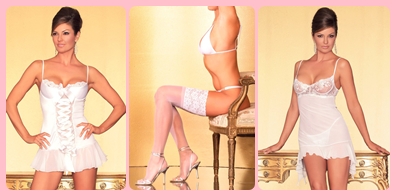 Long Line Bras and Adhesive Bras
---
Bridal bustiers, long line bras, corsets, and merry widows can be surprisingly comfortable AND sexy, and yet offer great support.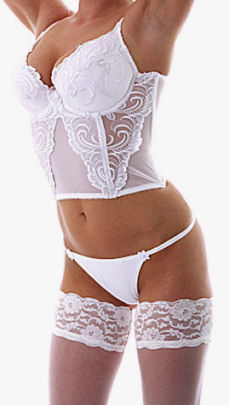 What are long line bras ?
Long line bras are partial corsets that begin just above the bustline and extend down to the waist or hips.
These bras are the elegant bridal lingerie choice for a smooth and form fitted look for your waistline.

Longline bras come in strapless styles with removable bra straps that are versatile for many of today's strapless wedding dress styles.
If, you want to show off your cleavage, then opt for a long line bra with a built in push up bra.
Push up bras have the option of removable foam or gel pads that are also known as cookies.

Adhesive bras are an excellent choice for strapless, low back, and backless wedding gowns.
Adhesive bras come in several styles. The most popular bra style has two silicone cups attached with a front hook that adhere to the body.
If you follow the instructions carefully, an adhesive bra should last about six hours.
If your wedding gown has a low cut back, make sure the corset and intimate apparel does not sit above it.
No bra straps, lines, or bra edges should peek through through the elegant bridal lingerie!


Leave the elegant bridal lingerie and return to bride lingerie
Return to beautiful lingerie