Elegant Bridal Lingerie
Bra Styles
Elegant Bridal Lingerie Bra ... A wedding dress just isn't complete without the right bridal bra and wedding lingerie.
From a traditional wedding dress corset to the more popular lightweight bridal bustier the type of bridal lingerie you'll need will depend largely on the style of your wedding gown, your shape, and of course your comfort.
Some of today's wedding dress styles only need minimal bridal undergarments - perhaps a lace bra with a matching silk bikini panty.
Other wedding dresses will require heavier shapewear - perhaps a silk or satin bridal corset and long line control panties.
So, for example, a bride who chooses a delicate A line silhouette, or unfitted style of wedding gown obviously won't need the additional support that a sheath, ballgown or strapless dress requires.

Shop For Bras
Elegant Bridal Lingerie Bra

Why are bridal bras so important, and what is the difference between bridal brassieres and everyday bras?
Wearing the right bridal bras, bustiers, corsets, bridal panties or even something as small as a lingerie garter belt can literally make or break the look of your beautiful wedding dress, and of course they all play a huge role in how you look and feel on your wedding day.
The advantage of good bride lingerie, especially when it comes to quality bridal bras is that it can control, lift, enhance, and minimize to make you look and feel gorgeous on your special day.
The right bridal bras are are nothing short of a miracle worker.
So, don't skimp or try to "make do" with your everyday bras, bustier tops, and intimate apparel that have seen their better days.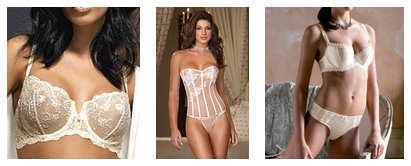 Let's take a look at some of today's popular bridal bras ...


Demi Cup Bras
This half cup bra provides support, comfort, and luxury all in one.
An underwire bra, with a bit of a lift, it features lace trim along the top of the cups that scallop your bust line.
The lace trimmed straps of demi cup bras have plush backing for added comfort.

Long Line Bras
This all in one brassiere is longer and form fitting to provide you with added support.
It is an underwire bra that has light boning for a fitted and elegant look.

Strapless Bustier
This bridal bustier is an elegant bridal lingerie bra that is form fitted with a low back, and is great for giving you some shapely curves while providing a comfortable fit.
Strapless Bras
This bridal undergarment is a strapless bra that is light, flat and very flexible so it moves with your body.
It has flexible boning in the cups to hold the cups in place.

Strapless Minimizer Bra
A strapless longline minimizer bra for full busted women.
Smoothly made and discreet seams make this a perfect wedding dress bra.

Backless Bra (Underwire)
This brassiere is perfect under a low cut or backless wedding dress.
The undergarment is made with silicone on the wire channeling to prevent slippages.
The molded foam cups are lightly padded to provide a natural shape on the body and are smooth under clothes.