Warner Bras And Lingerie -
Advantages & Disadvantages
Warner bras and lingerie offer women a large variety of brassieres and panties that have the tremendous advantages of being both affordable and widely available in department stores across America.
The Warner brand is like an old friend to North American women who are accustomed to lingerie and bra shopping at national retail chains like Macys, JC Penney and Sears, and more recently with well-known online retailers such as HerRoom.
Warner Bras And Lingerie

.
Let's take a quick look at what makes Warner brassieres and lingerie such a favorite....
a great option for women wanting a comfortable brassiere that fits well for everyday wear, and does not break the bank.
From active women to new moms, there are a variety of regular and specialty bras to fit every outfit and occasion.
Warner bras from
as far back as the early 1900's have been a leader in the manufacturing of womens intimate apparel.
Here we take a closer look at the interesting evolution of how today's modern day brassiere actually came to be.
Warner bras that
fit comfortably and easily are the reason why Warners lingerie is such a favorite with women everywhere.
Discover brassiere tips that will give you a better bra fit every time.
Warner bras to
have in your lingerie drawer? It all depends on the type of clothing you wear.
Popular Warner bras include a full range of wirefree bras that are great for comfy weekend wear and underwire bras that provide more definition and support.
Warner bras for
less - from knowing how and where to search online to scoring free shipping, there are many ways to find your favorite Warner bras for less. Check out our popular tips and start saving on your favorite fine lingerie Advantages & Benefits
---
One great advantage Warner lingerie offers is that they often host bra fitting clinics in areas (and department stores) that feature their brassieres and panties.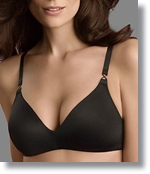 This is a good opportunity to connect with their lingerie specialists who know the pros and cons of each of the bra styles. They can provide excellent insider bra fit tips to help you get a better fit.
They can also answer questions like which types of bras are better for your body type and offer suggestions on the best bras to wear under different outfits.


Affordability
---
When it comes to the price tag, Warners lingerie has a reputation for being quite reasonable.
Warner's bras fall within the twenty to thirty dollar range, making them a popular choice for everyday wear to work, and on the weekends.
Matching womens panties are in the eight dollar to ten dollar range, making Warner bras and panties very affordable.
Because so many retailers carry Warner bras and lingerie it makes comparison shopping much easier. And, it's smart to take advantage of the end of season sales, when great deals can be had.

Disadvantages
---
Warner lingerie offers a large variety of bra styles and panties that are more modest and reserved compared to European brands like Chantelle bras.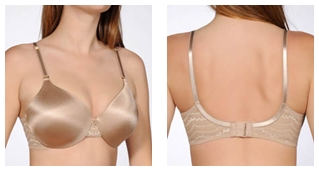 Warner brassieres have subtle differences in styling and fabric rather than flashier or more risque fabrics, patterns or trim that are often seen with more exotic bras from other lingerie manufacturers.
This understated styling may not satisfy women who want flashier beautiful lingerie on occasion. But, these brassieres are a wonderful choice for everyday, practical use.
While Warners offers great bras and panties for most women, they do not specialize in petite bras, plus size bras or plus size lingerie.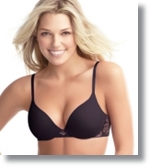 So, for women who are outside of the standard A to DDD, 34 to 38 bra sizes they will not find a selection of bra styles available to them in Warner's lingerie.
This also includes their womens panties that are also within the standard sizes of small to extra large.
For women with very small or larger shapes, there may not be a Warners bra selection that will best suit their body type.

Shopping Online
---
Warner's lingerie has an enormous presence on the internet from traditional department stores to specialty online retailers. This is a huge benefit for women who love online shopping.
But, did you know that Warner's lingerie is also on social media?
They are on Facebook and Twitter, which is a great advantage if you enjoy online shopping.
In addition to being able to easily see the latest Warner's bra styles, social media is an easy way to ask any questions and receive special tips and offers.
For women who want feminine, practical and affordable brassieres and panties for everyday wear that will not break the budget, Warner bras and panties offer variety that makes them one of the most beloved intimate apparel brands available today!