Bridal Lingerie
Bridal Lingerie ... One thing that brides tend to overlook on their wedding day is the importance of bridal bras and lingerie undergarments that they wear under their wedding dress.
A bridal bra can make or break the a look of the dress, and more importantly, it can affect how comfortable you are on your wedding day.
In order to determine which brassiere and underwear will work best, it all starts with the style of the wedding gown you've chosen, since different types of bras are designed for different dress styles.
Bridal Lingerie

Is your dress an A-line, baby doll, ballgown, fit-n-flare, mermaid, princess or sheath shape?
And, what kind of neckline have you chosen?
Popular styles include the bateau, halter, off-the-shoulder, one-shoulder, scoop, strapless, sweetheart, or V-Neck?
It is a good idea to understand a little bit about different bra styles when trying on dresses.
Once you have chosen the dress and neckline, you can look for the best bras that will go with your dress.

Favorite Bridal Bras
---
Bridal Corset - This one piece body cincher pushes the mid-section in and up, and really enhances your cleavage, giving you an hour glass shape. A great choice for strapless wedding dresses.

Strapless Bras
- Perfect for the currently popular strapless wedding dresses. These bras come in underwire bras, wireless bras and even the bandeau bra for women who require less support.

Backless Bras - work well with dresses that do not drop too low in front, but dip dramatically in back...where you want the back to be free of straps.
Push up Bras - An excellent choice when you want a little "enhancement" Pushup bras often use foam, gel or water inserts (also called "cookies" that can be adjusted depending on the amount of lift you want.

Carpet Tape - No, I'm not kidding..if you'll be wearing a dress that drops very low in the front, and/or the sides, some women prefer this option. Though some women prefer it, it's not advisable since it can cause a serious reaction and/or damage to delicate skin.
Regular Underwire Bra - If you're wearing a dress with sleeves or at least straps large enough to cover your bra straps, stick with a traditional underwire, maybe with a little extra lift.
Bra Shopping - What You Need To Know
---
The only thing white you should be wearing is the dress. Stay away from stark or bright white bras at all costs.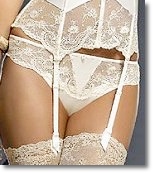 If you are wearing a light color or sheer wedding dress, you should go with nude or off white colored lingerie. Seamless bras are an excellent choice that won't show the lumps and bumps of regular brassieres.
If you are wearing darker colors, you should try to match or opt for a black bra or at the very least, a darker shade.
Why? You don't want to be able see your lingerie - either in person, and definitely not in your wedding photos for many years to come!

Determining Bra Size
---
It also goes without saying that bra fit is extremely important when shopping for your bridal lingerie. So, if you haven't been fitted in awhile, a professional bra fitting is definitely in order. Do NOT skip this step!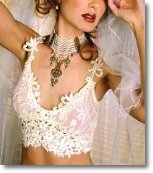 It's essential to have a properly fitted brassiere under your dress.
When walking down the aisle, you should not be able to feel your brassiere or any of your lingerie undergarments.
Think of it like this....bra should be one of the "something new" items, and not any of the others!
Keep in mind that you'll be wearing your wedding dress for several hours, and if you're uncomfortable in your lingerie, you're not going to look fabulous for your wedding photos.
You will be moving so much, stressing out, sweating, etc..that by the time you make it to your room, your wedding undergarments will not be attractive, and they certainly won't feel fresh, so don't worry about what they look like without the dress.
Your brassiere and bridal lingerie should fit like a perfect glove, be comfortable and invisible, and most importantly, make you look absolutely fabulous on your special day!