*FTC Disclosure - If you make a purchase through a link on this site, we receive a small commission at no extra cost to you.*
Silk Underwear For Brides - The Need To Know Fundamentals

Silk underwear is the ultimate in elegant and sumptuous bride lingerie. that a bride can wear on her wedding day.
There are many different styles of bridal undergarments and bridal bras, not to mention bridal nightgowns and bride lingerie, available on the market, that each is seemingly more beautiful than the last.
Whether its a delicate silk panty, a sensuous thong, or g string panties, the soft touch of fine silk lingerie on your skin is like nothing else.

Silk Underwear

This luxurious fabric is both innocent and sexy at the same time...and a very popular choice for bridal lingerie, birthdays, anniversaries and just about any special occasion you can imagine.
So, what kind of intimate apparel styles are most popular with today's brides?
The two most important things to keep in mind are the style and silhouette of your wedding dress, and of course your body shape.
Is your wedding gown a sheath, A line, empire or strapless style? And the shape of the neckline, is it halter, scoop, square, or V neck?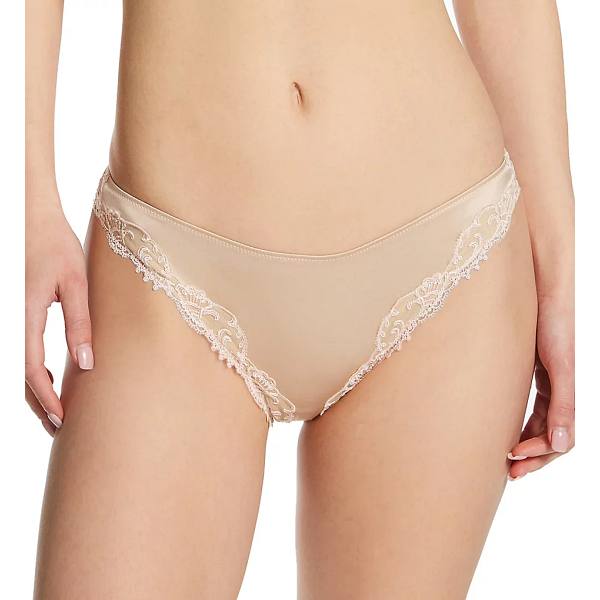 SHOP NOW
A creamy white bridal bustier and satin chemise or slip lingerie trimmed in lace are romantic wedding intimates to wear under your wedding gown.
Then, choose the right bridal panties to match your corset and bustiers or bra.
Many brides today go for comfort and coverage under their wedding gowns and save the specialty lingerie for the honeymoon.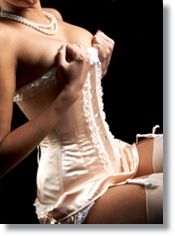 Consider a sumptuous silk panty like a bikini or hipster panty, or a full or high panty for comfort and coverage.
Pair it with a sumptuous lingerie garter belt and stockings in a gorgeous creamy white, pale pink or silver tone.
For sleek fitted wedding dresses, avoid panty lines with styles like sheer thongs, g string panties or a seamless panty.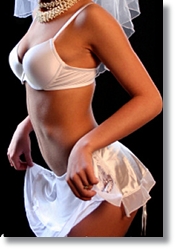 Shopping For Silk Lingerie
When purchasing honeymoon lingerie there are thousands of choices.
From demure and feminine French silk lingerie to ooh la la sheer risque lingerie, choose romantic sleepwear with an eye to what both you and your fiance will enjoy.
Looking for ideas? Here are a few of our favorites:
Brushed Back Satin Nightgowns - Sheer or lacy bridal nightgowns.
Teddies - Satin or lace one piece.
Sheer Chemise - Lace, silk, satin or mesh lingerie slips.
Camisole and Cami Sets - Sheer camisole or lace camisole in satin or lace.
Whether you're shopping for silk underwear, bridal lingerie, romantic sleepwear, or all of the above, always opt for quality, well-fitting intimate apparel to look and feel your very best! You won't regret it.