*FTC Disclosure - If you make a purchase through a link on this site, we receive a small commission at no extra cost to you.*
Best Strapless Bra - Which One Is Right For You?
Best Strapless Bra - Wondering which bra to wear with a strapless dress? Not sure which style is right for you?
Or, maybe you have one in mind but would like to know more about the pros and cons before you decide? 
We get it. Really. Bras are confusing. And, choosing the wrong type of bra for a strapless dress, halter top, cut-out dress, or backless gown can end up being frustrating and uncomfortable.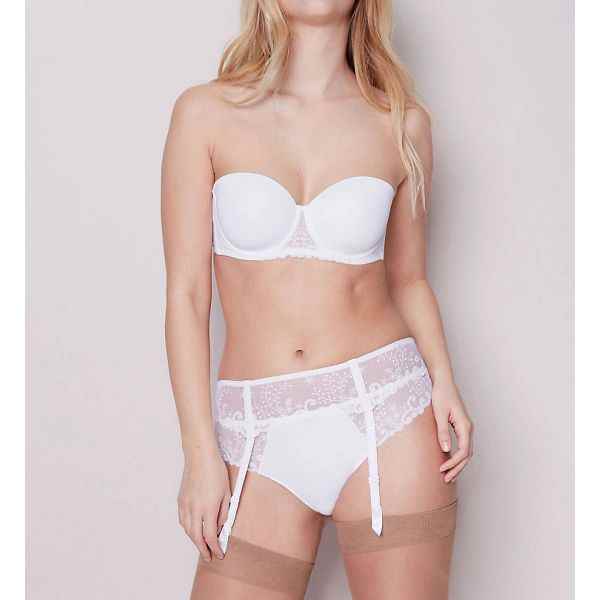 That's why it's so important to understand what the different styles have to offer before you buy.
In this article, we share a snapshot of the best strapless bra styles, along with links to more detailed information, photos, and tips and tricks to help you choose the right one for your most sensational look and fit.
Get Your FREE Lingerie Planning Guide!
Get updates on style and fit tips, advice from a lingerie designer, a FREE e-guide, and more, straight to your inbox.  CLICK HERE!

A flexible favorite, adhesive bras tick a lot of boxes when it comes to more risqué and cut-out fashions that are designed to show off your back and sides. Smooth and seamless, they're also  great option for sheer and form-fitting styles.
The great advantage of these specialty bras? They allow you to position the cups to your shape, offering a more tailored fit than regular strapless bras.
They're also one of the few styles that can actually help boost your bustline for a more natural curvy look.
>> Learn more about adhesive bras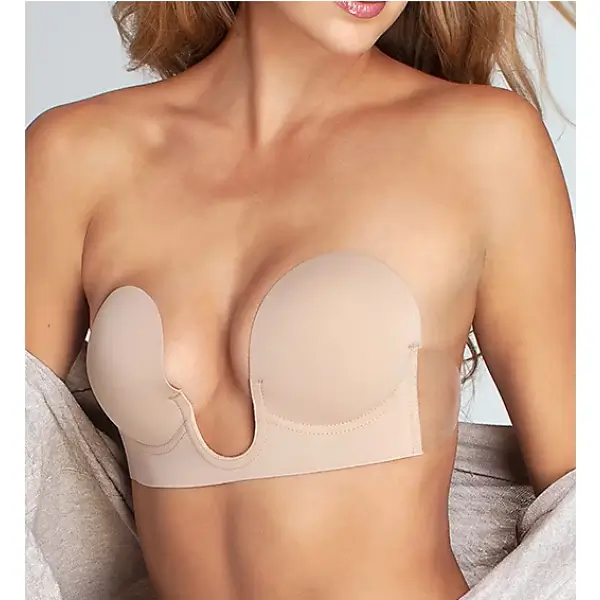 The Pros
Adjustable to your shape
Stays in place
Can be worn more than once

Very versatile

Can be worn with low cut, plunge, backless and side-showing styles
   The Cons
Disposable, so they have a shorter lifespan
Strong adhesive can irritate sensitive skin
Limited support and coverage for larger sizes
May take some getting used to
A reliable pick, the backless bra, sometimes known as a longline bra, is one of the most popular and best strapless bra styles in the world of lingerie. It's a great option for low and open back strapless dresses and gowns.
Available in a mix of styles that include flexible boning, padded cups, detachable straps, etc., backless bras provide great support for a full range of different shapes and petites through plus sizes.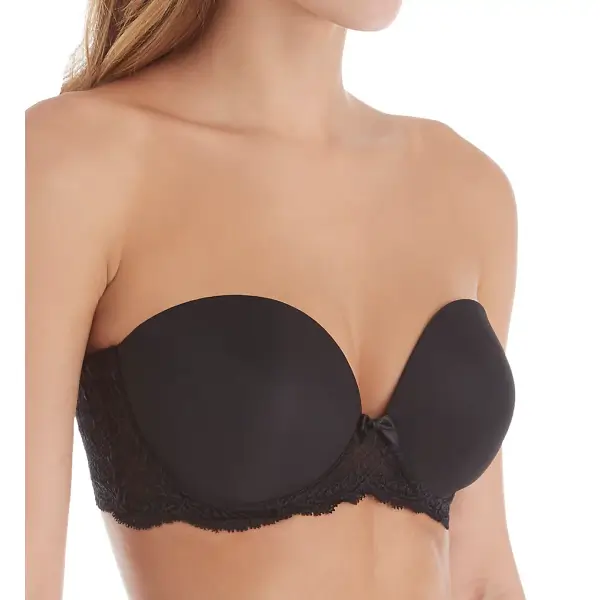 What do we like about these types of bras? They're substantial. Classic longline styles smooth and streamline your torso and tummy and have a big advantage over other styles.
They crossover as a strapless body shaper, making them the go-to favorite for weddings and other formal occasions. If you want a curvy silhouette, they're definitely worth considering.
   The Pros
Stays in place
Can be worn multiple times
Smooths and contours
Popular for wedding and formal wear
   The Cons
Not adjustable
Cannot move about comfortably if sizing is not right

Cannot be worn with side-free or cutout styles
How Do You Keep Your Breasts Up In A Strapless Bra?
Avoid bra cups / bands that are too loose. Examples are gaps or puckering, or the bra is sliding down - a big no no. Instead, go up a cup / band size
Look for styles that have a silicone gripper along the inner edge of the top and bottom of the cups and along the sides. An inside secret of fashionistas, these invisible grippers go a long way in ensuring a strapless bra stays in place.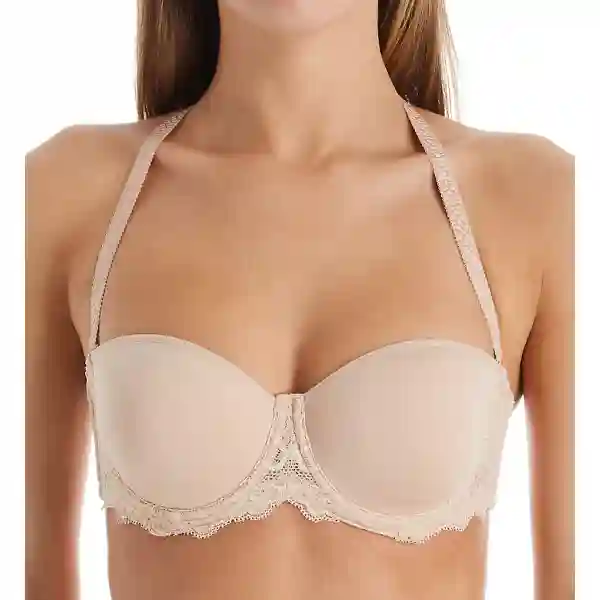 A Love of Lingerie favorite, convertible bras are one of the best kept secrets in the world of beautiful lingerie.
While they may look the same as regular everyday bras, they're actually far more versatile and can be worn with a variety of strapless, low-back, one shoulder and halter styles.
The unique appeal? Fashionistas love them for a very good reason. A convertible bra is like having multiple bras rolled into one.
These types of bras have specially designed straps that can be configured to suit whatever you're wearing.
Available in a range of push-up, plunge, and molded styles, they're a tailor-made solution that is great for all sizes.
>> More about convertible bras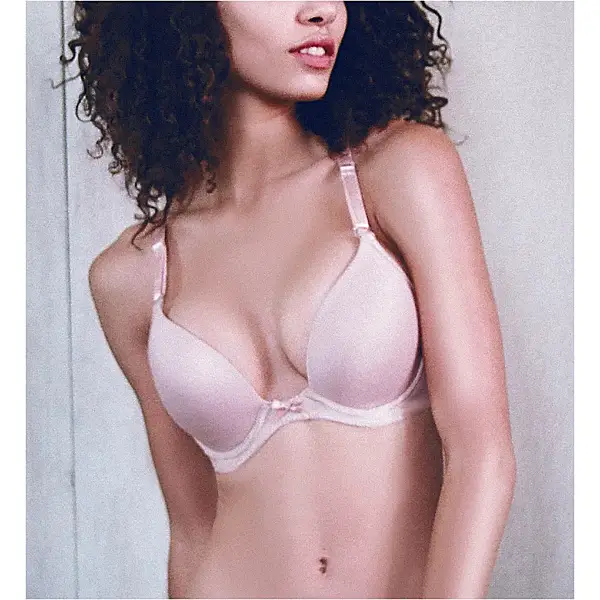 The Pros
Adjustable
Can be worn with multiple styles
Wide range of sizes, from petite to plus size
Perfect for travel
   The Cons
Sizing and fit can be tricky
Larger sizes may not offer enough support
Configuring different styles takes patience
Showy and sexy, with a dash of "Look at Me" glamour, corsets and bustiers are a hit with both lingerie beginners and enthusiasts.
While both styles may look similar, each is different with its own unique attributes and appeal.
Want to know the differences between corsets and bustiers? Keep reading!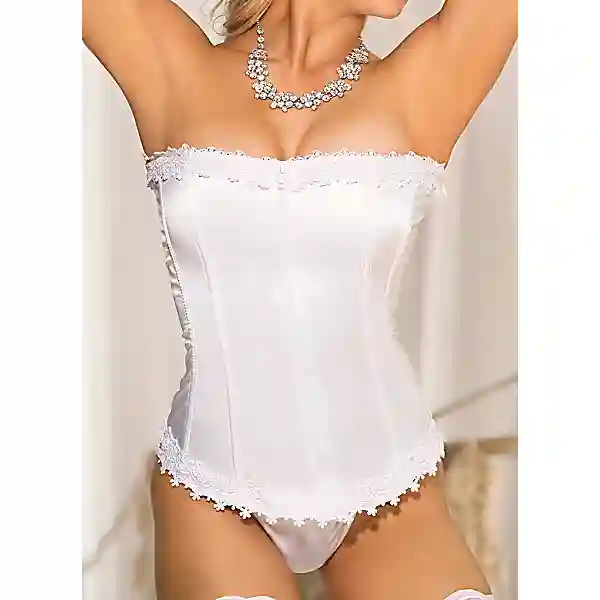 Corsets
The original darling of the shapewear world, a corset extends from the bust to the hips, and is made of woven fabric with flexible vertical boning for seriously firm control.
It tends to be heavier than a bustier and is designed to minimize the waistline (like a waist-cincher). A corset is also one of the easiest ways to create an hourglass shape.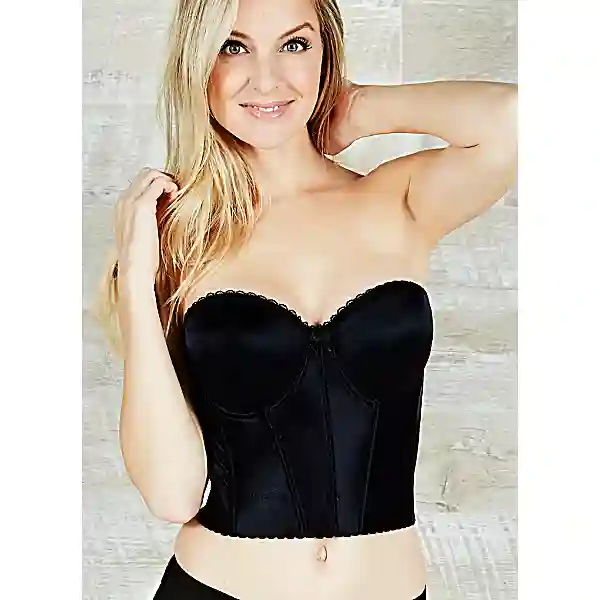 Bustiers
A bustier, on the other hand, is not as confining as a corset and is much lighter in weight. Designed to rest above the hips, it is made of stretchy light control fabric.
A bustier is also a push up style - and is used to boost / enhance the bustline and smooth out any lines and / or bumps, much like light shapewear.
>> More on corsets and bustiers

   The Pros
Both styles can be worn with an array of strapless styles
Both offer good control
Both are available with a built-in bra
   The Cons
Both are considered specialty undergarments and can be pricey
Corsets can be quite restrictive / warm when worn for longer periods of time
Sizing can be tricky
A best strapless bra option that brides and formal wear lovers reach for again and again? Strapless backless bras.
Thanks to their versatility, they can be worn with almost every backless and / or strapless dress you have in your sights.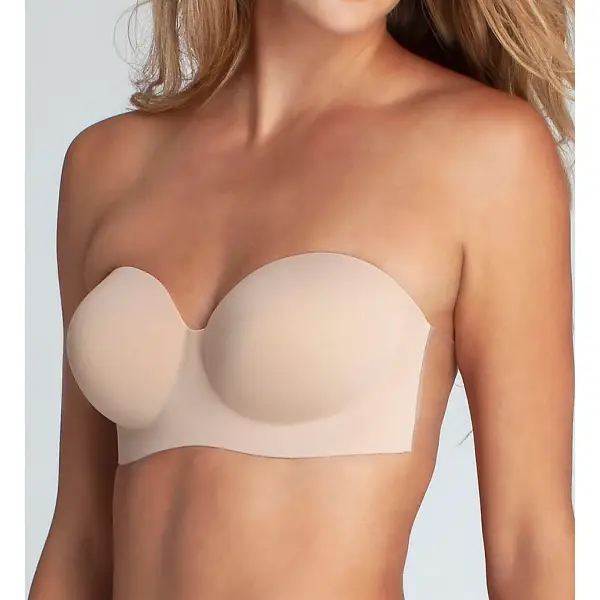 Pair them with an open back midi cocktail dress, a flirty mini dress with cut-outs, a maxi bodycon prom gown, or strapless top for a smooth and polished look.
The best features of these strapless bras? Seamless cups, invisible silicone grippers, light padding and invisible edges provide a great look and easy fit for most sizes.
>> Tips and tricks on strapless backless bras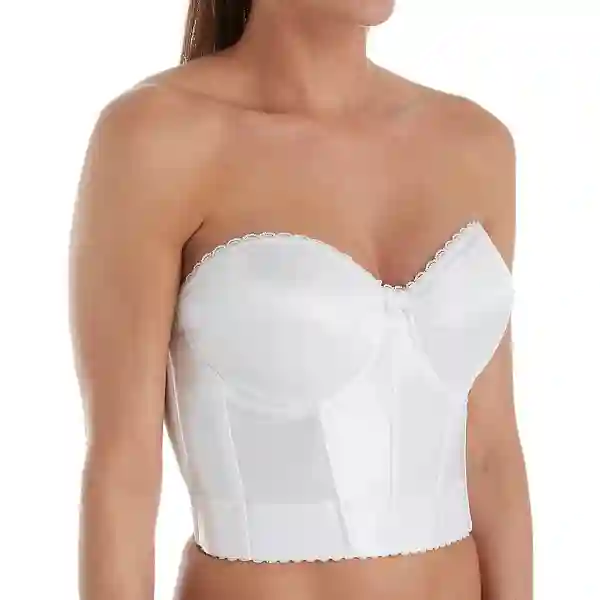 The Pros
Great under sheer clothing
A variety of low back and completely backless styles
Can be worn with everyday and formal wear
   The Cons
Adhesive styles may not offer enough support for plus sizes
Coverage and sizing can be a challenge
May not be the best option for creating / boosting cleavage
More Best Strapless Bra Information

Full Figure Strapless Bras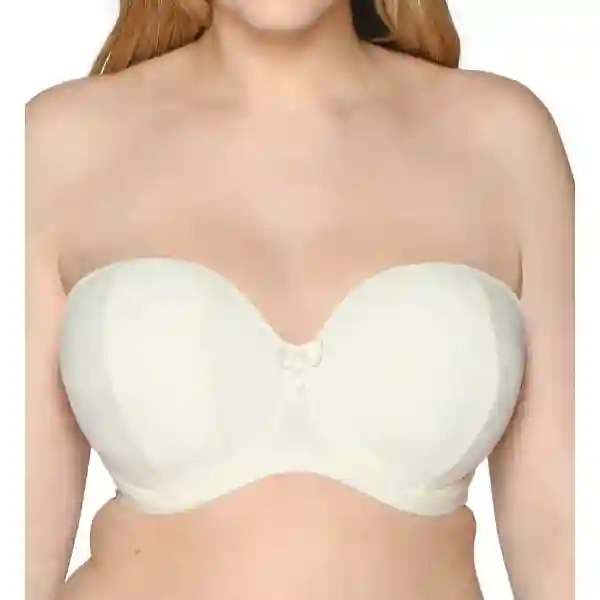 Sleek and stylish, the best full figure strapless bras are just as supportive as regular bras and best of all - they're designed to stay in place!
The trick to finding the right one for you? Follow along behind the scenes for our list of best tips.
Learn More:  Full figure essentials
---
Strapless Push Up Bra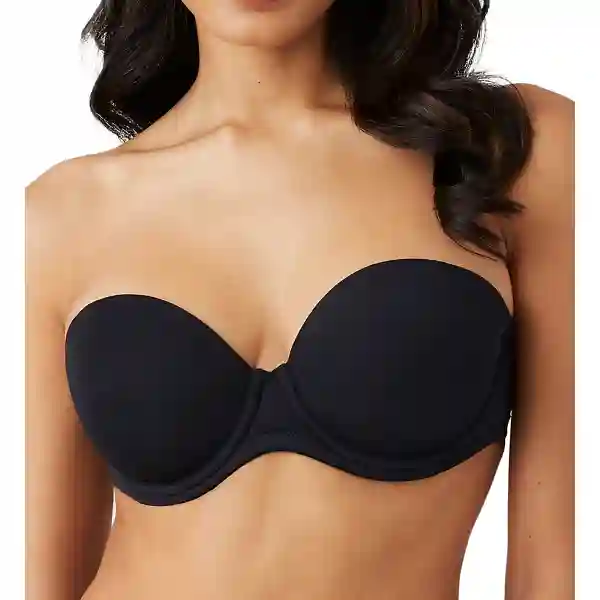 Are you interested in adding some serious cleavage for look that says wow? If so, strapless push up bras are definitely worth considering.
In this article, we take a closer look at the basic guidelines and shopping dos and don'ts.
Learn More:  Tips and tricks on push up styles
---
Plus Size Strapless Bras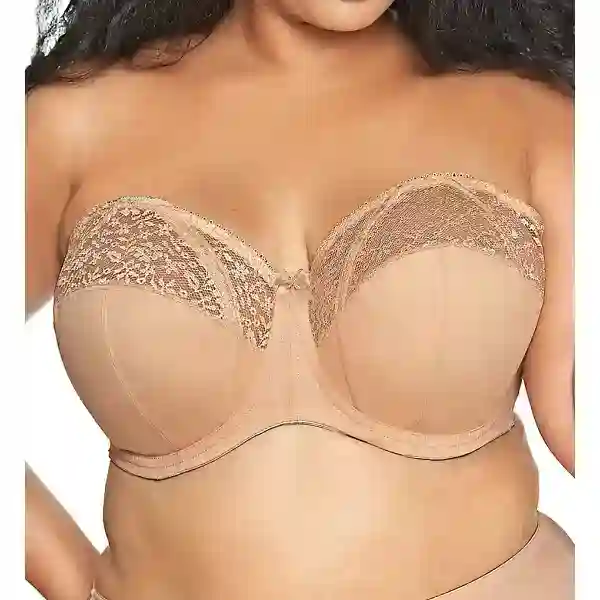 If you love the stunning look of "no straps" and are apprehensive because you wear a D+ cup, no worries!
Click the link for help solving problems like front and side spillage and bras that don't stay in place.
Learn More:  Choosing strapless bras for plus sizes