Insiders Guide To
Womens Panties & Underwear
Consumers of womens panties have more choices at their disposal than ever before.
Women are no longer forced to choose between full-coverage granny panties and naughty open bikini thongs.
There are now a multitude of other styles that suit a wider range of tastes and body types. There are three things to consider when buying womens panties:
clothing type
body shape
comfort
Womens Panties: Invisible Panties

Panty selection is easy if panties are worn under blue jeans and heavier fabrics.
But, thinner and transparent materials require more a bit more thought as to what to wear underneath.
For any kind of panties or underwear to be invisible and to avoid the dreaded visible panty line, undies need to be made from a fine stretchy fabric in a neutral color and texture that will not show through.
A panty should also match a woman's skin tone as closely as possible.
Most Caucasian women have great success with a nude, neutral or skin tone lingerie undergarment. 
Women with darker skin tones often prefer panties in shades of caramel, toffee, and dark brown, while very dark-skinned African-Americans may elect to wear black panties.
Fabric texture is also a consideration: panties in lace or ruffles may be novel and sexy, but will be visible under sheer or tighter clothing.
Smooth, seamless sheer bikini and microfiber panties are a very good choice under tight and thin fabrics.

Ladies Panties - Easy Links
---
Body Shapes
---
Body type is another consideration when purchasing womens panties.
Athletic women have their pick of the crop, and can wear almost panty, from pretty lace underwear to skimpy g string panties and thongs.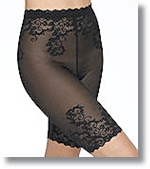 Women who are carry a bit of extra weight, or who want some shaping around the midriff should be a bit more selective.
The best body shapers are offered by stretchy, microfiber fabrics in a "power panty" silhouette found in panty girdles.These control underwear are very similar in design to men's boxer briefs, and cover the hips, lower abdomen, buttocks, and thighs, with some of the longer styles ending just above the knee.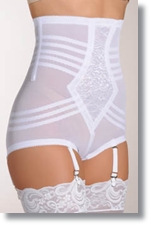 Several lingerie and intimate apparel manufacturers like Spanx underwear offer a longer version panty girdle called Spanx shapewear that covers to the mid-calf and smooths out any lumps and bumps.
Control underwear and power panties provide extreme shaping control, and are an excellent complement to bridal bras for wedding gowns, formal attire, and other clingy attire.
Power panties are also an excellent panty for wear under tight pants, as their long line is not visible beneath the outer fabric.

Panty Links
---
Thongs & Tangas Ole!
---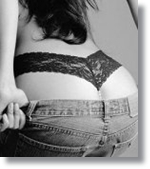 Those who are comfortable wearing thongs often elect to wear them under pants, for similar reasons.
Thongs and tanga panties also prevent the formation of a VPL or visible panty line across the derriere.
Women who want a full-coverage panty, but who do not want to wear the high-waisted, unfashionable underwear that their mothers and grandmothers wore, may opt for womens boyshorts.

These womens panties are cut full across the bottom and offer a degree of shaping to the lower tummy.
But, they have a much more modern cut than the gigantic old granny panties of yesteryear.
They are available (and affordable!) in a huge array of stylish colors and fabrics.
These panties can add some instant pizzazz to your lingerie drawer without breaking the bank, and are an excellent choice for women of all ages.
Beautiful Lingerie > Womens Panties