*FTC Disclosure - If you make a purchase through a link on this site, we receive a small commission at no extra cost to you.*
Elegant Bridal Lingerie Thongs - How To Look Amazing

Elegant Bridal Lingerie Thongs - When it comes to looking and feeling great on your wedding day, it's all about choosing undergarments that are the best styles for your dress.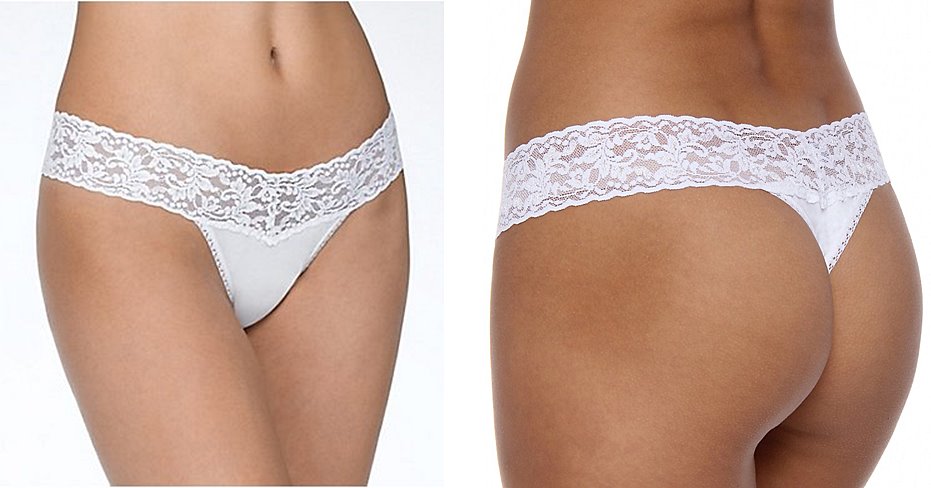 This could mean slipping into panties and intimate apparel that are a real departure from your normal underwear.
In some cases the need to slip on a peekaboo thong or tanga panty can get even the calmest bride stressed out if she's not used to being so scantily clad.
Rest assured that thongs aren't as scary as they sound, and we'll show you how easy it is with these stress-free tips on how to conquer your fears and embrace elegant thongs for your wedding lingerie.
Elegant Bridal Lingerie Thongs

Experiment With Womens Thongs For Everyday Wear
If you've never worn thongs before and are a little apprehensive, the more time you have to wear them before your wedding - and, the more comfortable you'll feel.
For many, this type of panty takes some getting used to. 
Don't wait to debut this look on your wedding day.  Head out to the store a few months or weeks prior to the big day and stock your drawer with a few everyday styles that you can start wearing on a regular basis.
The shock factor will wear off long before you need to think about wedding lingerie if you start making thongs part of your daily dressing.
Did You Know? 
Thongs and tangas are a great choice for fitted wedding gowns. Why? No bumps, bulges or thick panty lines.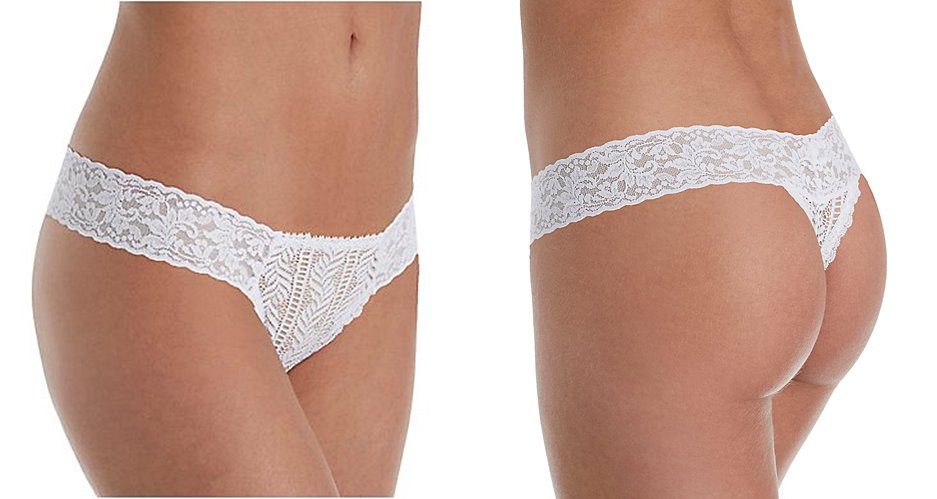 HANKY PANKY
Try Different Panties Before  Your Wedding
When you've found an elegant lace thong that's perfect for your dress, don't be afraid to wear it ahead of your special day.
Keep the special wedding spirit by wearing elegant bridal lingerie thongs to your bridal shower or bachelorette party, and enjoy getting more wear out of them by making them part of your entire bridal celebration.
Ease Your Confidence in A Flattering Panty
Regardless of the style of bridal underwear that you end up choosing, panties that aren't flattering and comfortable just don't make the cut for your wedding day.
Opt for a thong or tanga panty that suits your shape and flatters your figure. 
There are a multitude of amazing styles that include hicut, low cut, bikini and hipster. 
Don't be afraid to experiment and find the style (and fabric) that suits you perfectly.
Your fears will melt away when you have the confidence in knowing that you look your very best on your special day.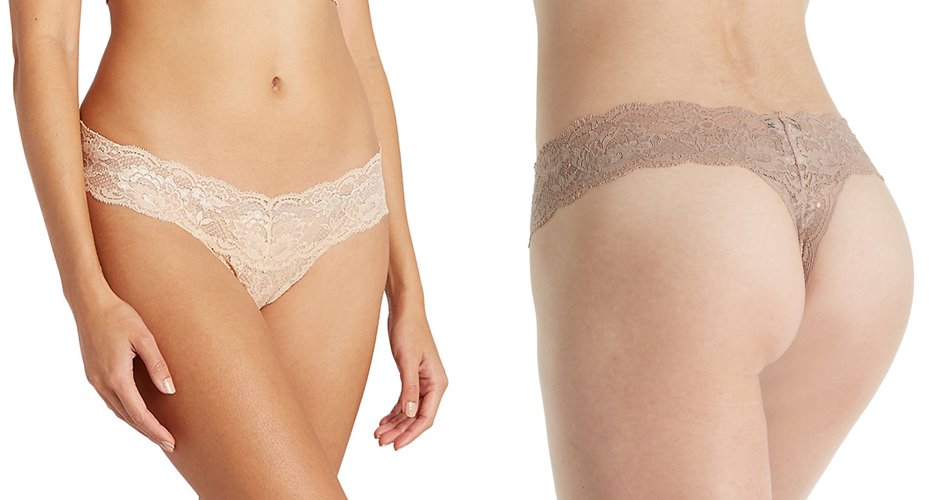 COSABELLA
Choose Bridal Lingerie That Makes You Feel Special
Whether it's ruffles, lace trim, rhinestone details, silk ribbons, or even a modern minimalist panty, look for a bridal thong that's loaded with styling that makes you feel special and spoiled.
Most brides love to wear beautiful lingerie that feels luxurious and lavish on their wedding day.
Pamper yourself with a pretty thong and you'll forget all about your fears and find yourself actually looking forward to slipping on your wedding underwear.
Not All Thong Panties Are Created Equal...
Comfort is key on your wedding day, especially if you are not used to wearing thong underwear. Here are a few tips before you start shopping:

Opt for comfortable materials like soft lace and sheer fabrics that will breath
Look for stretchy lingerie fabrics with a touch of spandex
Choose specific sizes (S, M, L, XL, 1X, etc.), rather than a one size fits all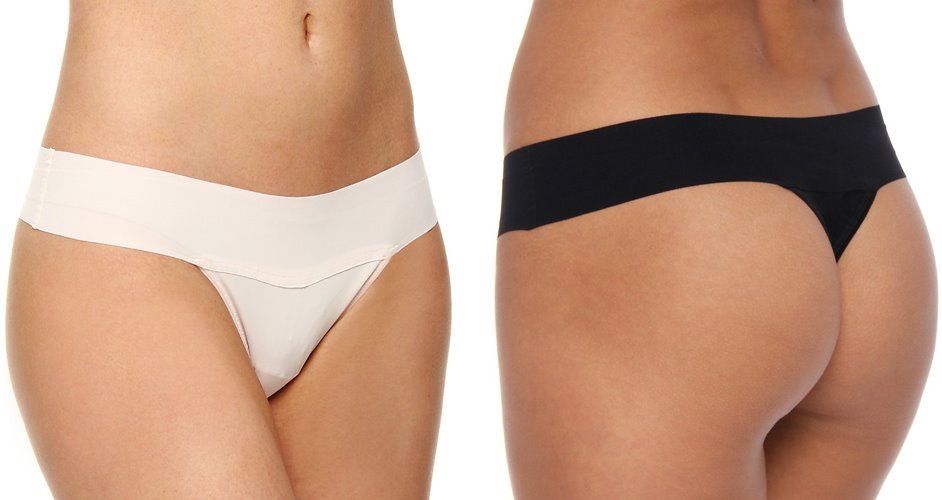 Pick Your Panty Coverage
Like most other panty styles, not all elegant bridal lingerie thongs are created equal. From barely there g-strings, to boyshorts with thong backs, there are different styles and levels of coverage to suit virtually every occasion.
You can opt for bridal thongs in sheer fabrics, or stay more modest in opaque silk, satin or even microfiber.
Look and feel elegant on your wedding day in bride lingerie that gives you just the right amount of coverage that you need to feel comfortable.

Keep Undies Classy With Design Elements
If you're concerned that barely there or skimpy thongs won't be as tasteful or classy on your wedding day, you can calm this fear by choosing a style with elegant design details.
Steer clear of racier fabrics like mesh or sheer nylon and stick to beautiful and classic lace or silk panty styles.
Lacy appliqués, chiffon ruffles, or silk embroidery are all special details that will keep elegant bridal lingerie thongs looking beautiful and refined.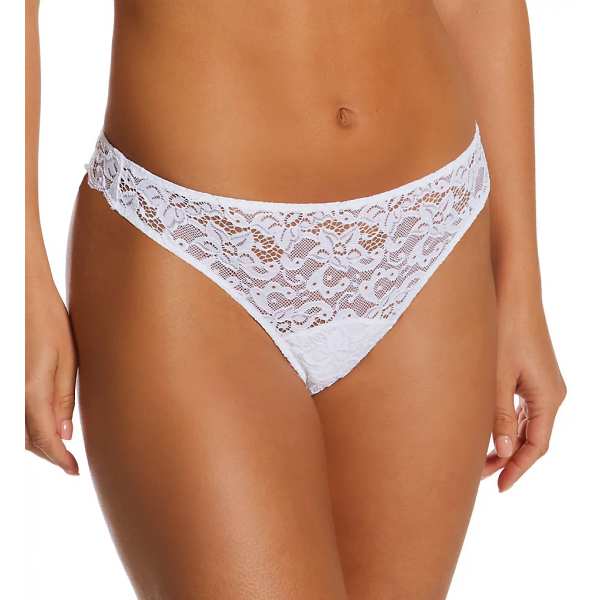 HANRO