Advantages of Elegant
Bridal Lingerie Thongs
Elegant Bridal Lingerie Thongs - An important part of choosing bride lingerie is making sure you have the perfect bridal undergarments and intimate apparel to complete your wedding dress on your big day.
Even though many brides will opt for more coverage on their big day, there are many reasons women choose bikinis, g string, and tanga panties rather than the traditional types of bridal panties to match their bridal bras.

Elegant Bridal Lingerie Thongs

One reason is that brides want to feel a little more sensual with beautiful lingerie for their wedding day, which is already filled with a tremendous amount of love and passion.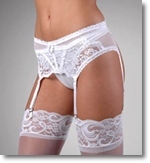 The biggest reason though is there are no bumps, bulges or panty lines that end up showing through the dress.
This is especially true if you are wearing a fitted wedding gown. No one wants to mess up the look of their perfect wedding gown with thick panty lines.
Not only can that be uncomfortable for some women but also many find not going with a g string under a dress to be embarrassing when it results in unsightly lines. 


Thongs
Here are a few popular styles to keep in mind:
What You Need To Know When Shopping For Thongs
---
There are some things to watch out for though as not all thong panties are created equal.
You'll want to pay special attention to the fabric that they are made of. Comfort is key, especially if you are not used to wearing women thong panties.
Consider these thong tips when shopping for your intimate apparel and bridal panties:


Materials like lace and sheer fabrics that will breath
Stretchy material with a touch of lycra
Specific sizes (S, M, L, XL, 1X, etc.) instead of one size fits all
Multiple pairs of panties