*FTC Disclosure - If you make a purchase through a link on this site, we receive a small commission at no extra cost to you.*
Insiders Guides To Mens Robes
Mens robes - from silk to satin, and cotton to velour, the choices in mens sleepwear have never been better.
Men too, can enjoy some pampering while wearing their bathrobes. The key is finding the right style, cut, and fabric to flatter while retaining a masculine appearance.
Mens Robes: The 411

Cotton is a great material - economical, comfortable, and durable; you can almost always find basic white terry cloth robes at a department store for a reasonable price.
Other masculine colors to consider include black, navy blue, maroon, and dark green. Also consider simple patterns or prints, such as vertical stripes or paisley.
Mens robes made from fleece are another viable cold-weather option.
Fleece is affordable and popular, and feels just as fantastic against the skin as terry cloth robes do. Both terry cloth and fleece robes often come with hoods for added warmth and comfort.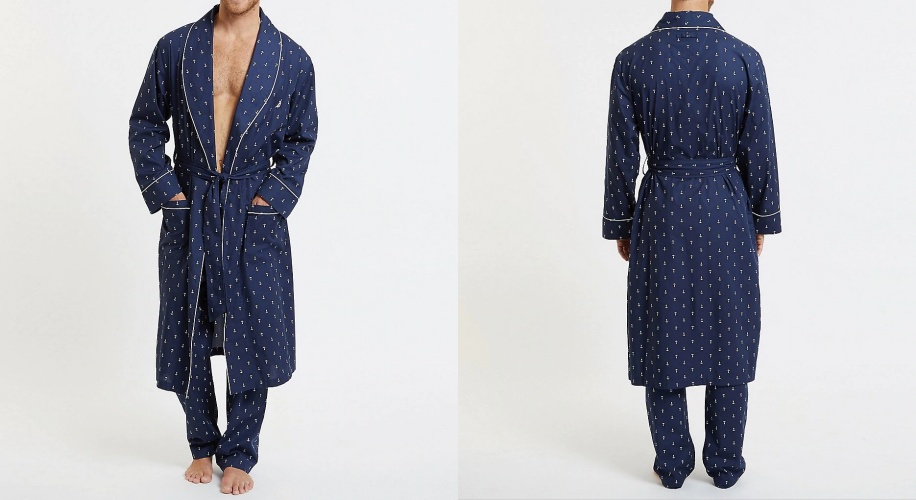 NAUTICA
If you're searching for a bath robe or even a mens nightshirt that will be comfortable in hot, humid weather, consider a cotton robe.
Cotton robes are thin, making them a wise choice for travel; the slim silhouette of a cotton robe will not visually add pounds to your frame or make you appear overweight.
Luxury robes made of linen have a similar profile and are a fabulous choice for warmer climates; however, linen is extremely easily wrinkled.
Devotees of the fabric find this to be part of its charm, but the tendency to wrinkle does make traveling with linen undergarments and intimate apparel potentially challenging.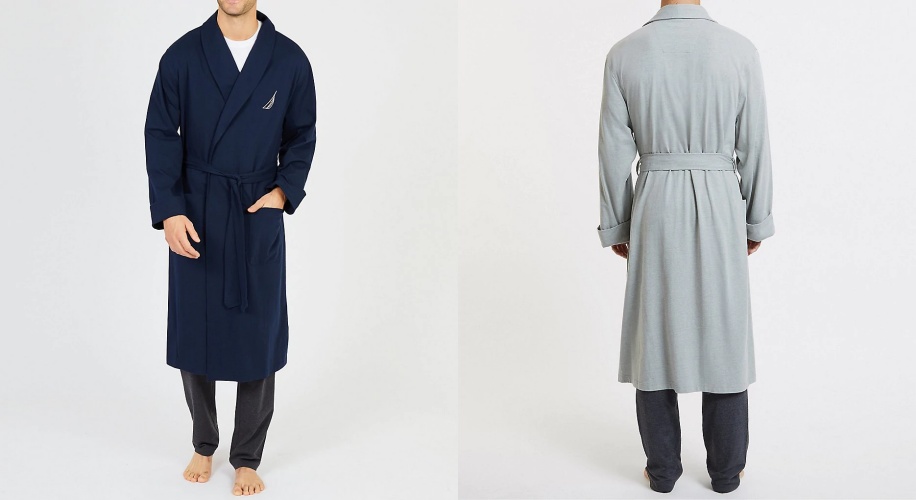 Mens robes in silk or satin are very popular. Neither material is bulky or thick; neither is known to absorb water well. Both have a smooth, buttery feeling against the skin, and can add instant sex appeal.
Satin made from synthetic fibers is usually easy to care for; however, mens silk robes can be high-maintenance, requiring hand washing or dry cleaning.
This is especially true of highly detailed silk robes featuring lots of embroidery or hand painting.
However, men frequently choose to avoid these highly decorated undergarments and often opt for simpler, cleaner lines, such as silk or satin robes in solid colors.
Both silk and satin robes look wonderful in black or red; navy or cobalt blue are also popular choices.
As silk can retain body heat rather effectively, a knee-length or short robe may be a wise choice for tropical climates, especially when you are traveling.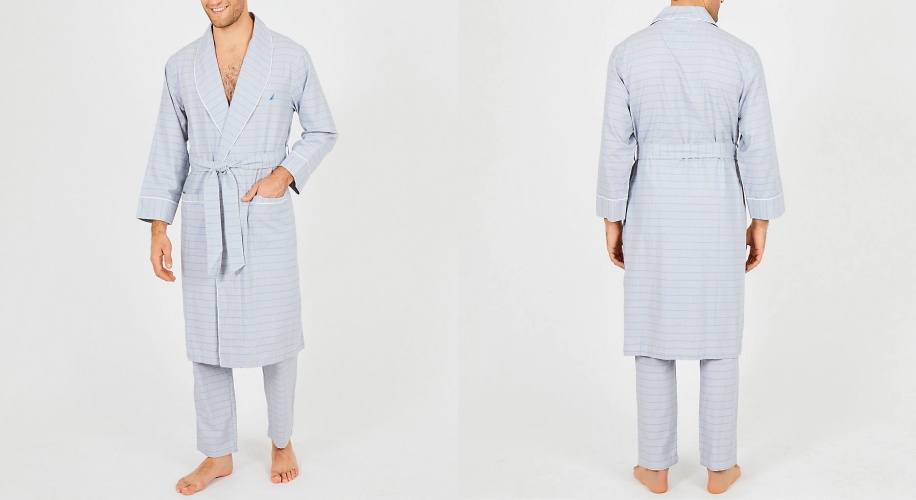 MENS ROBES
Robes may also be made from animal fibers; the classic example is the luxurious cashmere robe, which range from several hundred dollars to several thousand dollars.

Cashmere robes and lingerie for men are exceptionally warm, yet the material is surprisingly thin.
Cashmere also becomes softer with each washing. Before purchasing a cashmere robe for yourself or a loved one, research the care that will be necessary to clean it and maintain it.
For example, although most cashmere lingerie and undergarments can be washed at home by hand, they will need to be pressed dry in a series of towels and left to dry flat.
They should never be hung, period, because hanging will stretch and distort their shape.
Rather, robes made from cashmere should be stored flat in a drawer, chest, or shelf; precautions will also need to be made in order to discourage moths from ravaging such garments.