*FTC Disclosure - If you make a purchase through a link on this site, we receive a small commission at no extra cost to you.*
Night Gowns When You are Expecting - Insider Tips

Night gowns when you are expecting ... Many women who are pregnant overlook nightgowns when packing their hospital bags or planning what to wear immediately after they arrive back home.
They are so absorbed in the preparation of a nursery and in preparing for the actual birth itself that they forget that night gowns will be an important part of life post-baby.
For example, nursing mothers can make their lives considerably easier and more simple by purchasing nursing nightgowns. These nightgowns have a bust that can be opened up to expose either breast for midnight feedings.
A nursing nightgown also often contain pads to absorb any excess milk, and to cushion nipples which may have become irritated or sore.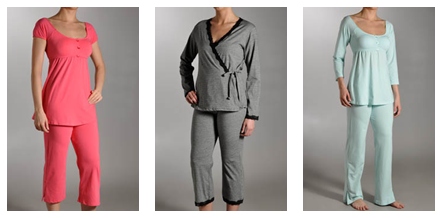 Night Gowns When You're Expecting

Night gowns for new moms not just for nursing, however. Pretty, and well designed womens sleepwear can help a pregnant woman feel as comfortable as possible during the final weeks and days of pregnancy.
This is especially true if the mother has been placed on bed rest. Consider a microfiber or cotton nightgown with some feminine lace edging; the incredibly soft microfiber or cotton fabric feels fantastic against the skin and does not add bulk.
These ladies nightwear fabrics are also wonderfully stretchy, so you won't experience any binding or pinching if you toss and turn in bed.
Night gowns when you are pregnant can also do wonders towards making an exhausted expectant or new mother feel beautiful and presentable when company comes.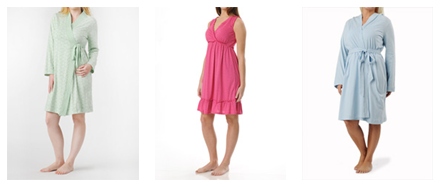 Womens Robes
---
Most hospital womens robes are rather dreary and unflattering, and it can really lift your spirits to put on a soft and silky sleepwear gown and matching robe.
A womens robe is also wonderful for modesty, especially if you have to pad around the hospital hallways at all during your stay.
Consider a knee-length nightie with a longer wrap robe.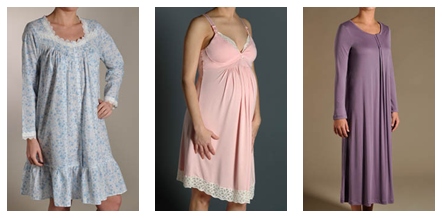 SHOP NOW
Shorter nightgowns and sleepwear won't get tangled up in bed, and a pretty matching spa robe or microfiber robe can provide extra coverage if and when you so desire.
Since any clothes worn by the parents of babies and young children are apt to get soiled quickly, remember to opt for nightgowns and ladies sleepwear in fabrics that are easily washable and that do not tend to hold a stain.
Obviously, dark colors and patterned lingerie undergarment fabrics can hide a bit of spit-up more effectively than a pristine white cotton nightgowns, so choose accordingly.
Colorfastness is another important factor to consider, since you'll undoubtedly be washing these nightgowns quite often.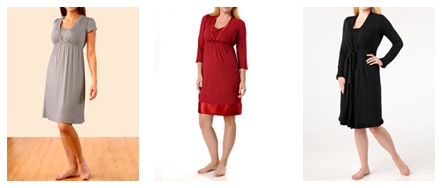 If it's very cold in your house, night gowns when you are expecting might prove a bit drafty. In this event, consider a menswear inspired womens pajamas set that contains pants and a long-sleeved top.
Cotton is washable and comfortable, but a silk nightgown or satin nightgown can really make you feel like a million bucks. Throw on one of the luxury robes like a silk or satin kimono robe over your pajamas if it's really drafty.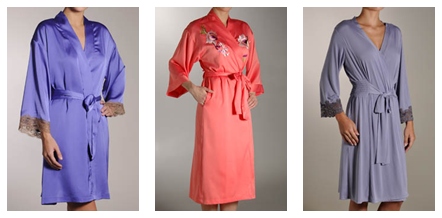 Slippers and Socks
---
Remember that slippers or a pair of thick, cushy socks can also help you retain heat in a chilly room.
The most luxurious slippers are lined with sheepskin; you might pay a bit more for them, but the comfort you receive is absolutely worth the expense!
If you have a friend or family member who is expecting, or who has just had a baby, consider giving them the gift of a beautiful, comfortable nightgown or pajamas.
This gift is often unexpected, but the new mom will think fondly of you each time she dons her new nightgown!