Microfiber Robe
Recent advances in fabric technology have made the microfiber robe a must-have ladies sleepwear basic for today's lingerie closet.
This revolutionary, lightweight fabric is designed to deliver a baby-soft feeling against the skin, while drawing moisture away from the skin more efficiently than either terrycloth or cotton.
These luxury robes are ideal for wear after the shower or bath; and, they're also fantastic cover-ups during swim season, for the same reasons.
Microfiber Robe
Microfiber Robe

A womens robe
in microfiber dries very quickly between wearings and is less prone to mildew than other
women sleepwear
fabrics. These advantages, combined with the affordability of such garments, make microfiber a fabulous choice.
The gift of a microfiber robe can easily be paired with a set of microfiber towels or a microfiber hair turban. Once you have experienced the myriad benefits of microfiber, you may never want to opt for plain terry cloth robes again!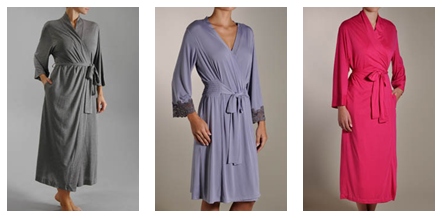 Robes
When choosing one of these spa robes as a gift, it's wise to stick to basic designs and simple yet classic colors.
Long robes are universally comfortable and flattering on everyone. Another excellent choice is the ¾ or short robe, which has shorter sleeves and a bottom hem that falls just below the knees.
A white microfiber spa robe is the obvious color choice, although cream looks better on many complexions.
If you opt for a patterned microfiber robe, stick with simple patterns such as vertical pinstripes. Avoid horizontal bars or stripes at all costs; these patterns add width and weight and are rarely flattering, even on thin frames.

A microfiber wrap robe also has the advantage of being very easy to care for and store. These robes are not prone to mildew and require less frequent washing than their terrycloth counterparts.


These womens robes can almost always be machine-washed; place the belt in a mesh lingerie bag to avoid tangling, and use the gentle cycle.
As a precaution, use a very gentle detergent. They may be line dried, or dried in an electric clothes drier on the gentle cycle.
Once dry, these robes may be hung on a hanger or stored in a lingerie drawer; to keep the shoulders from pulling and sagging, a padded lingerie hanger is recommended.
Most ladies robes in microfiber are made from a polyester blend; certain fabrics are also made from nylon.
The elasticity of microfiber makes it a very flattering fabric for use in robes for women, plus a multitude of other intimate apparel styles like night gowns, camisoles and cami sets, chemise sleepwear, bridal undergarments and even trendy teen lingerie.
There are two major drawbacks, however. First, microfiber lingerie easily attracts dust and pet hair. The ease of cleaning microfiber women robes, however, means that this issue is easily overcome.
The second drawback is flammability; most microfiber fabrics are highly flammable. They also emit toxic gases when burning.
So, it is important to check the labels of any lingerie undergarment you are considering, to be sure that the fabric has been treated with a flame-retardant.
This is particularly important when buying toddler bath robes for children or preteen lingerie for young teens.
In the event that your microfiber robe becomes too old or irreparably damaged, don't throw it out! Recycle it.
Microfiber fabric is excellent for household cleaning applications, and often cleans surfaces without the additional need for harsh chemicals and solvents.
Consider cutting damaged garments into useful cleaning cloths to get more use out of this wonderful material!