*FTC Disclosure - If you make a purchase through a link on this site, we receive a small commission at no extra cost to you.*
Ladies Nightwear - The Need To Know Fundamentals Of A Perfect Fit

Ladies Nightwear - at the end of a long hard day, there's nothing nicer than slipping into your favorite sleepwear - whether it's a nightgown, chemise, sleep shirt, or even a luxurious pair of pajamas, nothing compares to comfortable nightwear as you relax before heading off to sweet dreams.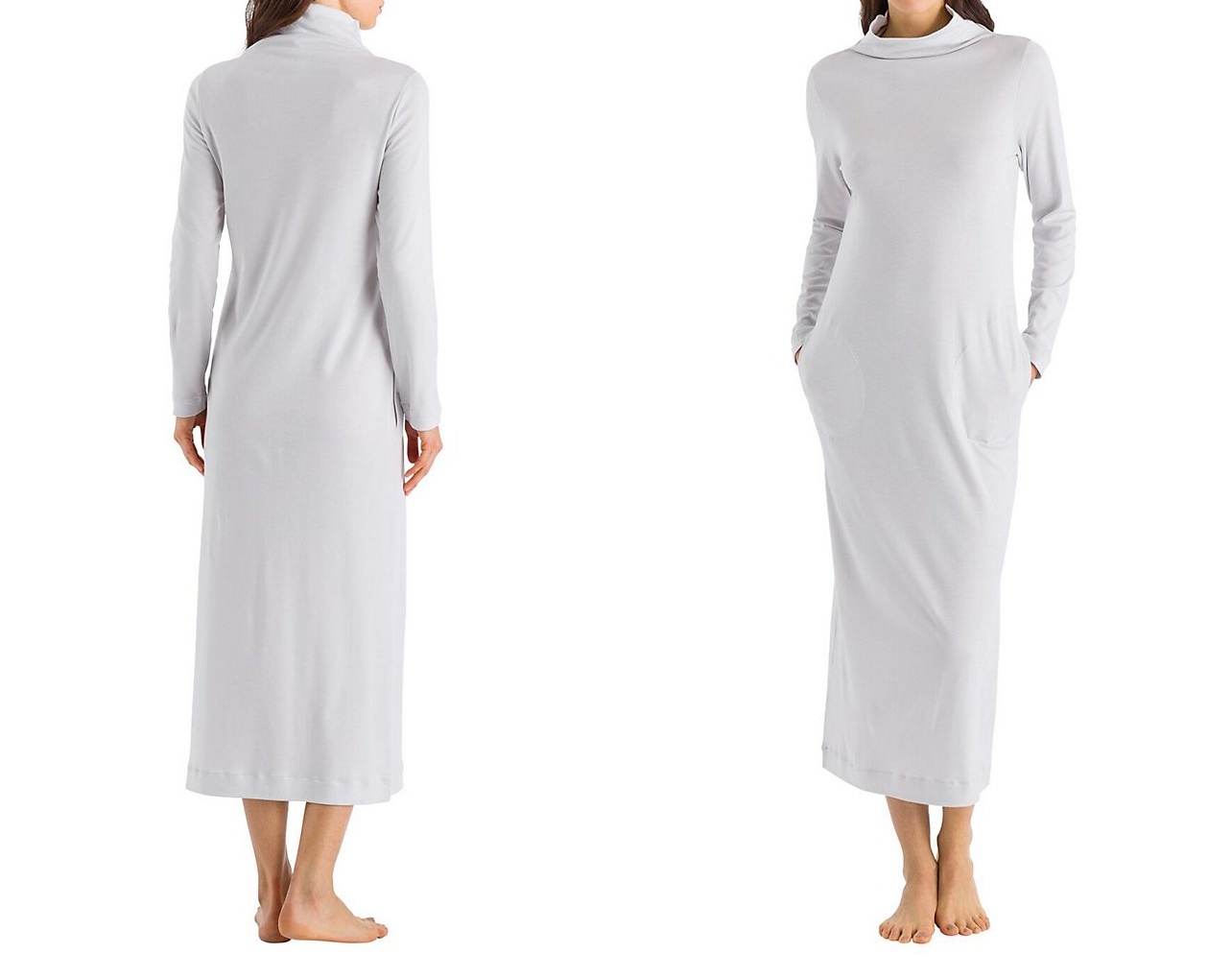 From a behind the scenes look at sleepwear sizing and styles to the magic of stretch fabric, we take a closer look at the tips and tricks that will give you a great fit every night.
Sizing Up Doesn't Make Nightgowns Longer
Women often find themselves frustrated with nightgowns that aren't long enough, and it's a common belief that opting for the next size will result in a longer fit.
The truth is, sizing up typically makes clothing and ladies nightwear gradually bigger, but  it really doesn't add much in the way of length.
Solution - Instead of going bigger, look for brands like Hanro, P-Jamas, and specialty lingerie retailers that offer long nightgowns, or specially designed for taller shapes.
Online is a great place to start - the trick is to take a closer look at the sleepwear measurements (retailers usually post them in the item description) and compare them with your silhouette.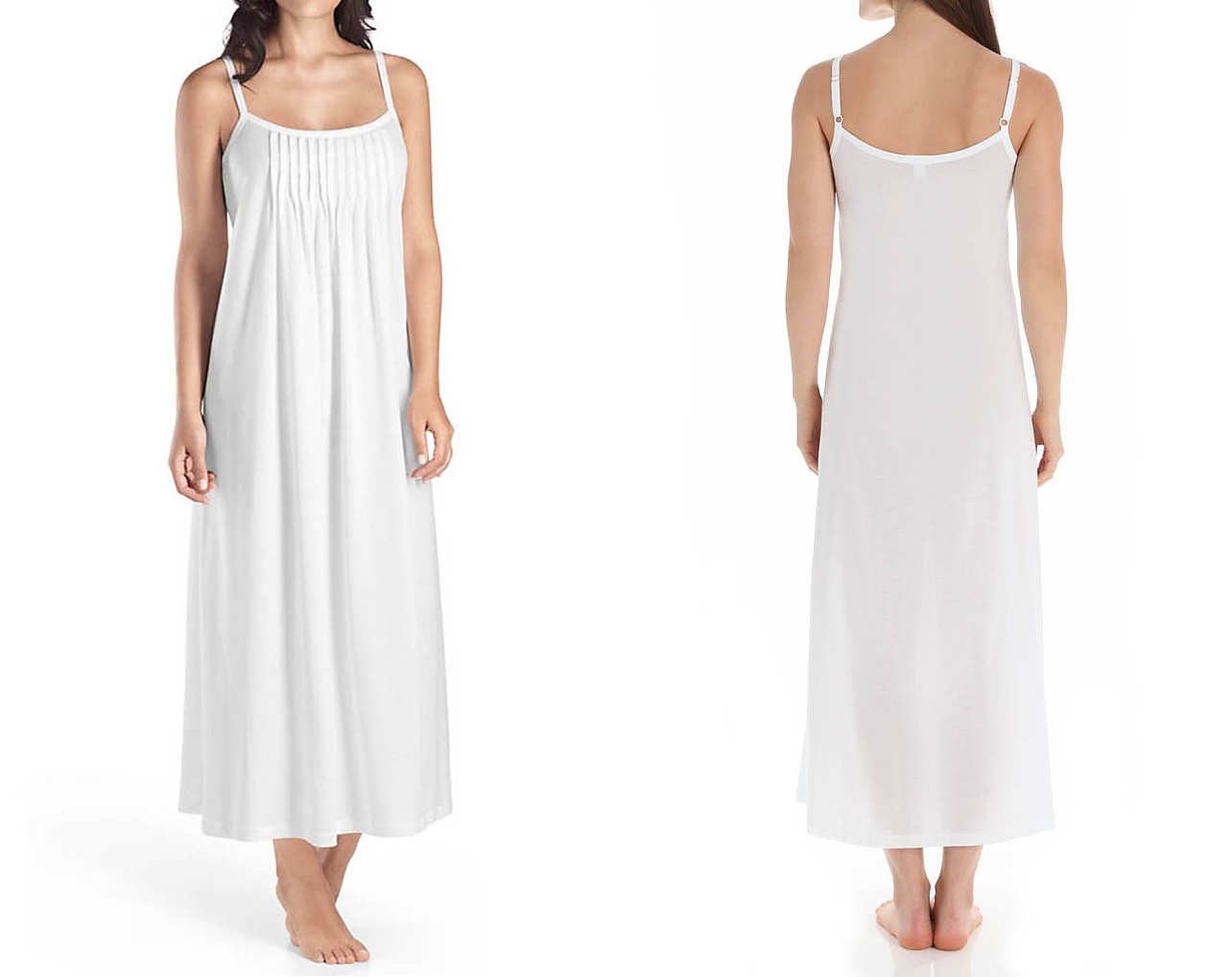 HANRO

Ladies Nightwear Should Fit The Bustline Comfortably

When it comes to ladies sleepwear that looks and feels great, one of the most challenging areas is the bust, particularly for larger busted women.
Often overlooked but critical to a great fit, it's important to pay attention to how a nightgown sits along the bustline.
While the bodice and sleeves of a nighty tend to offer more room, a comfortable fit along the bust can be a trickier bet.
If it's too tight or too loose and doesn't fit comfortably, the chances are greater that sleepwear will end up forgotten at the back of your intimate apparel drawer.
Solution - Ladies Nightwear in stretchy fabrics that have a touch of spandex, or styles that include pin tucking along the bustline are more forgiving and offer a more comfortable fit.
With structured sleepwear with a built-in underwire, like a chemise or babydoll, use your bra size as a guideline to get the shape and support that you want.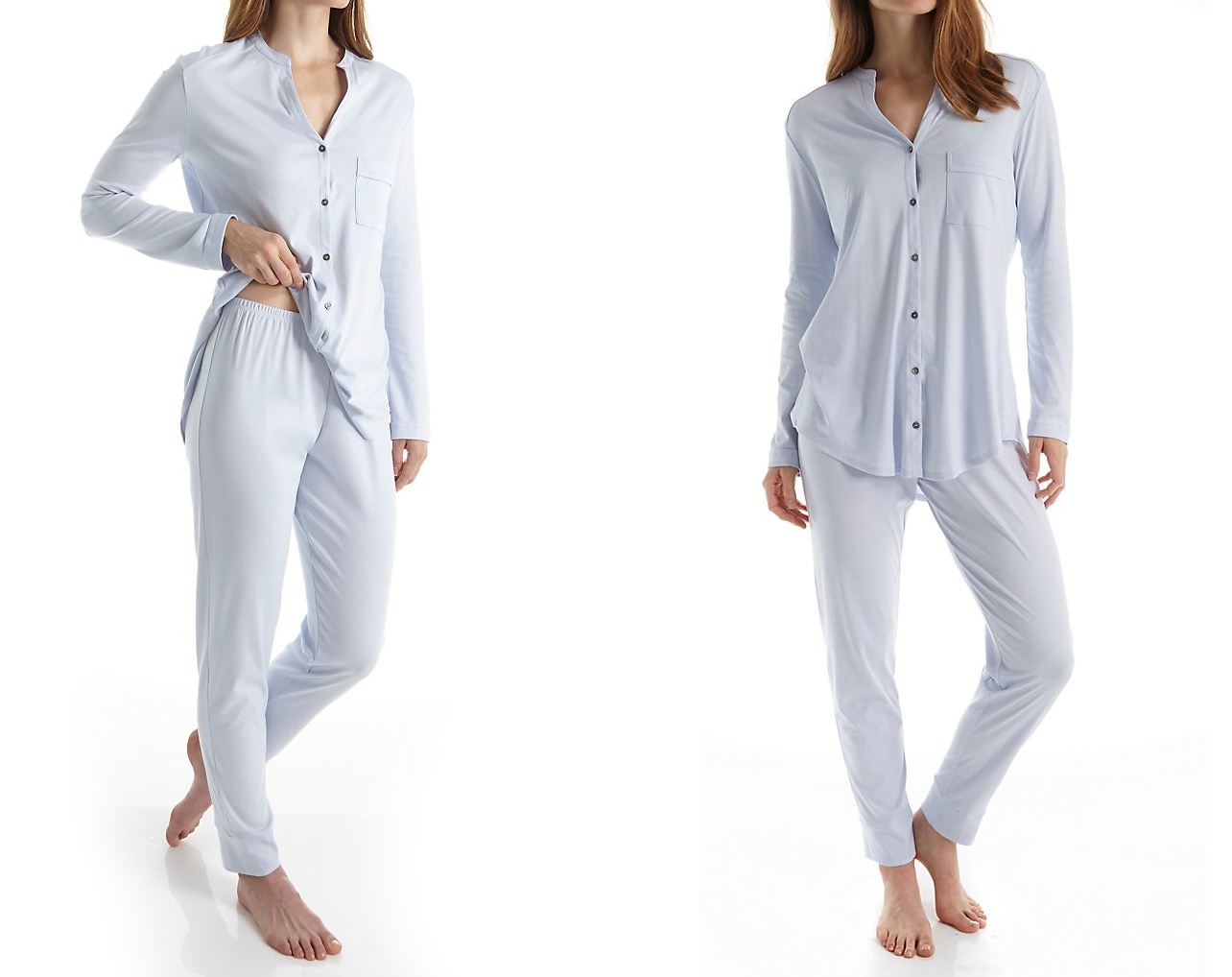 Sleepwear Tip
If you find yourself between two nightgown styles or sizes, opt for the looser fitting nightgown over a more fitted style for a more comfortable fit.

P-JAMAS
Stretchy Sleepwear Fabrics Are Very Comfortable

Nightgowns, pajamas, and ladies nightwear in tightly woven fabrics like silk, satin, or cotton offer no stretch and are much less forgiving fit-wise than popular knit fabrics like microfiber, jersey, and cotton blended sleepwear.
Much like a stretchy t-shirt that's easier to wear than a tailored blouse with no give, women's nightgowns in stretchy fabrics move with your body and offer a better fit.
The secret?  Spandex.  Choosing a fabric with even a small percentage of spandex - an amazing fiber that allows fabrics like cotton to stretch - can make a significant difference in the way a nightie feels and looks.
Man made and synthetic intimate apparel fabrics like rayon and polyester can be scratchy, irritating, and uncomfortably warm as they tend to hold the heat and are not breathable.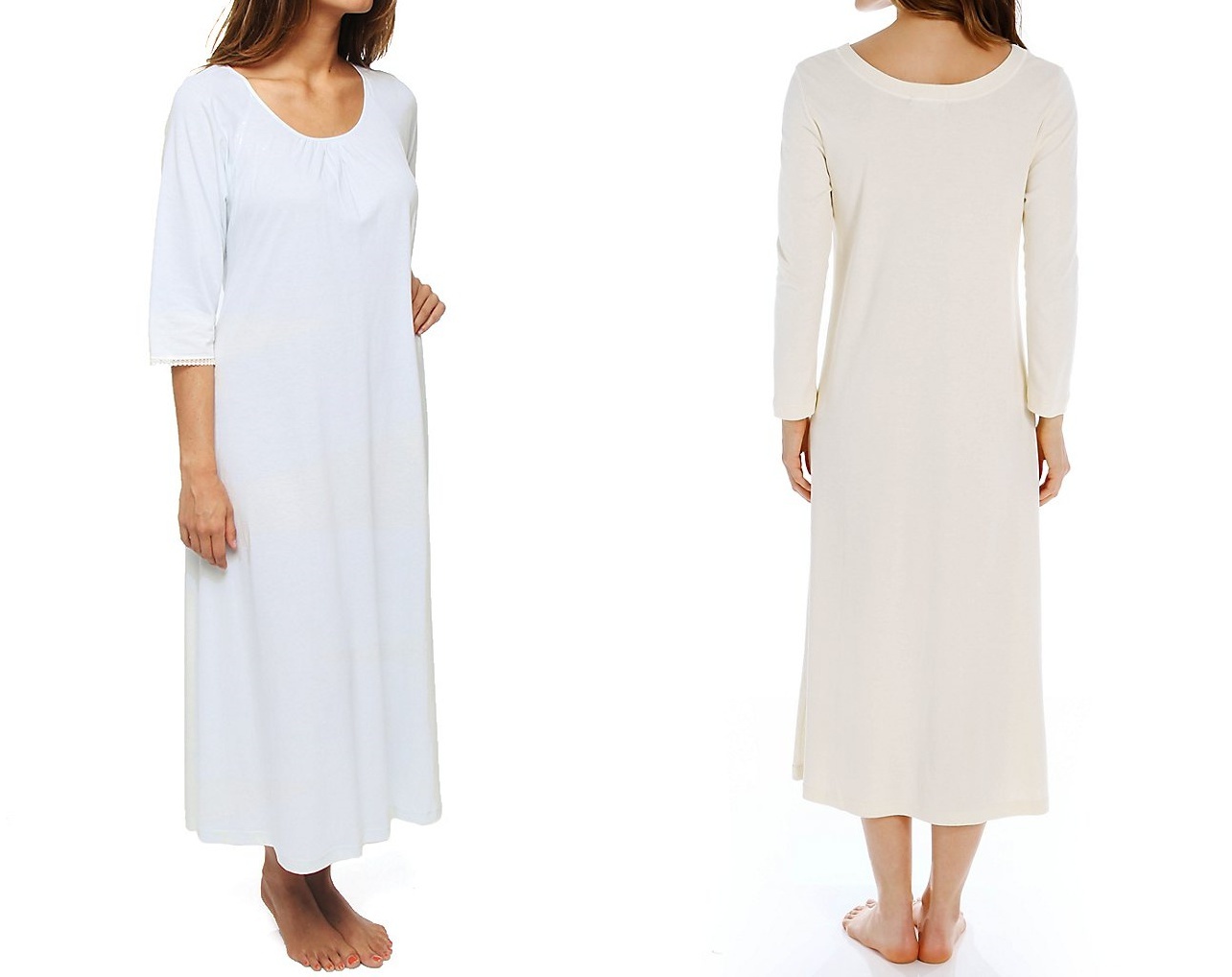 Did You Know?
Nightgowns made from natural breathable fabrics like cotton and linen offer an easy and relaxed fit that makes for a great night's sleep.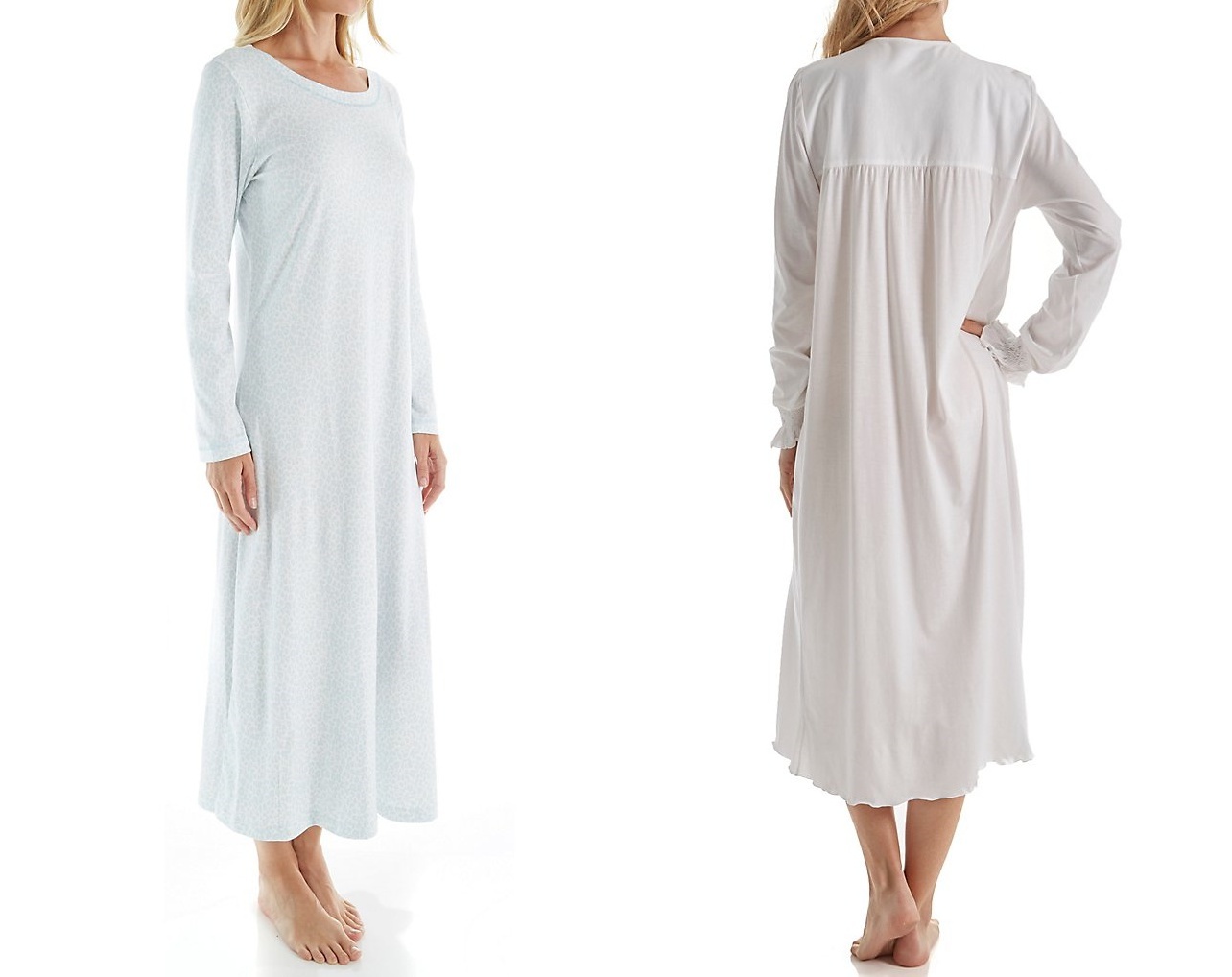 Adjustable Night Gown Elements Are Key

If you prefer nightgowns with spaghetti straps, acing an ideal fit is much easier when you can adjust the elements of your nightwear, making it look like it's tailor-made for your silhouette.
Here are a few easy tips -
spaghetti straps that you can shorten or lengthen

ribbon sashes at the waist that you can tie as loosely or snugly as you want

lace-up bodices that can be worn cinched or slightly slack

nightgowns with pin tucking that automatically adjust for a fuller bustline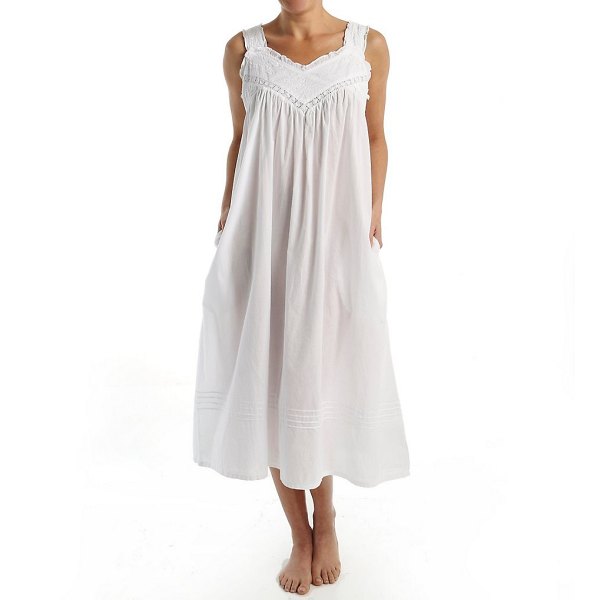 LA CERA