Spa Robe
Wrap Yourself In Bliss
Spa Robe - A quick primer of the basic types of womens robes will provide you with all of the information you need to select the perfect gift for every recipient.
The gift of these luxury robes provides instant indulgence for everyone, and despite what you may think this favorite style of women sleepwear doesn't have to break the bank.
Robes may come in one of several materials.

Terry cloth robes are one of the most common; this type of womens robe is very warm and highly absorbent, and is often called a bathrobe because of its benefit in helping the wearer dry off after a bath or shower.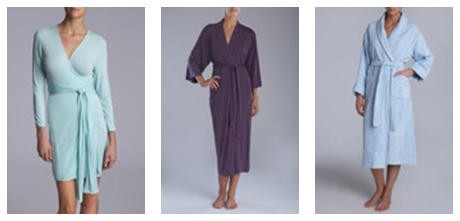 Spa Robe

Terry cloth bath robes come in all colors and a variety of prints as well.
For a classic look, avoid garish prints and bright colors, and opt for a thick, soft wrap robe in bright white, warm cream, or jet black.
To up the luxury factor even more, consider adding a monogram of the recipient's initials over the breast pocket - these are known as personalized robes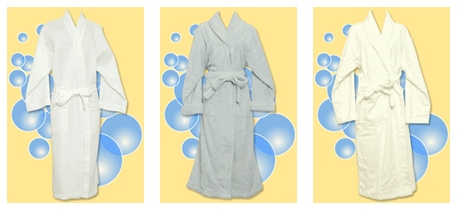 The Appeal of Cotton Robes
---
Cotton robes are another excellent ladies sleepwear particularly if your intended recipient lives in a warm, humid climate.
Cotton is fantastically breathable, and helps wick moisture away from the skin. However, it is not quite as absorbent as terry cloth robes.
Cotton robes are often quite thin, which is a serious positive for travelers when packing a suitcase! When giving a cotton spa robe as a gift, opt for the aforementioned color suggestions.
Microfiber Robes
---
Ladies may also enjoy a cotton lined microfiber robe in an elegant floral print or toile design.
Another fantastic fabric choice for warm-weather gift recipients is linen, which is very thin and packable. However, linen wrinkles with extreme ease, making it a more complicated fabric to pack and travel with.
Devotees of linen feel that its wrinkly nature is part of its charm; the wrinkles can also be released with an iron on the lowest setting, or with a mild wrinkle-release spray. Linen robes in white or cream shades are very tasteful.

Cashmere Robes
---
The absolute pinnacle of luxury is found in lightweight cashmere robes that are often found in high end hotels and spas.
Quite unlike silky thin silk robes, cashmere is a very fine and thin, soft wool obtained from the undercoat of the cashmere goat.

Ladies robes have no equal in terms of softness and comfort against the skin; the higher the percentage of cashmere in the fabric, the softer its feel against the skin.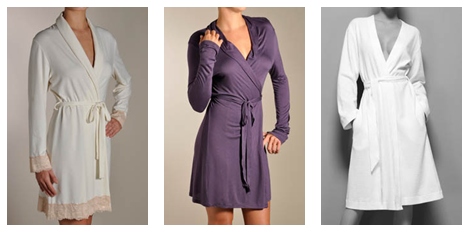 Womens Robes
However, a 100% cashmere robe may be startlingly expensive, costing several thousand dollars!
In addition to basic shades such as white, cream, black, and chocolate, these luxury robes are also elegant in shades such as camel brown, light pink, sky blue, and heather grey.
The gift of a spa robe can be complemented by the addition of a soft, comfy pair of slippers. Slippers lined with sheepskin are a fantastic and cosy choice.
Another excellent gift addition would be a pair of moisturizing gloves.
Intended for overnight wear, the fabric of these gloves is imbued with a moisturizing agent such as lanolin that softens hands during wear.
Certain slippers or sleep socks are also sold with moisturizing agents inside the fabric itself.