Night Gowns For Plus Sizes
FTC Disclosure - If you make a purchase by clicking a link on this page, we receive a small commission. There is no cost to you, and this does not influence our content. 

---
Night gowns for plus sizes... Plus-sized women who are shopping for night gowns often feel confused about which style would look best on them.
Many women are unsure how much skin they to show, or which styles are more flattering and slimming on them.
But with a few plus size lingerie tips, finding night gowns for women with curves is a snap.
The first principle seems like it should be obvious: the nightgowns must fit.
From sweet silk sleepwear to feminine cotton nightgowns and everything in between, try on anything before you buy it, especially until you become comfortable with the sizing system used by a particular manufacturer.
Night Gowns For Curvy Gals

Remember that every lingerie or intimate apparel company designs plus size nightgowns slightly differently, so a size that fits you from one company might be too small or too big from another. Try everything on to avoid expensive mistakes.
If you carry excess weight around your stomach, hips, or butt, opt for  nightgowns and sleepwear with a flowing design in those areas.
To avoid looking like you're wearing a bag, this ladies sleepwear style should have a fitted bust, which will emphasize your cleavage, drawing attention up and away from areas where you carry extra weight.
From glamorous satin nightgowns to a classic flannel nightshirt, the length of a nightgown is a matter of personal preference.
Short chemise sleepwear or a calf-length gown can be very flattering for women who have larger hips and thighs.
Short and Long Nightgowns
And, most nightgowns that fall below the lower thigh will have a slit at some point in the hem to allow for ease of walking. Long nightgowns with a provocative slit up one thigh can be a really stunning look for many women.
If you're reluctant to display your bare arms but yearn to wear, say a sexy chemise in stretch lace, consider purchasing a womens robe.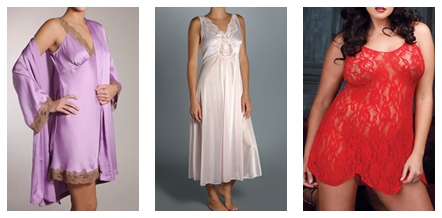 More adventurous ladies might purchase luxury robes such as silk robes, velour robes or even satin robes to wear over their night gown, while those who want to cover their arms completely are more apt to choose an opaque silk or satin lingerie undergarment.
For everyday, casual wear, the victorian nightgown cannot be beat for both comfort and beauty. By their very nature, these night gowns for ladies are long and flowing and cover up a multitude of figure flaws with ease.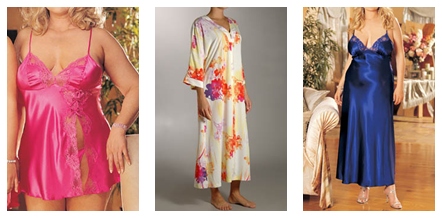 If you live in a hot climate, consider victorian nightgowns that end at the knee, or the calf.
Women who live in very cold areas might consider wearing a thick flannel, wool or down robe over their nightgown until they cuddle up beneath their comforter.
One final thing to remember is the material from which your nightgowns are made.
Consider a fabric that has at least a bit of a stretch factor to it; this will prevent tearing and uncomfortable binding sensations.
However, avoid night gowns for women that are skin-tight over any areas from which you wish to draw attention away.
For example, if you have a bit of a tummy, opt for a style of women sleepwear that has a fitted bust with a flowing A-line shape.
And, if you want to draw attention away from your arms, check the sleeves to make sure the nightie has a roomier sleeve design to camouflage any imperfections.
Following these simple guidelines will enable you to purchase nightgowns that make you feel as fabulous as you look.
Try to relax, have fun, and try on a variety of garments before making your final selection. Good luck and have fun!