*FTC Disclosure - If you make a purchase through a link on this site, we may receive a small commission on the transaction - at no extra cost to you.*
Kimono Robe - How To Make A Stunning Entrance

Kimono Robe - Silky. Stunning. Striking.  One of the most glamorous luxury robes, the kimono, is a fantastic way to make a grand entrance and impress your audience.
Whether you fancy charming embroidered charmeuse satin robes in vibrant jewel tones or handcrafted Japanese silk kimono robes in gorgeous florals, this sensational sleepwear is exciting no matter which way you turn.

With dazzling styles and an exceptionally effortless and flattering fit, it's easy to become the center of attention in a kimono robe. Read on as we share the insider style and fit tips and tricks that will turn heads.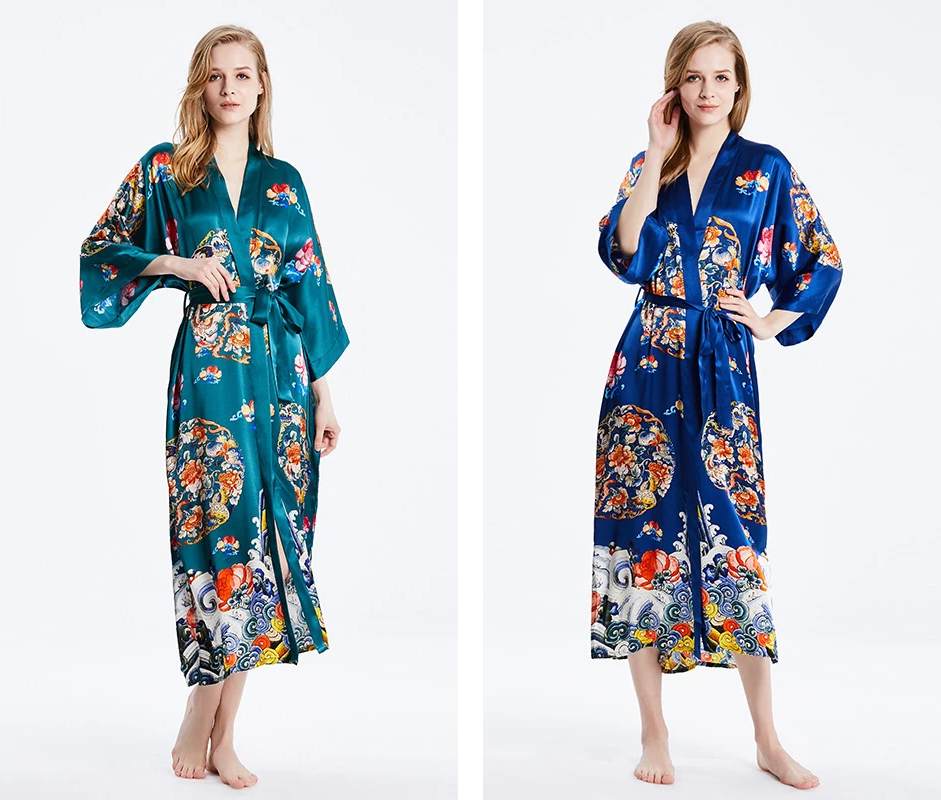 Choose A Stunning Kimono Robe

When you're aiming to make an attention-grabbing entrance, it's not the time for bland nightgowns or boring sleepwear.
This is the time to pull out all of the stops with a bold, bright, and beautiful statement kimono robe. Think gorgeous colors like
crimson
turquoise
marigold
azul

Choose beautiful prints like sexy leopard or vivid florals; and look for special details like beading, fringe trim, sequins, lace applique, or hand painted prints.  Go all out with an eye catching kimono that is anything but basic.
KIMONO ROBES
Pair Your Robe With Knockout Intimate Apparel
Don't let the sensational impact of an amazingly beautiful kimono robe fall short by pairing it with plain underwear or ratty old cotton panties that have seen better days.
Take the time to really wow your honey by mixing and matching your stunning new robe with killer styles from your lingerie drawer.
Think a lace tanga or mesh G string, a satin pushup bra, lace garter belt, or even better, a bombshell bustier in gorgeous lace and matching panties.
Or, layer it over a sheer chemise or a beautiful babydoll nightie. Make sure that whatever you're wearing under your kimono is just as gorgeous as the robe itself.
Did You Know?
Kimonos in satin, cotton, and linen are generally priced comparably to other ladies robes, but intricate, hand-painted, one of a kind silk robes can easily cost thousands of dollars.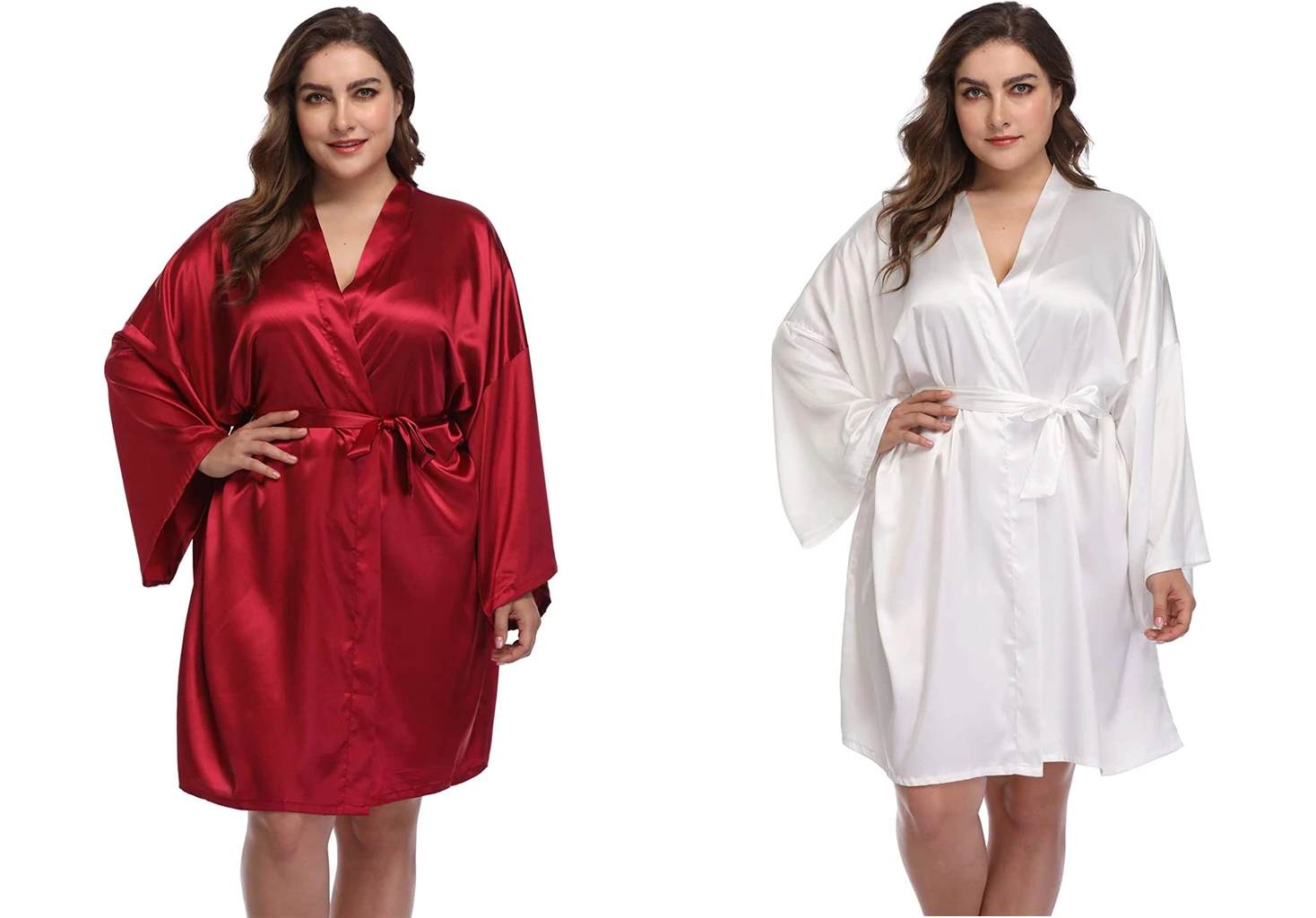 SHORT ROBES
Work A Beautiful Lingerie Look From Head To Toe
Taking a little extra time with your overall appearance can make the world of difference in creating a dramatic entrance.
A greasy ponytail and limp hair won't do your robe justice in the same way that voluminous curls, sexy makeup, silky skin, a dab of perfume, and a pair of heels will.
Take a few extra moments to create a special look. Channel your favorite celebrity, and embody the effect by paying close attention to how you look from top to bottom.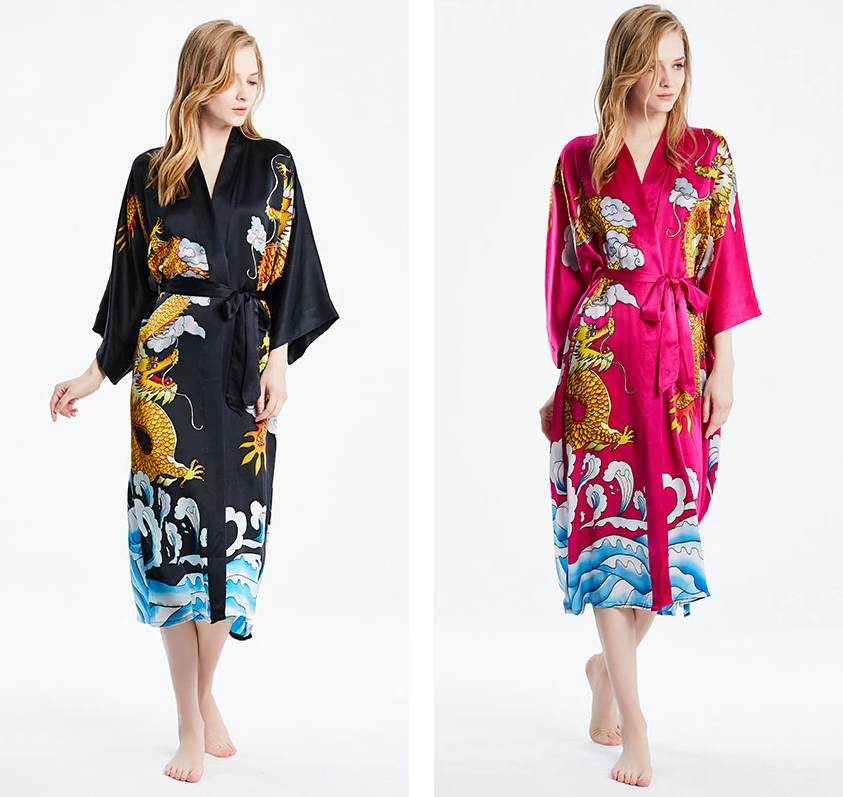 SILK ROBES
Revel In Your Robe
Slinking into a dark room is not the way to command attention and show off your stunning new sleep wear.
Instead, after taking time to pamper and prep, take a few quiet moments before you make your grand entrance. Look in the mirror and savor your gorgeous new look.  Translate that into irresistible confidence and empowerment - Lean in and enjoy your sensational new poise.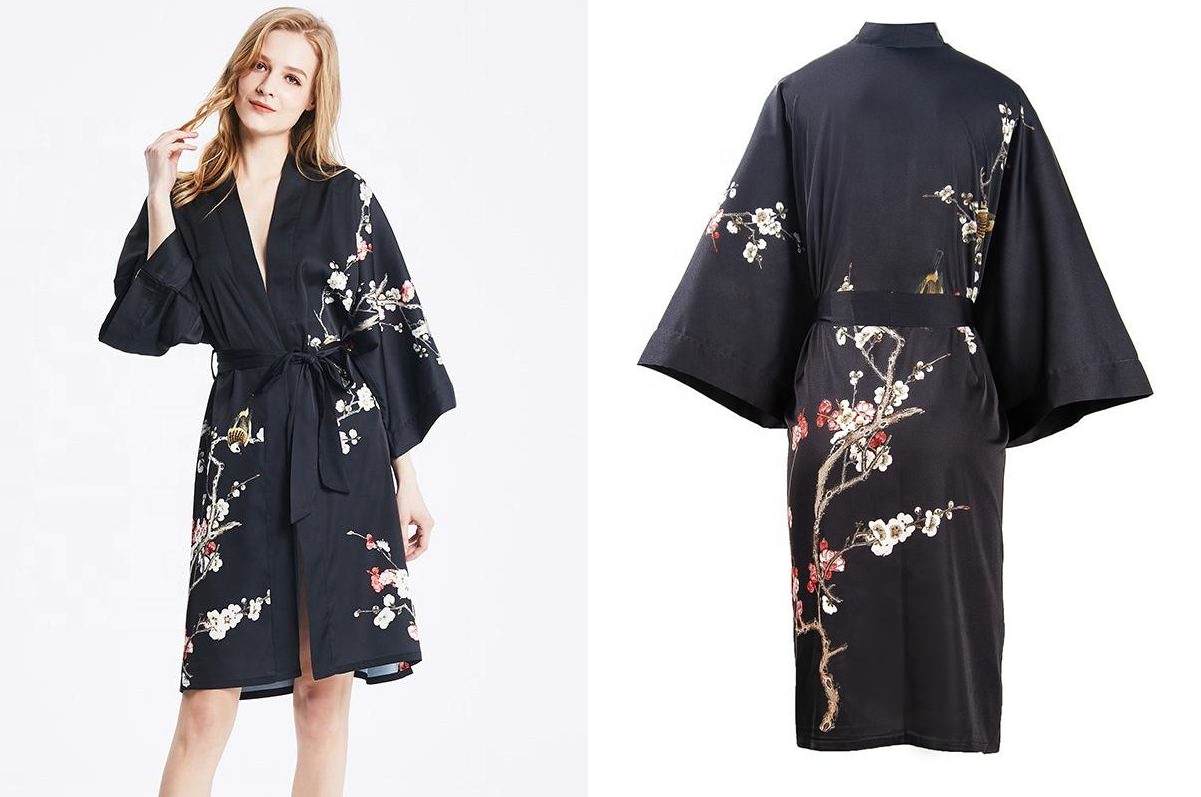 The Sash Appeal
Traditional kimonos are generally belted by a wide sash.  These sashes (or belts) match the color or print of the kimono.  Some prefer to wear custom sashes that compliment or contrast the robe.  Sold separately, wearers will rotate through several sashes per kimono garment for different looks.
Choose Robes With A Perfect Fit
A woman always feels most comfortable in lingerie and sleepwear favorites that fit perfectly.
a robe or any intimate apparel that's too tight will make you feel too constricted, and you won't be able to relax
a robe that's too big will have you drowning in yards of fabric, feeling frumpy, and quite possibly tripping over too much robe
Fortunately, a kimono robe is flowing, comfortable, and forgiving, so it's super easy to get a great fit. Try on a few styles to make sure you pick the perfect style in the right length and cut to really flatter your silhouette.
Many traditional kimonos are double-layer garments, featuring a heavy outer layer of silk or satin combined with an inner lining of soft gauze.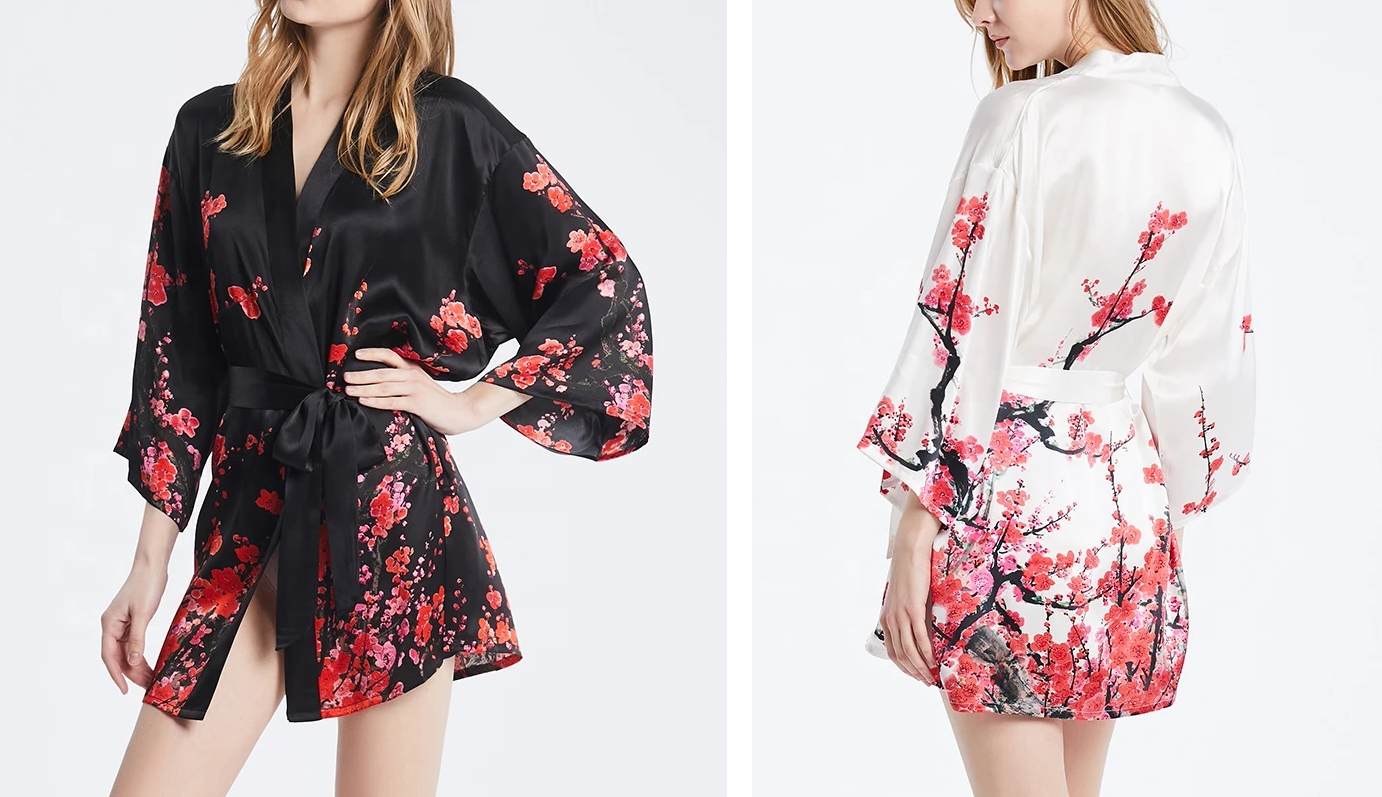 SILK SLEEPWEAR