Kimono Robe & Sleepwear Guide
The kimono robe is a type of wrap robe inspired by the traditional Japanese kimono. Kimonos are considered luxury robes and are usually made of satin, silk, cotton, or linen; they can vary tremendously in price.
Plain kimonos are often priced comparably to other kinds of womens robes, but intricately designed kimonos can command exorbitant prices.
This highly expensive style of ladies sleepwear is often hand-painted and can be true works of original art!
Like night gowns, these specialty robes for women come in a variety of lengths, though floor-length and knee-length are most popular.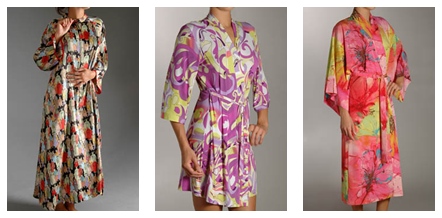 Kimono Robe

They are recognizable by their extremely wide sleeves, and are often belted by a much wider belt or sash than is seen on other types of spa robes.
Often, the sash matches the color or print of the kimono; others prefer to wear custom sashes that compliment or contrast with the body of the womens robe. These sashes are often sold separately, and many women will rotate through several sashes per kimono garment for different looks.
The most popular materials used in kimono construction are satin and silk. They also frequently feature intricate embroidery.
The kimono style originated in Japan; however, many western manufacturers produce kimonos with decorations borrowed from China, such as dragons.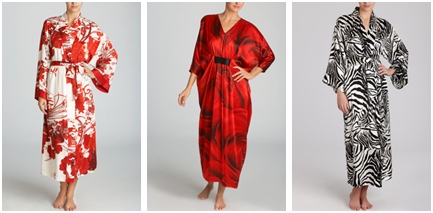 While these garments are perhaps not strictly authentic, they widen the array of options available to the casual western consumer who is not so concerned about such details.
Many kimonos are double-layer garments, featuring a heavy outer layer of silk or satin combined with an inner lining of soft gauze.
Western manufacturers have recently begun producing kimono robes in an absorbent waffle-weave material that's a perfect choice for wear after the shower or bath.
Waffle robes, also called cotton robes are frequently seen at spas and hotels, since they are comfortable and luxurious.
Care must be taken with kimono robes; even those machine-washable materials should be washed by hand whenever possible to avoid irreparable damage to the embroidery.
The kimono robe is very similar in style to the Korean cheongsam and hanbok. These lingerie undergarments are unusual and elegant coverings with a multitude of uses.
They may be enjoyed as dressing gowns or loungewear and are also an excellent choice for hospital patients who want to spruce up their appearance to receive visitors.
Paired with the right accessories, these ladies robes may sometimes even be worn as outerwear.
They can be a delightfully unexpected touch at a dinner party or evening out (provided that the weather is suitably dry and temperate).
Kimono silk or satin robes paired with matching satin nightgowns or even satin pyjamas can be a welcome addition to any lingerie wardrobe. They are appropriate for women of all ages and flattering for any silhouette.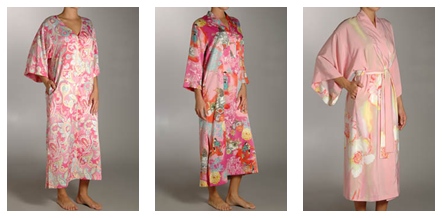 If your nightgowns sleepwear or loungewear collections are in need of a fresh boost, consider incorporating a satin or silk robe for a dash of eastern whimsy. Men, too, can enjoy the benefits of these silk, satin or cotton mens robes.

Those feeling particularly cautious can stick to traditionally masculine colors such as dark solids and simple stripes, or can avoid satin altogether and opt for a more conservative cotton or linen garment instead.
There are kimonos for every budget, figure, and style imaginable!
Beautiful Lingerie