*FTC Disclosure - If you make a purchase through a link on this site, we may receive a small commission on the transaction - at no extra cost to you.*
Wrap Robe - 5 Frugal Fundamentals 
Wrap Robe - Why whittle away your savings on expensive sleepwear when you can save money with a few quick tips and tricks. From chemises and nightgowns to pajamas and robes, there are lots of ways to get the sleep wear basics that you love, at a discount.
One of the best top ten ladies sleepwear basics, the versatile wrap robe is the perfect complement to beautiful lingerie and loungewear alike.
Read on as we take a closer look at everything from popular womens robes that can be worn year round to how to choose the perfect bathrobe for your shape - discover the frugal and fashionable pointers that you need to know.

Invest In The Best Wrap Robe That You Can Afford

It may seem counter intuitive to spend more money when you're trying to save, but avoid the temptation to buy cheaply made wrap robes in order to pinch your pennies.
You'll end up buying another robe again pretty quickly when your low quality wraps start falling apart in the wash or coming undone at the seams.
Not only do cheap bathrobes and sleepwear not last, but they don't look good either.
Eventually you'll end up spending more money in the long run, replacing one women's robe after another, so in the long run it's more effective to buy one good quality bathrobe that will last.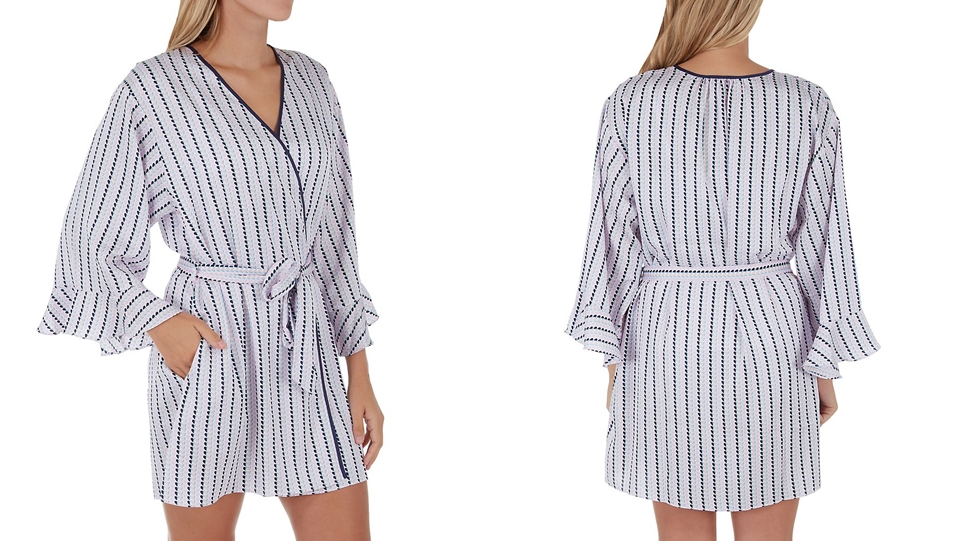 KATE SPADE

Sleepwear Basics - Know Your Shape
A crucial step in scoring a great deal on any women's sleepwear is knowing your body type and understanding what works and doesn't work for your shape.
We'll explain - if you buy a wrap robe that doesn't flatter your figure, it won't feel special or pretty when you put it on.
No woman wants to wear a bathrobe that feels lackluster, and if you're not madly in love with the robe you've chosen, chances are that your ill-fitting wrap will quickly end up at the bottom of your lingerie drawer, untouched, sometimes never worn, with the tags still attached.
Avoid wasting your hard earned dollars on a robe that you hate and will never wear by understanding what looks good on you and shopping for styles that suit your shape.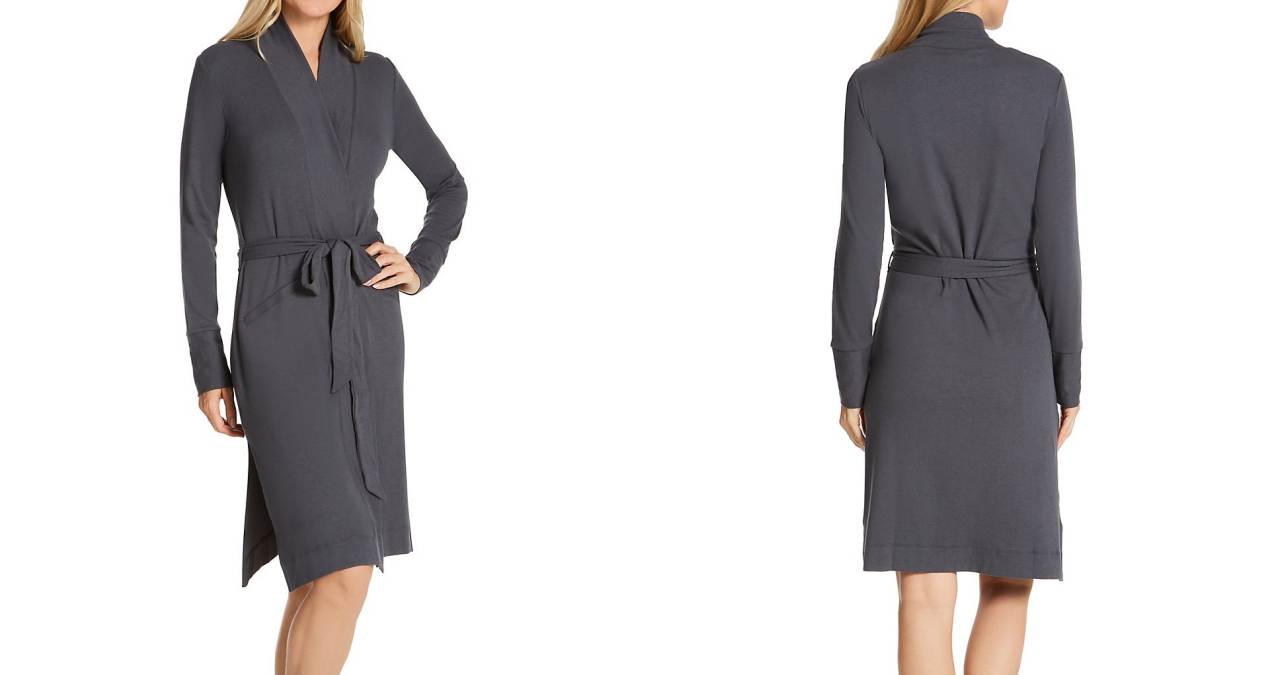 COMMANDO
Petites will want short robes or styles with slimmer cut sleeves that don't overwhelm their frame
Tall girls can choose long robes to make the most of their height
Curvy girls will want to look for robes that offer enough room in the top and a wide sash belt to hug their waist that doesn't overpower their silhouette
Picking the right style for your silhouette will guarantee that you buy a robe that you adore and will wear every chance you get.
Did You Know?

Cotton and synthetic lingerie fabric blends offer fantastic comfort and durability as well as increased breathability, making them perfect choice for a wrap robe.
NATORI
Be A Smart Lingerie Shopper

One of the best ways to save is to shop smart. Scout out the biggest sales of the season, talk to sales people, sign up for VIP mailing lists, and pay attention to what's happening at your favorite shops.
Staying in the know means you'll find out exactly when it's the perfect time to shop for popular sleepwear.
Email subscribers often get exclusive sales offers that the general public aren't privy to, and you'll usually get first dibs on the best styles before anyone else.
Master the art of shopping to score the best deals on the wrap robe of your dreams.
LINDA HARTMAN
Opt For Versatile Womens Robes

Choose versatility. Your cost-per-wear of any wrap robe will be next to nothing if you opt for an ultra versatile piece that you can wear with everything in your sleepwear collection.
Choose a neutral shade like ivory, black, navy, or champagne that will coordinate with any of the colors in your lingerie drawer.
Opt for a medium weight fabric like microfiber jersey that's wearable year round.
Finally, choose a universally flattering knee-length style that looks great on all figures and gives you the right amount of coverage, no matter the season.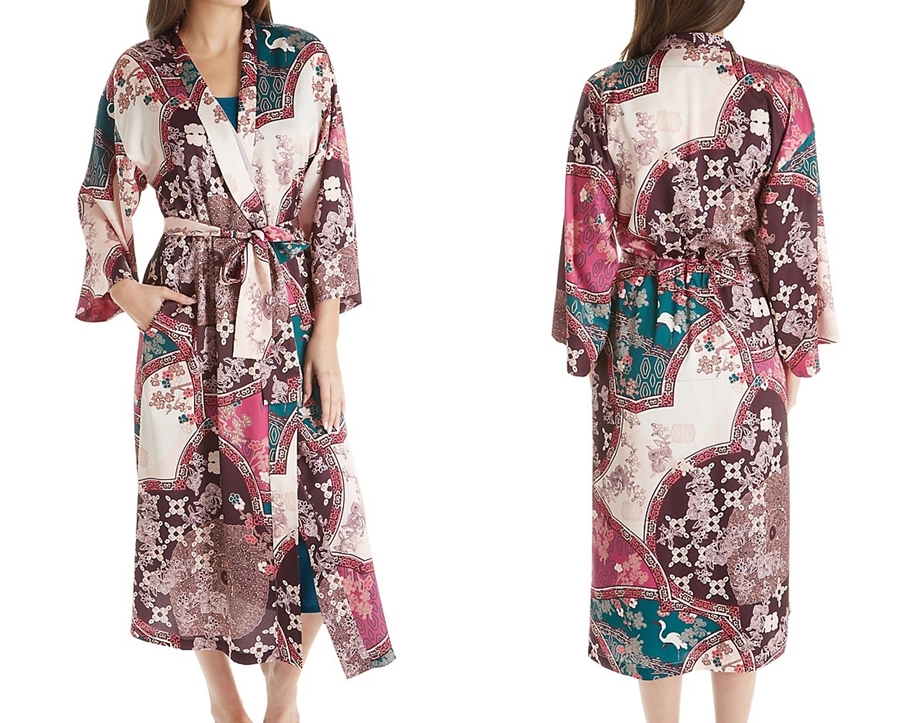 NATORI
Like a versatile cotton nightgown, the wrap robe has uses outside of the shower, as well. It's a perfect choice to wear during a massage, pedicure, or other day-spa treatment and can also be used as a swimsuit cover-up by the pool or beach.
Expand Your Intimate Apparel Horizons
Sometimes you may have to hunt around for the best deals, so think outside the box when searching for your next wrap robe.
You might want to consider online shopping, where you have choices from all over the globe, check out the big chain stores, or peek into specialty boutiques.
Regardless of where you usually shop, try looking in a new and different place to see what other styles, options, and deals are out there that you may not know about.
A little extra legwork can save the frugal girl a lot of money on wrap robes.
KATE SPADE