Luxurious Wrap Robe
FTC Disclosure - If you make a purchase by clicking a link on this page, we receive a small commission. There is no cost to you, and this does not influence our content. 

---
The wrap robe is a wonderfully versatile lingerie undergarment that is popular and particularly useful for wear in warm and humid weather.
These luxury robes are an excellent addition to the ladies sleepwear wardrobe of any woman, girl, or female adolescent that is sadly often overlooked in favor of more common, sleeved bathrobes.
However, these affordable womens robes can truly make the shower and spa experience much more enjoyable for almost everyone!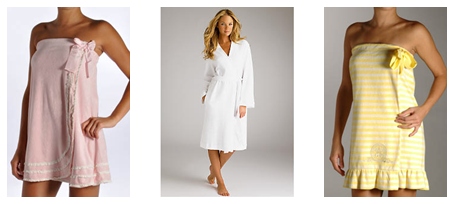 Robes
Wrap Robe

The distinguishing feature of this womens robe is its lack of sleeves and elastic upper band.
Commonly made of terrycloth, these undergarments are often called spa robes and offer a more structured version of the impromptu "towel toga" created by many people after a bath or shower.
A "towel toga" is typically fashioned by wrapping a large towel horizontally around the torso and abdomen, tucking in the upper ends so the towel stays in place around the body.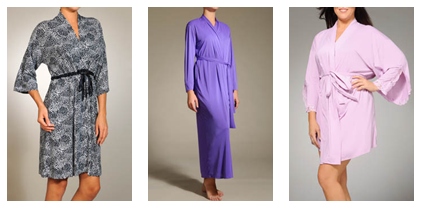 These terry cloth robes usually have a band of elastic that circles the ribcage and rests high in the armpits.
The "wrap" effect is either created by sewing another layer of cloth in place, creating the illusion that the robe has been secured simply by folded fabric, or by the addition of a free upper layer of cloth that really does get tucked in during wear.
These luxury robes are an immensely convenient style of women sleepwear, since they free the wearer's hands for other tasks, such as blow-drying one's hair or applying cosmetics.
The upper elastic band ensures that the robe will stay in place, providing insurance against unfortunate and embarrassing wardrobe malfunction.
The terrycloth construction also provides excellent moisture absorption.

Wrap robes are available in other intimate apparel fabrics, as well.
Cotton and synthetic lingerie fabric blends offer fantastic comfort and durability as well as increased breathability, making them perfect for hot weather.
These fabrics are normally also much thinner than terrycloth, making them a wise choice for travelers with limited baggage space.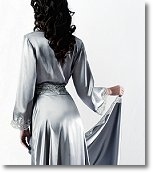 Like a versatile cotton nightgown, the wrap robe has uses outside of the shower, as well.
It's a perfect choice to wear during a massage, pedicure, or other day-spa treatment and can also be used as a swimsuit cover-up by the pool or beach.
If giving one of these ladies robes as a gift, consider bundling the robe with a pre-made towel "turban" that can be worn to help hair dry after washing and keep it off the face during the application of skin lotions and cosmetics.
These turbans are very similar to those created by wrapping a towel around the head and tucking in the ends.
However, they are substantially more secure because of their sturdy button-and-loop closure, which keeps the wrap in place around the hair until the user decides to remove it.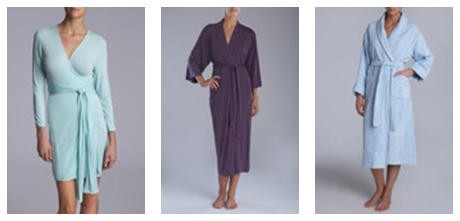 Slippers or matching night gowns are another excellent addition to such a gift package.
Since these robes are typically worn in warm climates, consider a pair of absorbent terrycloth slip-on slippers, rather than the booties often worn with thicker, warmer robes.
Pedicure sandals are another option for consideration if the intended recipient of your gift will be using the items at a day spa or on a luxury cruise.