*FTC Disclosure - If you make a purchase through a link on this site, we receive a small commission at no extra cost to you.*
Secrets of Womens Pajamas
Womens pajamas - Whether you're in the mood for a good night's sleep or wanting to give someone you love the perfect gift, these ladies pajamas need to be on your short list. Silk pajamas, cotton pajamas, satin pajamas and nylon pajamas.
From deluxe silk and satin to practical cotton and nylon, each has their own luxurious touches and benefits.
Like most sleepwear and lingerie, the styles will change from season to season with slight variations on colors, prints and trim.
But, the basic pajama shapes - cool, classic and comfortable, remain the same. Here are our reviews of our favorite womens pajamas.
Womens Pajamas

The essence of style and glamour, silk pajamas are a great option if you're looking for sleepwear with panache.
Silk of course is the top of the heap, the best of the best, and ultra sexy when it comes to pajamas.
Made of a natural fiber that breathes easily, silk is both cool to the touch, incredibly luxurious, and uber soft against the skin with a velvety feel.
With luxury comes a higher price tag though, so be prepared for a bit of sticker shock.
Silk pajamas retail for upwards of $150.00, with designer brands like Natori sleepwear easily topping $450.00.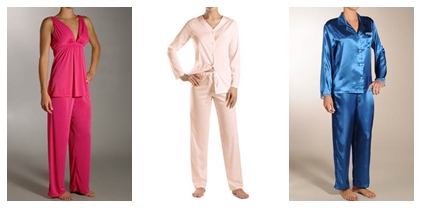 Satin Pyjamas
If, you love the look and feel of silk but the price leaves you queasy, satin pyjamas are an affordable alternative, usually retailing for under $75.00.
While satin is not as soft as silk, it is far more durable and comes in just as many colors and prints, making it a great gift option, especially when paired with a matching womens robe.

Keep in mind though that since satin polyester is a man-made fabric, it does not have the breathability or "light as gossamer feel" that natural silk does.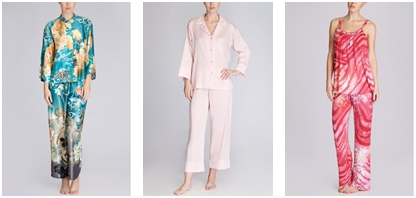 Cotton Pajamas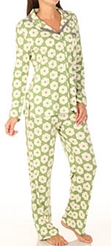 Cool and crisp, cotton pajamas are among the most popular and most purchased in the world. Almost everyone has at least one or two pairs.

Cotton sleepwear, whether it's made of North American Pima or high end Egyptian cotton blended with lycra is cosy and comfortable, making it a great choice for everyday sleepwear.
Cotton is a natural fiber that breathes. It's soft with an easy fit and feel, and a favorite for those of us with delicate skin that's easily irritated.
Machine washable (delicate cycle, please!), it's easy to care for and very durable.

Beautiful Lingerie

Struggling to get a better night's sleep? Try reducing your caffeine and liquid intake. Turn the t.v. and computer off. Then, change into a fresh pair of pajamas or nightie before hitting the pillow. 

Nylon Pajamas
Lightweight and super comfortable, nylon pajamas are a great choice for a cosy night's sleep.
They're also a great option when you're traveling since they don't crease like cotton or silk, and take virtually no space in your suitcase.
Nylon designed for pajamas is a man-made fabric that has a fair amount of breathability. It's soft and as a lightweight stretch knit it curves easily to your silhouette for an easy fit.

Womens pajamas and sleepwear in nylon are incredibly durable and usually retail for under $50.00.

Shopping Online For Sleepwear

Shopping online for pajamas and a variety of other ladies sleepwear is easy online.

From stylish satin pajamas to fun novelty pajamas and a multitude of different womens sleepwear styles, the intimate apparel selection has never been better.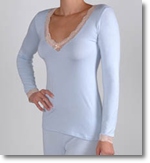 The lingerie you see listed below is available right now - so if you see something you like, hurry and place your bid.
When you click on a link a new window will open and you'll see a sample of the intimate apparel that is currently available on eBay clothing.
To continue shopping for lingerie, just follow the view all items link at the end of the listings...