*FTC Disclosure - If you make a purchase through a link on this site, we receive a small commission at no extra cost to you.*
Silk Nightgown: How To Avoid 5 Top Mistakes
Silk Nightgown - Few things feel more luxurious and indulgent than the touch and feel of silk on your skin. The ultimate in beautiful lingerie, every woman should have at least one at the ready in her lingerie drawer... and if you don't, perhaps it's time to ask yourself, "why not?"
Like all gorgeous nightgowns and sleepwear, the key to enjoyment is knowing the dos and dont's beforehand. To help you choose, we've gathered the top 5 mistakes and how to avoid them.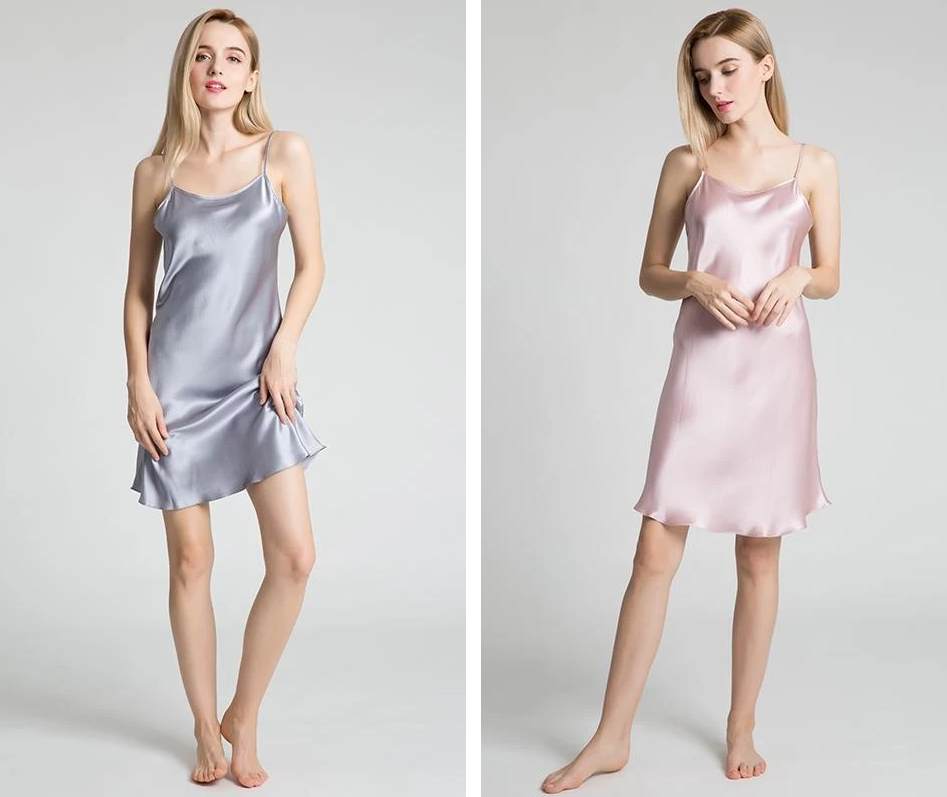 Saving A Silk Nightgown Just For Special Occasions

An anniversary or special evening is certainly fitting for a silk nightgown, but don't make the mistake of letting it sit in your drawer the rest of the time. Give any day a celebratory feel when you slip your silk nightie on just for the fun of it.
Wear it on a Tuesday, or any other day just because, and watch as your evening quickly goes from mundane to one of luxury and pampered lingerie pleasure.
SILK NIGHTGOWNS
Choosing The Wrong Silk Gown

The selection of silk sleepwear that's available is stunning. There are endless options - different styles and lengths to suit virtually every silhouette, personal preference and occasion.
The key to choosing the right silk nightgown for your shape is to start with your body type and look for a style that plays up your best assets while camouflaging problem areas:
Full figured women will look better in A-line styles that show a little skin with thigh high slits and plunging necklines. 
Large busts will need nighties with underwire cups to stay supported and stylish.
Petites should opt for styles that create the illusion of curves, like embellishments on the bust or ruffles at the hips. 
Pay attention to what works and doesn't work for your figure and choose accordingly.
SILK NIGHTGOWN AND ROBE SETS
Not Caring Properly For A Silk Gown

A natural fabric, silk is quite delicate.  Think of a silk nighty as a treasure and treat it with special attention.
This particular style of ladies sleepwear has the ability to make you feel sensual, special, and spoiled, so it must be treated with the respect that it deserves.
Instead of shoving your silk lingerie to the back of your drawer, consider either hanging or folding it nicely so that it does not wrinkle or lose shape over time.
Then , when it comes time for cleaning, hand wash in a mild detergent and lay flat to dry.

Did You Know?
Taking the time to care for your delicate intimate apparel means that it will last longer.
CURVY SILK SLEEPWEAR
Staying With Just One Silk Sleepwear Style

There are so many cute styles of silk nighties and lingerie out there,  why stick to just one? Indulge yourself with a few beautiful styles:
a silk nightgown with a side slit that reveals your leg
a sensational chemise with spaghetti straps
a simple, classic silk slip for every day wear
a gorgeous silk kimono that matches any of the above
Whatever your personal style, revel in your femininity and spoil yourself by stocking your lingerie collection with this luxurious pick.
SILK SLEEPSHIRT
Picking The Wrong Nightgown

Silk comes in a variety of forms and knowing the differences can help you avoid choosing the wrong style for your body type.
Bias (on the angle) cuts hug the body but cling to problem areas

High-shine silks highlight your assets but can also highlight your figure flaws

Washed silk has a more casual and matte finish (no shine) and is great for every day, as is silk jersey
Airy silk chiffon is perfect for covering imperfections with it's featherweight feel, but is very delicate

Raw silk is stiffer and better suited for more structured lingerie

The best way to figure out which type of silk works for you is to try different nightgowns and see what makes you look and feel your best.
LONG NIGHTGOWN