*FTC Disclosure - If you make a purchase through a link on this site, we receive a small commission at no extra cost to you.*
Cotton Sleepwear Secrets
Versatile cotton sleepwear is wildly popular with women and girls of all ages. Cotton womens sleepwear comes in a multitude of different styles, so there's something to please everyone.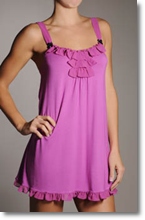 Styles like cotton nightgowns, cotton pajamas, and cotton robes are extremely comfortable and easy to care for.
Most can be washed with similar colors in the washing machine and dried either in a clothes dryer or on a line or rack.
One of the most popular ladies sleepwear styles today is the short cotton nightgown or sleepshirt.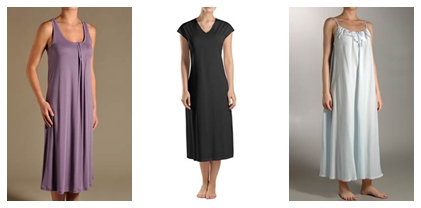 SHOP NOW
As the name implies, these night gowns are styled like oversized T-shirts; sleep shirts may be long-sleeved or short-sleeved, and range in length from mid-thigh to ankle length.
Sleepshirts are usually inexpensive, and come in a huge variety of colors and prints.
A short-sleeved sleepshirt is a popular choice for spring and summer; it can be paired with matching or coordinating sleep shorts or tap pants for modesty.
A long-sleeved sleepshirt can keep you warm in winter; for extra warmth, pair a sleepshirt with a pair of flannel sleep pants and some fuzzy slippers.
Cotton Sleepwear

Another popular cotton nightgown style is the Victorian nightgown. Romantic Victorian nightgowns harken as far back as the Victorian era and are typically very feminine and elaborate; they are made of a lightweight woven cotton fabric and frequently feature lace, beading, buttons, pearls, and other romantic detailing.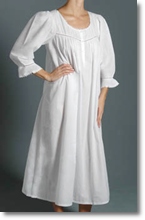 Victorian nightgowns are most popular in white, but are also available in a multitude of muted tones and soft feminine prints.
Children, teens, and college students frequently enjoy lounging and sleeping in a cotton camisole twinset consisting of a tank top camisole or tee shirt and a pair of cotton shorts.
These camisoles and cami sets may also include long sleep pants.
Cotton pajamas are available in any color or print imaginable, and the durability of cotton makes it a great choice for the busy college student or teen.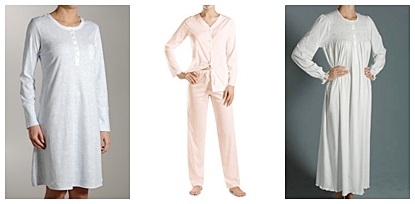 Cotton can easily survive frequent washing, stain removal agents, and overall rough treatment.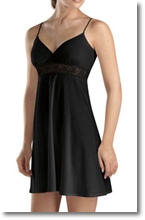 Women who want something shorter and lightweight might consider a cotton chemise and womens robe set.

Chemise sleepwear is a cooler option for warmer climates since chemises usually have short sleeves or spaghetti straps and are knee length.
For added modesty, matching short robes are a great choice; they can be removed before going to sleep but are readily available if you need to answer the door or pick up your newspaper outside.
Cotton womens robes also come in a variety of different styles such as,
...and they make excellent dressing gowns that can be put on quickly after a shower or bath, while keeping you warm and dry.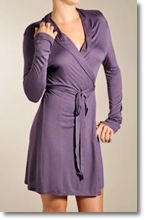 Cotton sleepwear is the ultimate versatile, affordable and flattering women sleepwear style!
A cotton nightgown, womens pajamas or a pretty cotton chemise and matching wrap robe make terrific gifts for any woman or girl on your gift list, and will never go out of style. Sexy, romantic, functional, or fun: cotton sleepwear can be all of these, and more.
The sky is the limit! Consider adding some cotton sleepwear to your lingerie wardrobe today. You won't regret it!