*FTC Disclosure - If you make a purchase through a link on this site, we receive a small commission at no extra cost to you.*
Victorian Nightgown - All That You Need To Know

Victorian Nightgown - when it comes to luxury sleepwear that's whimsical and feminine, one of the most beautiful options that comes to mind is a traditional classic - the Victorian nightgown.
From the over the top puffed sleeves and ruffled neckline and sleeves, to the intricate detailing of the yoke, and the full swing of the skirt, these romantic nightgowns always top the sleepwear wish list of romance enthusiasts everywhere.
A Victorian Nightgown Suits Many Shapes
One of the best things about this beautiful nightwear - you don't have to look like a supermodel or have the perfect shape to pull it off.
And, best of all because a Victorian nightgown is almost always cotton, it's a great choice if you have sensitive skin.
Available in a variety of full length and shorter styles, not only is this type of sleepwear super comfortable, it's also very flattering, has lots of give and offers a relaxed fit for just about any silhouette.
Victorian nightgowns come in a comprehensive range of sizes from petites to plus sizes, making it easier than ever for all shapes and sizes to enjoy.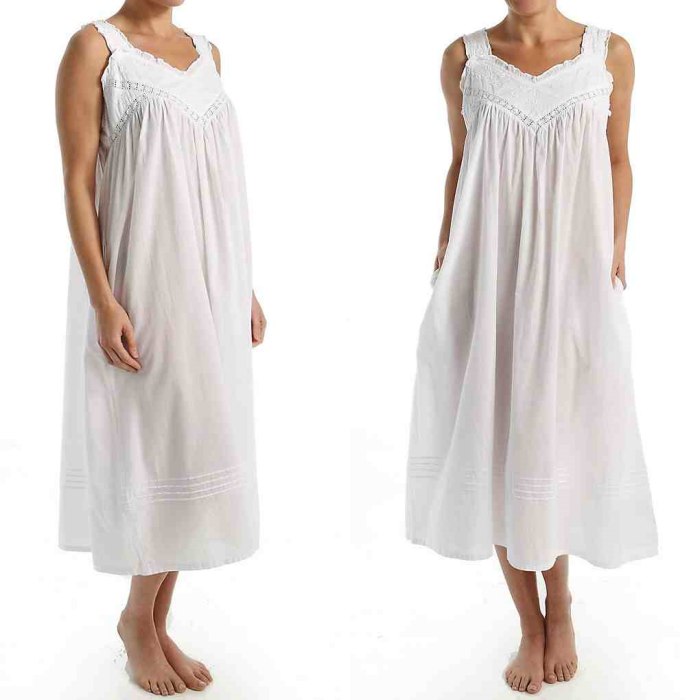 LA CERA
How to look and feel great -
First off, choose a style and color that you love. Are you a fan of simple night gowns or more romantic styles with billowing sleeves and rounded necklines?  Do you prefer crisp white cotton or pretty floral prints?
Look for small details that will make the most of your shape, like beautiful lace edging along the neckline or sleeves
For a true vintage nightgown look, consider styles with a satin ribbon tie that sits just below the bustline for a universally flattering look
When it comes to looking and feeling great, balance is key. What do we mean?  Keep in mind that while it's easy to get carried away with the dramatic flare of beautiful ruffles and frothy styles of vintage nightgowns, make sure that you're not drowning in excess fabric or styles that are too overwhelming for your silhouette.

Victorian Inspired Ladies Sleepwear At Every Price Point

While true vintage and luxury sleepwear can be fairly pricey, don't assume that you can't afford a beautiful nightgown that you love and have to pass on it.
Victorian nightgowns are available in a range of prices to suit every pocketbook, regardless of whether you're on a modest budget or have no limit.
From online lingerie retailers that specialize in retro looking vintage nightgowns with a modern twist to exclusive brick and mortar shops that cater to classic vintage lingerie, similar styles are often offered by different brands.
So, if a nightgown is too expensive in one brand, don't hesitate to check out other brands. You may be pleasantly surprised and find something just as nice or nicer. The choices are endless.
Did You Know?

True vintage lingerie, reproduction-quality lingerie and intimate apparel is delicate and should be handled with care. That means washing by hand or dry-cleaned to prevent damage to the fabric.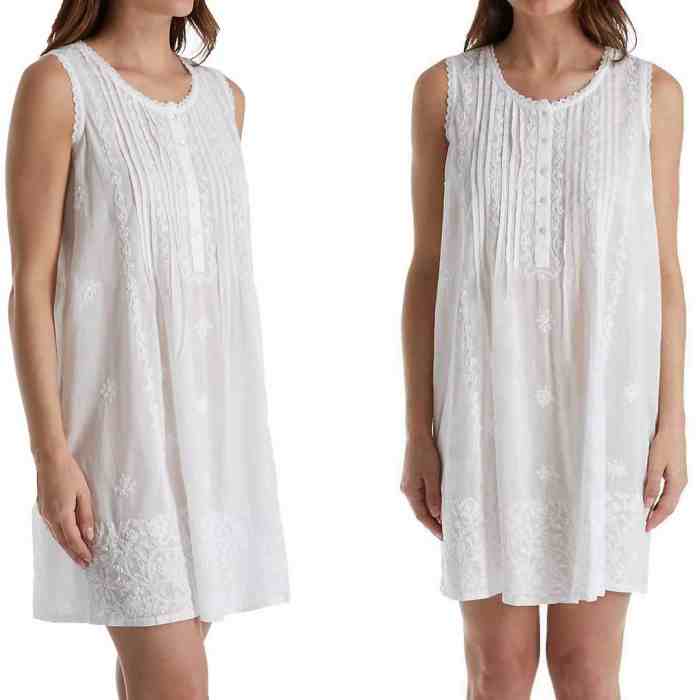 SHORT GOWNS
Cotton Sleepwear Never Goes Out of Style

Like everything, fashion is constantly changing and evolving with the times.  And, it can be incredibly frustrating to spend money on something you purchase, only to have it fall out of fashion the next season, especially when it comes to ladies sleepwear.
The solution?  Classic sleepwear is a great choice. Long or short, the advantage to simple classic nightgowns, chemises, and nightwear is a timeless look and feel.  Simple or luxurious, classic cotton sleepwear never goes out of style.
Since its debut in the 1800s, and with modern-day interest in popular novels, films and mini series like Jane Eyre, Wuthering Heights and Netflix's Bridgerton, the vintage look continues to inspire and be a crave worthy sleepwear choice for women everywhere.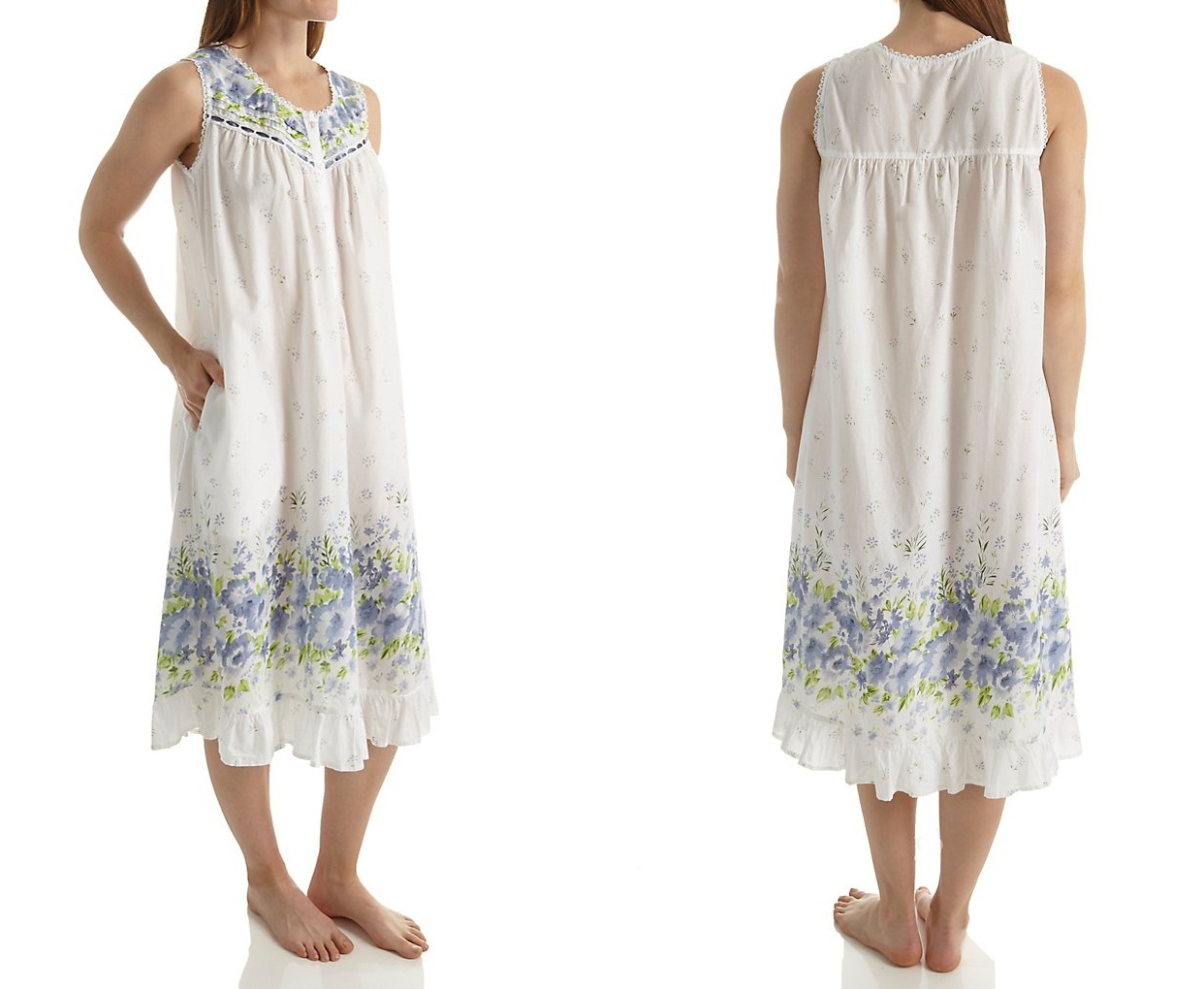 Luxurious Cotton Nightgowns Make The Perfect Gift

Stylishly feminine and undeniably luxurious, Victorian nightgowns are not only a beautiful nightwear choice to indulge in, they're also a sensational gift idea for that special person in your life that you want to impress.
Whether it's a Christmas gift, a birthday treat, a loungewear option for a bride-to-be, or just because, a romantic white cotton Victorian nightgown is always a great choice.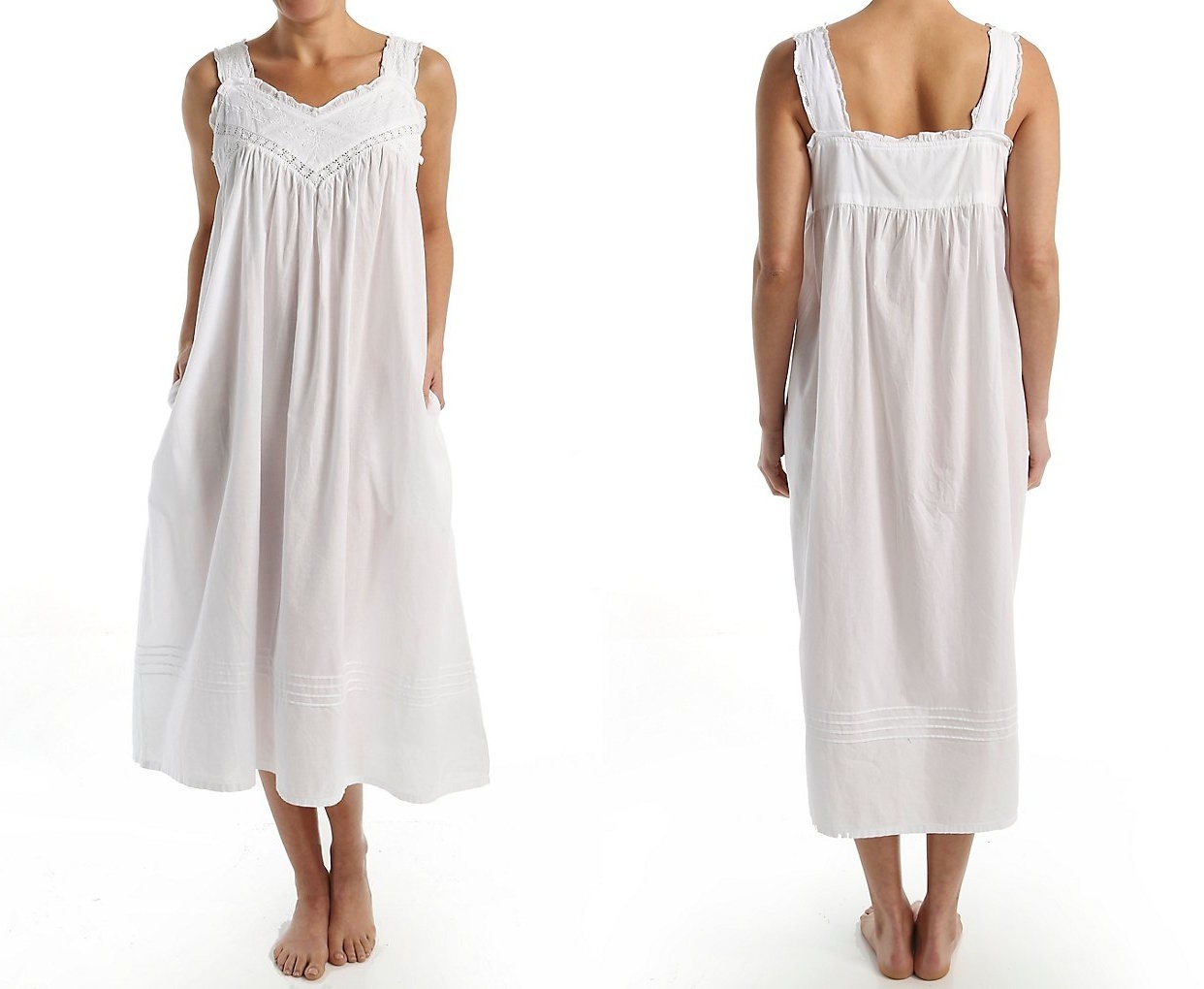 COTTON NIGHTGOWNS
Vintage Nightgowns Can Be Sexy
One wouldn't ordinarily think of Victorian nightgowns as provocative or sexy, but they most certainly can be.
Not overtly like sheer lingerie or naughty sexy lingerie, but subtly so with an enticing, ethereal appeal.  How?
To show a little more skin, choose a short sleeveless nighty that shows off sexy shoulders and long shapely legs - a way to show off a curvy shape

Long nightgowns can be just as sexy as short nightgowns - consider a style with a plunging neckline that shows off a sexy decolletage
Keep the Victorian vibe going with a subtle dose of sexiness - tousled hair, a dab perfume on pressure points - on your wrists or at the bottom of your neck, smokey makeup, or a pedicure with ruby red polish