*FTC Disclosure - If you make a purchase through a link on this site, we receive a small commission at no extra cost to you.*
Kimono Robes - How To Look Like A Goddess

Kimono robes - Most of us love the comfy, cosy cotton robes or terry cloth robes that are currently hanging in our closets and bathrooms. 
And, while they're practical they're not terribly inspiring.  For those who crave something sensational, kimonos are simply stunning and designed to delight the senses.
From beautiful iridescent silk robes to exquisite hand painted caftans, it's easy to feel like a lingerie goddess when you slip into a luxurious kimono that says, "I have arrived."
Follow along as we share the tips and tricks that you need to know for one of the best drop-dead gorgeous beautiful lingerie favorites that will leave you breathless.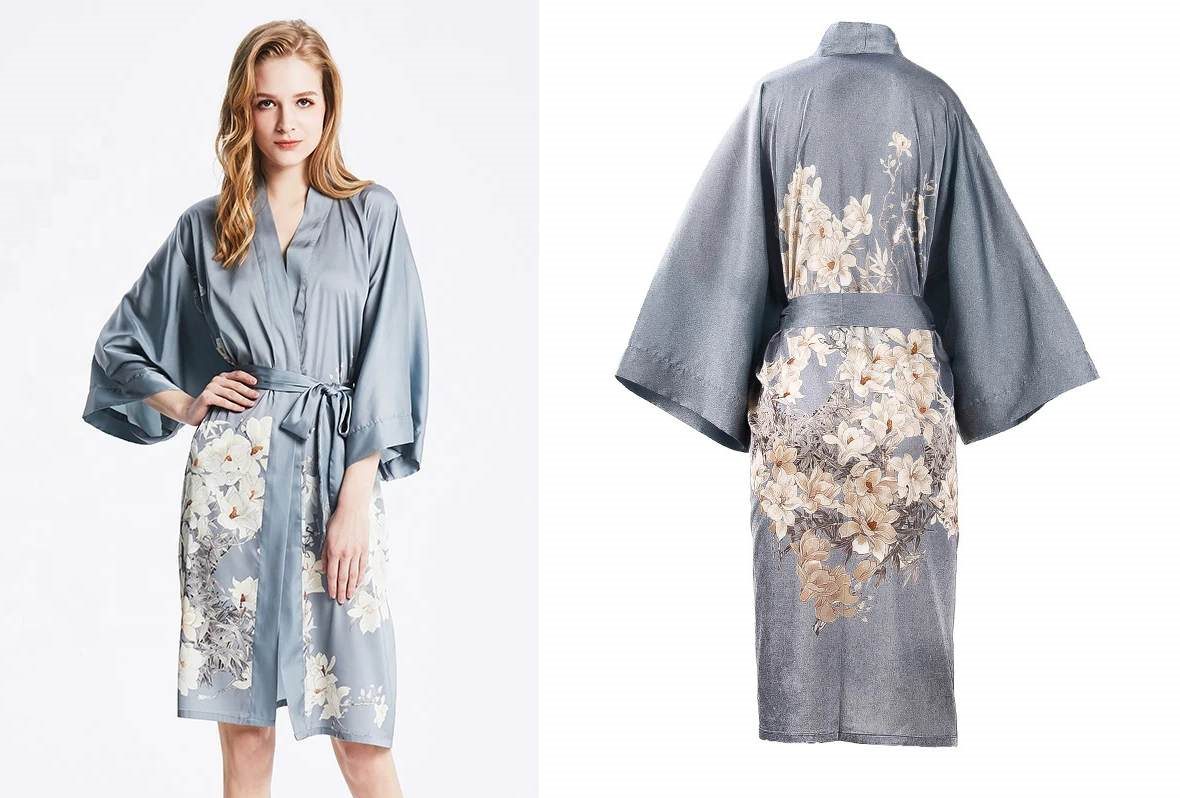 SHORT ROBES
---
Kimono Robes - Find The Best Sleepwear Fit
Feeling like a goddess starts with choosing the right style that compliments your personality and silhouette.
Nail the perfect style of robe with the right cut and fit that enhance your natural curves and you'll look amazing.
Petites should opt for short styles that are cut mid-thigh to create the illusion of longer legs
Tall women can pull off floor sweeping styles

Curvy women look great in a universally flattering knee length and can play around with ¾ length sleeves to show off their wrists for a subtle yet powerful glimpse of skin to break up their silhouette
---
Did You Know?

Silk robes originated in China around the third century.  As early as the 5th century BC, Japanese diplomats and travelers brought back many Chinese influences and helped integrate these womens robes into Japanese culture.
BRIDAL ROBE
Choose Your Robe Prints And Colors Wisely
Play up your coloring and skin tone in shades that suit you best and are your favorites.
Don't get stuck in a drab shade when you can wear a bold turquoise, fuchsia, red, or emerald silk kimono robe.
If you love neutrals try a shimmering champagne, silvery grey, or sparking white robe

Try candy colored pastels if you prefer a softer, more romantic look
Or, pick a printed silk robe in a pattern that you love
Knowing that you're slipping into a robe in your favorite shade will take your look from simple to stunning and will make you feel special.
Did You Know?
The majority of Japanese kimonos are silk robes or satin robes that are sewn by hand; even those made with the aid of machines normally have a great deal of hand-sewn elements as well.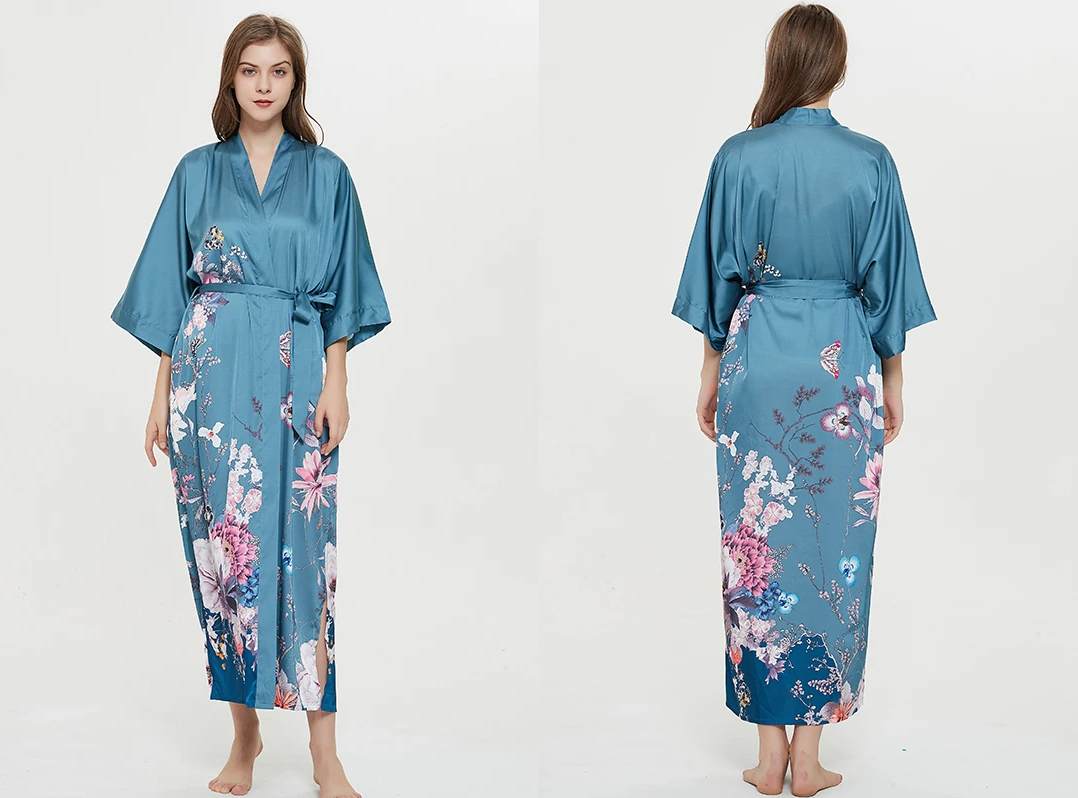 LONG ROBES
Opt for Luxury Robes With Details
Treat yourself to a kimono robe that's loaded with pretty details and create a feeling of indulgence that you'll love.
Look for lace applique on the sleeves or hemline, soft chiffon trim, silk piping, ruffled edges, or beaded details
Forgo a plain robe in favor of one embellished with special extras and you'll instantly feel more pampered and glamorous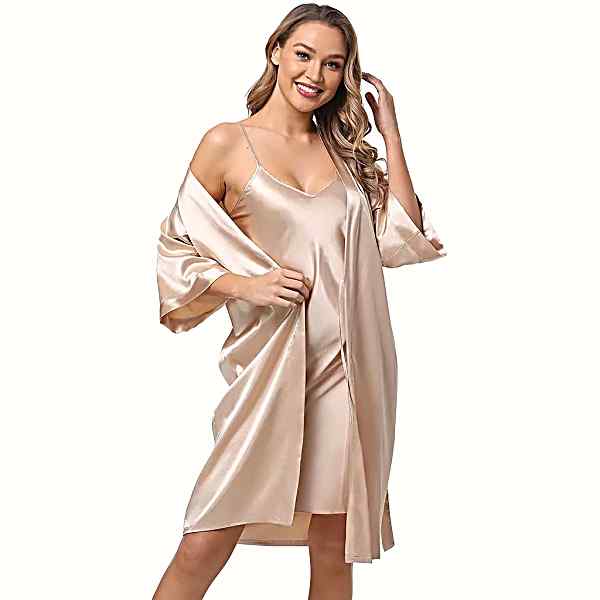 The Design Reflects The Season
Kimono robes are normally worn over a single layer of lingerie undergarments, and are highly symbolic. 
Cherry blossoms, birds, or butterflies are worn during the spring season

Flowing water designs are worn in the summer
Fall leaves or Japanese maple trees are appropriate during the fall season
Plum blossoms or pine trees are usually worn during the winter months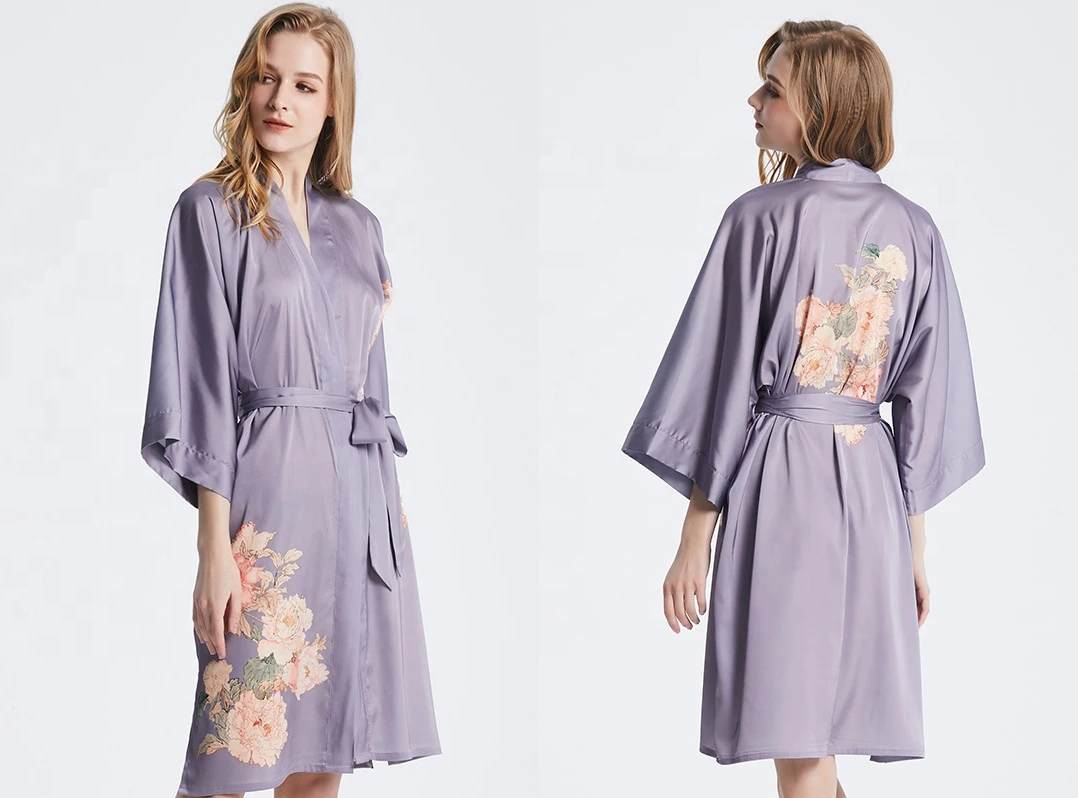 Pair It With Beautiful Lingerie
Even the most beautiful kimono robe will look lackluster and fall flat if you wear ratty old pajamas underneath.

Instead, pair the robe with your other lingerie favorites for an all over look that will make you feel gorgeous
Try a silk chemise underneath, a camisole and tap pants, your favorite bra and underwear, or a cotton nightshirt in the most luxurious fabric you can find

Pairing your kimono with other special lingerie will always make you look irresistible and utterly gorgeous.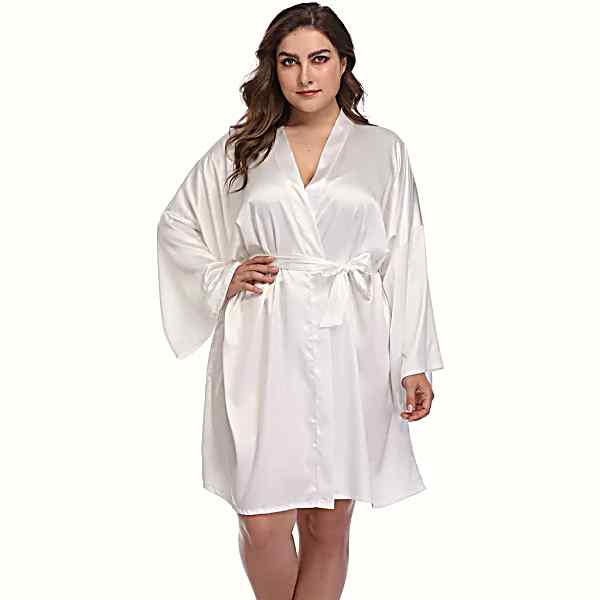 Shibori

Some expensive kimonos are also decorated using shibori, a Japanese tie-dye technique that often appears in tandem with custom hand-painted lingerie and intimate apparel.
Shibori is an elaborate and difficult technique requiring many hours to execute correctly, making these luxury robes among the most expensive.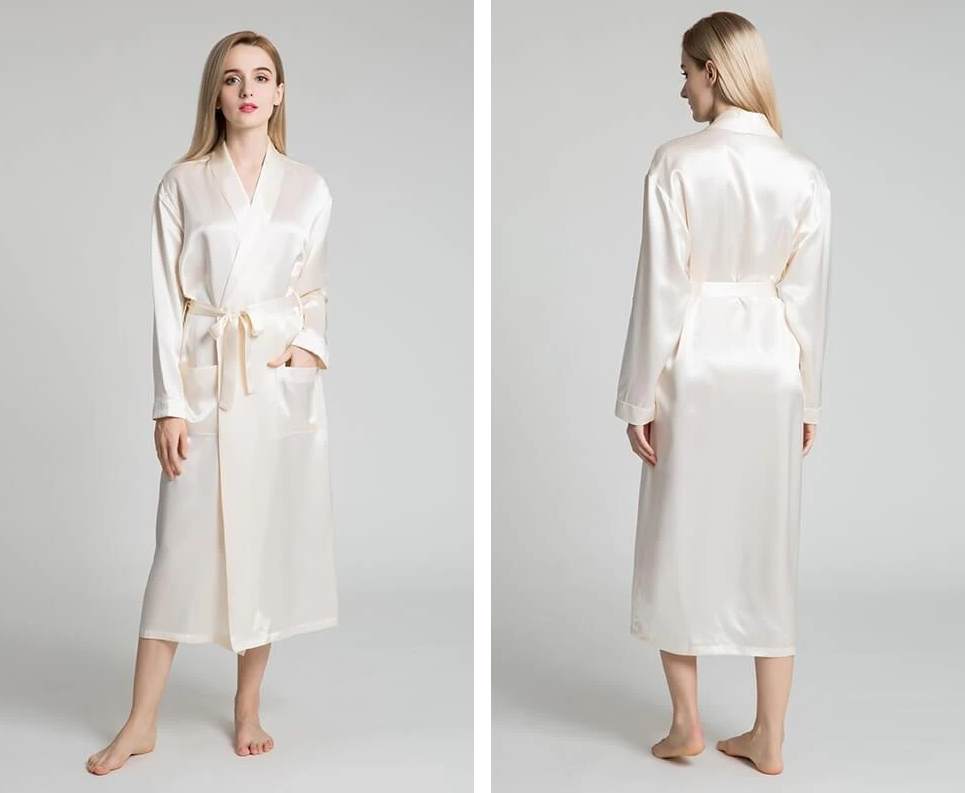 ROBE SETS
---
Take Time To Look Great
The secret to looking like a goddess in any lingerie is setting aside a few extra minutes to pay attention to your whole look.
Go from head to toe and make sure your hair is brushed, your legs are shaved, your face is softly made up, and your skin is silky and moisturized with your favorite lotion or body oil.
These simple steps will make you feel beautiful, confident, and absolutely stunning in any intimate apparel that you choose to wear.
---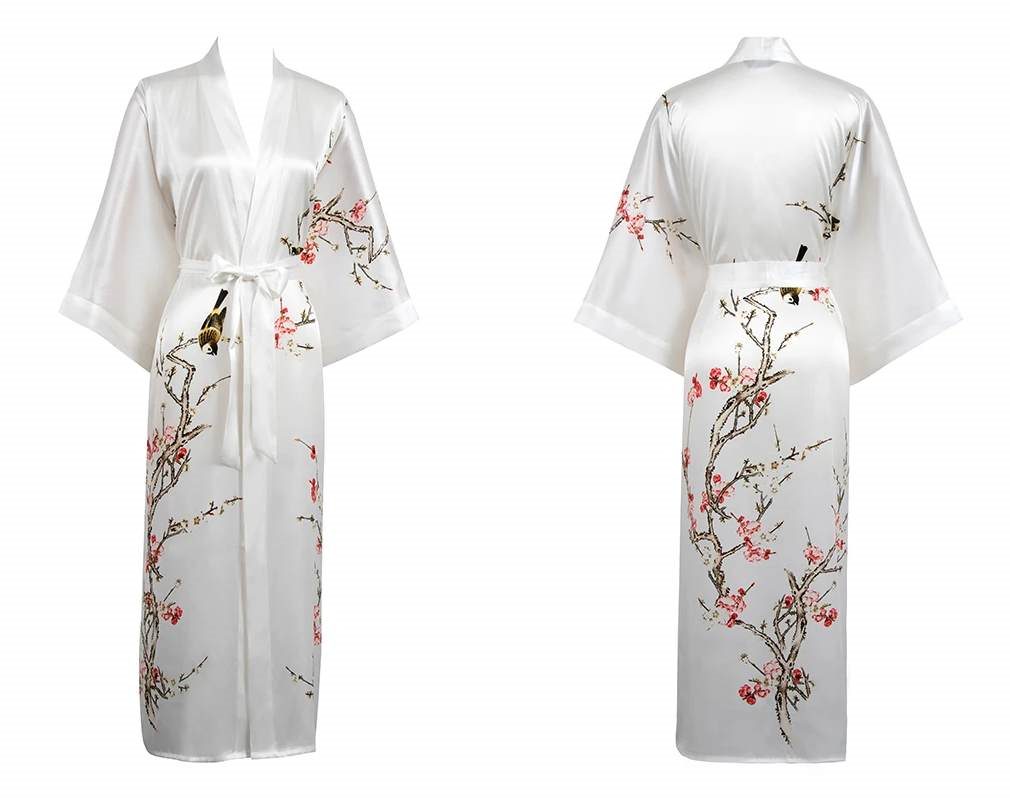 SILK SLEEPWEAR