Shopping For Terry Cloth Robes
FTC Disclosure - If you make a purchase by clicking a link on this page, we receive a small commission. There is no cost to you, and this does not influence our content. 

---
Classic terry cloth robes are among the most readily available and affordable ladies sleepwear styles on the market today.
These well known womens robes come sized to fit every adult, child, or teen, and do a fantastic job of providing warmth and comfort while carefully and easily removing excess moisture from the surface of the skin.

These popular bath robes, which are often called spa robes are most often floor-length and usually have long sleeves with a comfortable rolled collar.
The thick, nubbly texture of cotton terrycloth fabric helps it stay in place around the body and waist without the need for additional ties or security.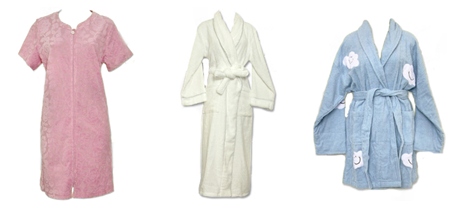 HerRoom Lingerie We Buy For Ourselves
Terry Cloth Robes

They are typically belted around the waist for an easy fit.
Short robes that end at the knee, or at the middle of the calf are also popular especially when women apply lotion to or shave their legs.
Terry cloth is soft and very comfortable on the skin.
It's a natural fabric with the wonderful advantage of breathability.

Terry cloth is a thick and highly absorbent cotton fabric that holds up well to repeated trips through the washer and dryer, and tends to get softer with repeated washings.
Terry cloth robes are a multi-purpose style that can be used as a dressing gown, as womens sleepwear or even as comfy loungewear after a long tiring day at work.
Slip into a stretchy cotton nightgown with a matching soft terry wrap robe and you'll feel your tension slip away!
For added comfort and warmth, consider a terry cloth hooded robe.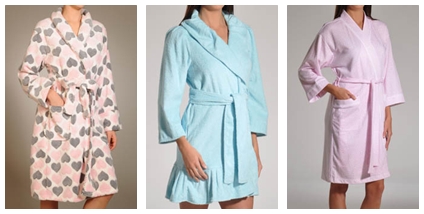 Hooded bath robes help damp hair dry faster and are a nice way to keep the head warm in colder weather.
Humans lose a large percentage of their body heat through the top of the head, so wearing a hooded robe is a great way to conserve body heat without expensive thermostat adjustments.
The hoods on some terrycloth robes are removable and easily detached through a series of buttons.
And, last but not least, consider purchasing a matching pair of terry cloth slippers to compliment your terry bathrobe.
Warm, fuzzy slippers help retain heat and feel fantastic on the feet!