*FTC Disclosure - If you make a purchase through a link on this site, we receive a small commission at no extra cost to you.*
The Cotton Nightgowns That Supermodels Love

Cotton Nightgowns?  Supermodels?  What on earth can the two possibly have in common, you may wonder.  When it comes to nightwear in general, actually there's a lot.
Beyond the designers in the sleepwear trade, supermodels enjoy a massive behind the scenes advantage.
How? They've seen and tried it all, and know which nightys look fantastic and feel comfortable, and more important, they know which ones work better than those that aren't so great.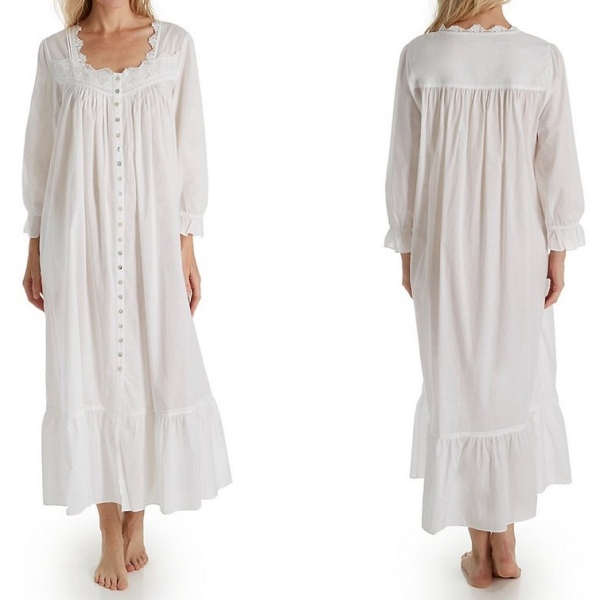 Want a behind the scenes look?  You've come to the right place.
We've tapped into their know-how, and in this article share four cotton nightgowns that get a big thumbs up.
From chemises and sleepshirts to Victorian nightgowns and babydolls, here are the favorites.
Carmen's Tip
Available in a wonderful variety of styles, colors, lengths, and sizes, comfy cotton is a natural fabric that breaths. It's an easy, comfortable choice to beat the heat and stay cool for a good night's sleep.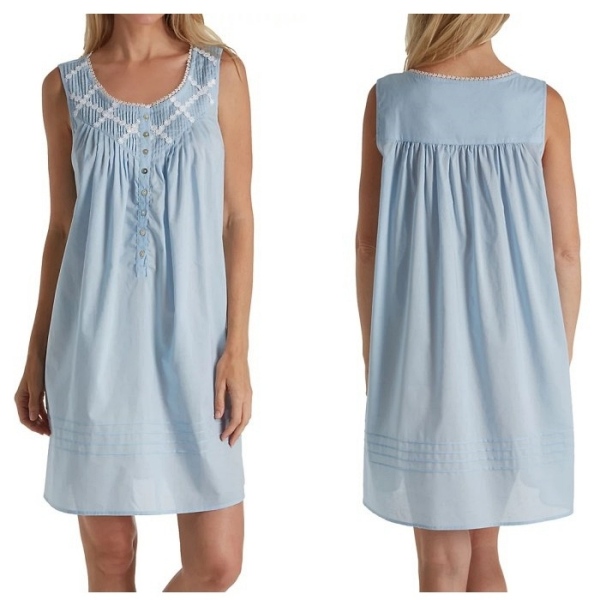 EILEEN WEST
Victorian Nightgowns

You don't have to be a supermodel to love sleepwear that's pretty and feminine. And, while they may spend their days modelling beautiful lingerie at photo shoots, there's a certain timeless appeal to the classics.
A favorite choice for the quintessential romantic? The long Victorian nightgown - one of the most popular styles for those who love all things dreamy and feminine.
What to look for? Choose soft cotton gowns that are comfy and flattering with special details to please your sentimental side, such as -
satin ribbons
eyelet lace trim
ruffled hemlines
puffed sleeves
lace collars
in soft and pretty shades like white, cream, or dreamy pastels. Slipping into a long Victorian inspired night gown will make getting ready for bed the most pampered part of your day.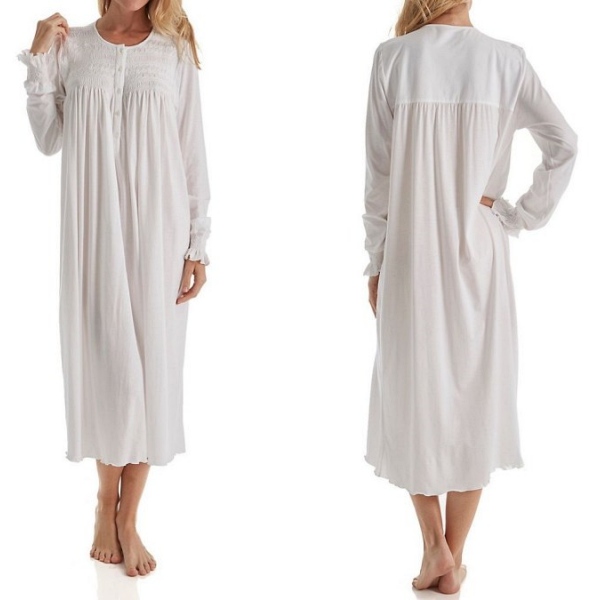 P-JAMAS
Babydoll Lingerie

Part sweet and part sexy, supermodels know that a babydoll is the perfect combination for showing off two looks that women love.
Choosing babydoll lingerie in a soft cotton makes it more wearable for every day than an overly sexy or fancy fabric like silk or mesh.
Cotton babydolls are ultra comfy in flowy, swingy fabrics that showcase your curves and let you move with ease and grace.
A fitted bodice and sleeveless style shows off just enough of your silhouette without getting lost in the empire waist cut.
Add some feminine and flirty details like ruffled straps, whimsical prints, and pretty colors for a cotton nightgown look that you're sure to love.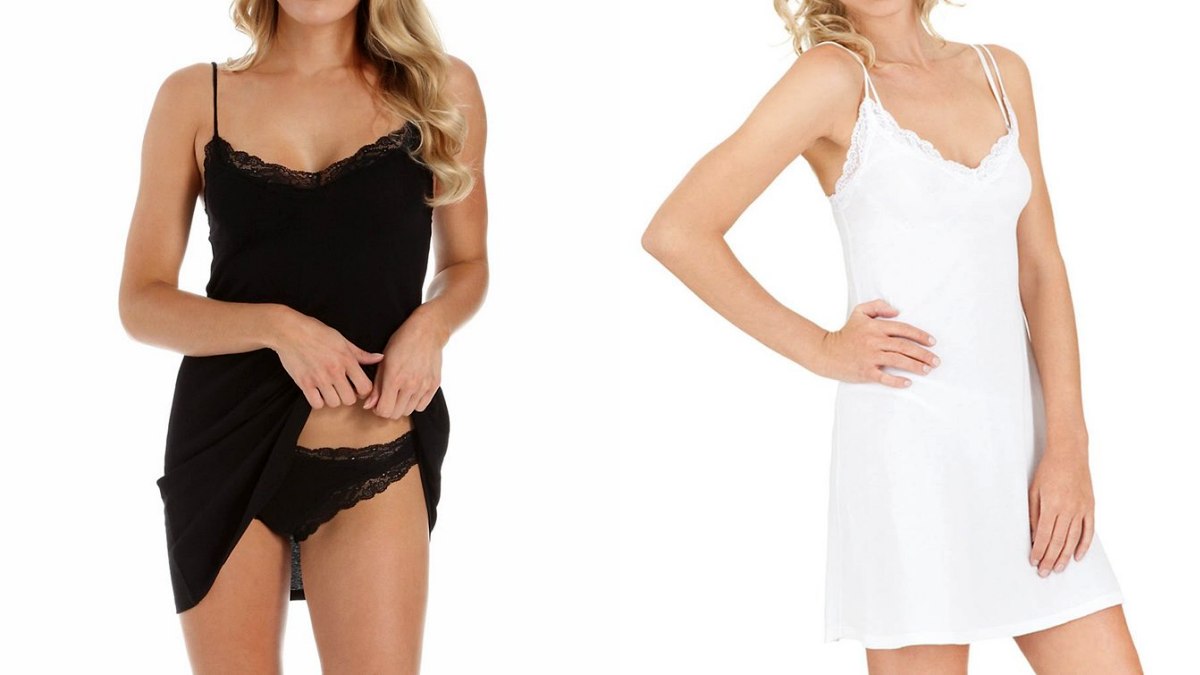 ONLY HEARTS
Did You Know?
Cotton sleepwear is a good gift choice for vegans, vegetarians, and others on your gift list who appreciate natural fibers that do not come from animal sources.
Cotton Nightgowns - Easy Sleep Shirt

It may be hard to believe, but supermodels love to relax after a long day, just like the rest of us.
And one of our favorite ways to get comfy, casual, and relaxed is by slipping into an easy fit cotton nightshirt.
Whether it's a crisp, lightweight cotton or an ultra soft flannel, this popular variation on the cotton nightgown is a must-have for any well-stocked sleepwear collection.

Look for a fit that's comfy without being so loose that it overwhelms your frame. Then comes the fun part, choosing a look that you love.
Try a sexy, boyfriend look in a plaid button front style with the sleeves rolled up. Or choose a simple solid color in a basic pullover style.
You can even get playful in a youthful and fun print that makes you feel ready for a pajama party.

Whatever your personal style, there's an easy nightshirt that gives you the look you love in the comfiest way possible.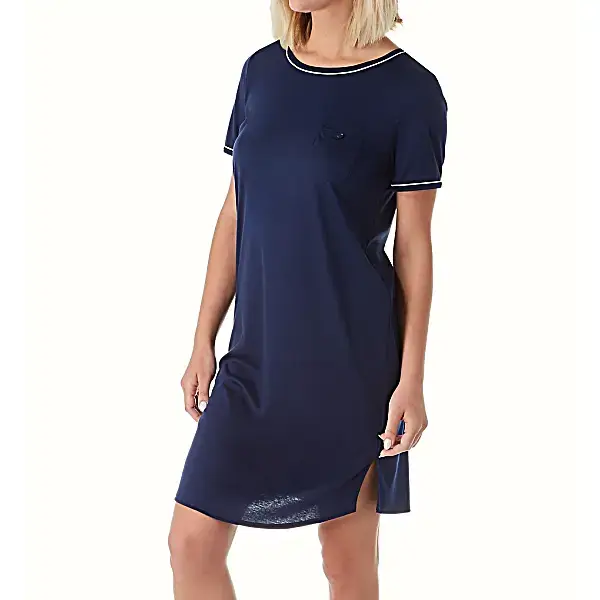 CALIDA
Chic Chemises

Regardless of your personal style, a universally appealing and flattering choice is a simple cotton chemise; a sleep wear basic for anyone who prefers lightweight styles with an easy and effortless fit.
What should you look for in a chemise?

Consider a classic A-line shape with a rounded neckline and short sleeves or spaghetti straps.
A-line styles look great on just about every body type, and because they're much shorter than long nightgowns, they have a much lighter feel.
And, cotton chemises offer breathability, meaning they provide a comfortable fit, making them a wonderful addition to your sleep wear collection.
If you're a minimalist who doesn't like a lot of lace and trim, look for simple and clean styles with fewer details, and choose an easy-to-wear neutral shade that works with other intimate apparel you own.
A short cotton chemise is a love of lingerie approved style that you can enjoy for years to come.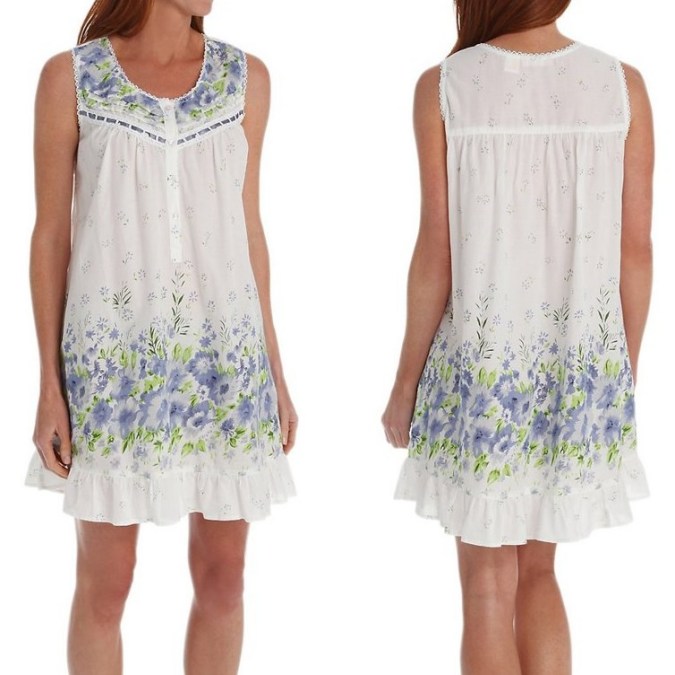 LA CERA