*FTC Disclosure - If you make a purchase through a link on this site, we receive a small commission at no extra cost to you.*
Short Robes - 5 Mistakes You Need To Avoid

Short Robes - Hands down one of the best sleepwear styles for your lingerie drawer is the short robe, an effortlessly chic and versatile must-have that makes our list of top ten favorites. 
From stunning silk robes and exciting kimono robes to the classic cotton bath robe and simple spa wrap, there are so many choices that it may be hard to limit yourself to just one. 
Follow along as we take a closer look at the big no-nos and common mistakes that are often made when shopping for these sleep wear favorites. 

What To Avoid With Short Robes
Buying The Wrong Robe Size
Whether you opt for a crisp cotton zip robe or a fluffy bathrobe, short robes are universally flattering, provided that you pick the right size that suits your shape to a T.  Keep in mind that ones that are -

too big will droop in the shoulders, will have sleeves that are too long, and will have too much fabric around your waist, causing a bulky look
too small will pull across the back and across the bustline. Another big problem  - not being able to close the robe and move about comfortably
Fortunately, ladies robes are one of the easiest sleepwear styles to fit.  Most are loose, forgiving, and quite relaxed - the perfect choice to slip into after a long day. 

UGG
Short robes are popular as they're easy to slip on and off while at home relaxing or getting ready for work.
They are also convenient to wear when putting on make-up or applying lotion or cream, and of course are ideal when shaving or waxing your legs.
Plus, they're a great choice to pack for your vacation since they don't require a lot of precious luggage space.
Choosing The Wrong Sleepwear Fabric
Some women prefer high-end luxury robes in silk, satin or cashmere for special occasions, while others prefer to keep it casual in the morning, while having breakfast, or lounging around the house.

Think about what you'll be doing, and opt for a style in a fabric that fits your needs.
A style for the boudoir can be silk, chiffon, or satin, while a robe that you'll wear more often or on a daily basis should be in an easy care fabric like cotton or microfiber so you can toss it into the wash on a regular basis.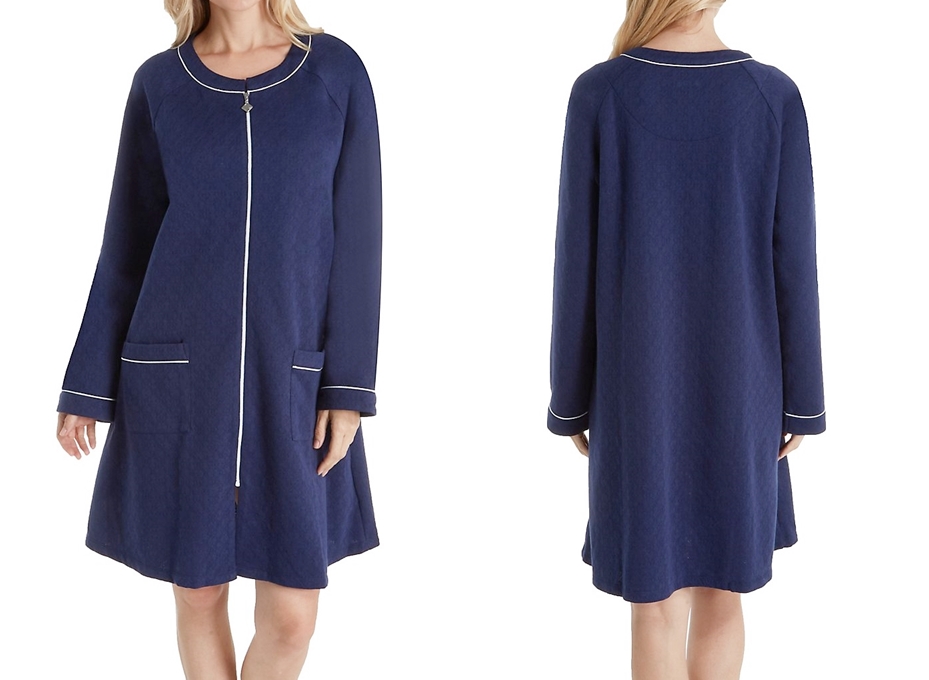 EILEEN WEST
Pairing With The Wrong Intimate Apparel
Short robes are the perfect compliment to beautiful lingerie, but they can also be worn for every day, over simple pajamas and sleepwear.
The key to looking great, no matter what you're wearing is to make sure your other lingerie is in good shape.
A ratty t-shirt or baggy pajama pants won't flatter your figure and will take away from the beauty of your short robe.
Even the comfiest sleepwear pieces can look great if you keep them in good condition and pick styles that suit your shape. Pay attention to your entire ensemble to ensure that you'll look great, even when you're lounging.
Did You Know?

Terry cloth robes are popular womens robes. Fluffy terry cloth bath robes are made of super absorbent fabric that's soft and absorbs moisture. And, because terry cloth is made of cotton, it washes and wears very well.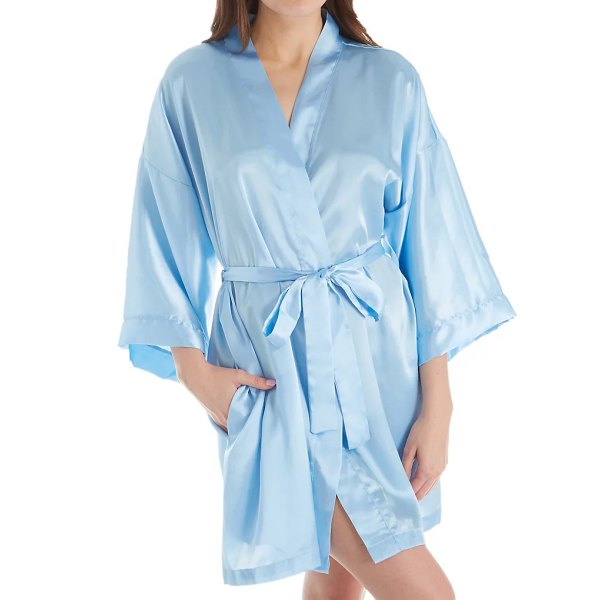 SHADOWLINE
Saving The Robe For Special Occasions
The beauty of this popular ladies sleepwear style is how versatile and effortless it is to wear, so abandon the urge to save it only for special occasions.
Wear it daily with everything from beautiful lingerie, pretty nighties, everyday pajamas, and even loungewear.
From bras and panties to chemises and nightgowns, the most basic styles are instantly elevated when you top them with a gorgeous short robe.
Get the most enjoyment out of your robe by wearing it often and pampering yourself with it on a regular basis.
Thinking You Can't Pull Off A Short Robe
No matter your body type, size, or shape, anyone can pull off a short robe. This style is universally flattering, especially in a medium weight, versatile fabric like silky microfiber or soft, cozy cotton.
Virtually every silhouette looks great in one of these flattering styles. Opt for one that shows off your legs, and choose how much of your décolletage you want to display for maximum figure flattery.
Don't be shy!  Show off your silhouette and enjoy looking and feeling great.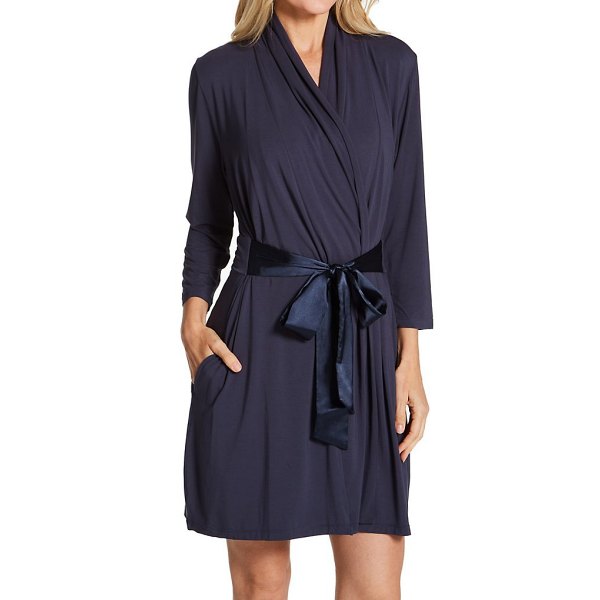 FLEUR'T