The Best Short Robes
FTC Disclosure - If you make a purchase by clicking a link on this page, we receive a small commission. There is no cost to you, and this does not influence our content. 

---
Womens Robes
---
For today's modern women, short robes are one of the great lingerie wardrobe must haves.
One of the lesser mentioned styles of womens sleepwear, robes are not only subtly sexy, but they are also extremely comfortable to wear and very versatile.
Traditional long robes that we are all familiar with, are floor or full length, but a more convenient alternative is the much loved shorter womens robes that offer freedom of movement and flexibility, along with a hint of sensuality.
Both long and short robes are available in a multitude of popular styles, including,
...just to name a few.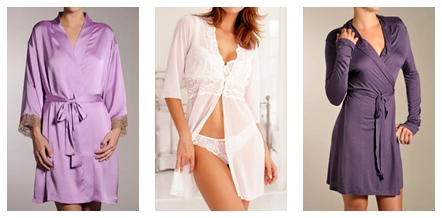 Ladies Robes - Hot or Cold?
---
Short robes are preferred by many women as they are light weight and are easy to slip in and out of while at home relaxing or getting ready for work.
They are also convenient to wear when putting on make-up or applying lotion or cream, and of course are the ideal choice when shaving or waxing your legs.
And, they are a great choice when vacationing since they do not require a lot of precious luggage space.
While choosing a womens robe, keep in mind what you will use it for.
For example, if you are looking for warmth and comfort with a cozy feel, then a fleece or flannel robe or even a luxurious cashmere robe with pockets (to keep your hands warm) would be ideal.
Heavier, thicker bathrobes like these are suitable for colder climates as they hold the heat are are toasty warm.
For warmer climates, a light weight material such as fine cotton is a good option.
Cotton robes and spa robes are both great choices to step into after a shower.
Both are lightweight and comfortable, and cotton is a natural fabric that breaths and is soft on the skin.

Terry cloth robes are another popular choice. Fluffy terry cloth bath robes are made of super absorbent terry cloth fabric that is soft and absorbs moisture fast. And, because terry cloth is made of cotton, it washes and wears very well.

Luxury Robes - Gifts
---
Special occasions such as honeymoons, anniversaries, birthdays and even Valentine's day call for romantic luxury robes like,
These luxurious natural fabrics have irresistible appeal and evoke sensuality and romance.
While not as affordable as regular cotton robes and satin robes, they make beautiful gifts that are sexy and comfortable and can be enjoyed by you and your loved one for many years to come.