The Zen of Spa Robes
FTC Disclosure - If you make a purchase by clicking a link on this page, we receive a small commission. There is no cost to you, and this does not influence our content. 

---
Spa robes are a wonderfully luxurious way to pamper yourself after a long and tiring day. Available in a wide variety of sumptuously soothing materials that feel fantastic against the skin, these womens robes are one of the "must have" bath robe and ladies sleepwear styles available today.
The most common fabric seen in spa robes is terrycloth, which is a soft, warm, and absorbent cotton.
For this reason terrycloth robes are often worn after showering or bathing, especially in cold weather.
Those who want the absorption and warm of terrycloth but prefer a different look might opt for a double-weight robe with a twill or seersucker outer layer.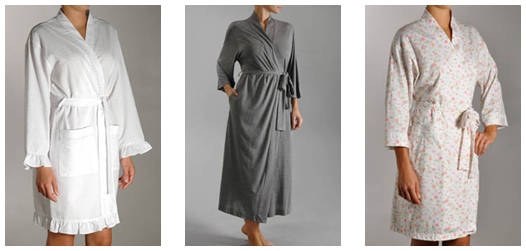 Spa Robes

Velour is another popular fabric choice. Velour robes are normally crafted from a cotton-polyester blend that mimics the look of velvet velour but is far more resilient.
Many spa robes have attached hoods for extra warmth and comfort; a hooded robe is also handy for keeping damp hair from wetting a pillowcase.
A kimono robe is an excellent option for travelers with limited space in their luggage; these robes are crafted from ultra thin fabrics, like seersucker, satin or silk, and are an excellent choice for very warm climates.
Kimono robes are sold in a fabulous variety of prints, patterns and colors. Very expensive silk kimonos are often hand-painted with custom designs, while other silk kimono styles feature exquisite and complicated hand-embroidery.
Cotton robes along with matching cotton nightgowns are also light and airy with wonderfully natural breathability.
They make an excellent choice for warmer climates and are much easier to care for than silk robes and their affordable cousin, satin robes.
Most lightweight cotton robes for women can be washed by hand or by washing machine, and their thin fabric makes them imminently packable.
Another option is the spa wrap, which is not a true robe because it has no sleeves.
These wraps are normally fashioned from terrycloth and have an elastic top that keeps the wrap in place around the ribcage.
Spa wraps are available in a quick-drying polyester microfiber fabric, which dries very quickly and is conveniently resistant to stains and mildew.
These wraps can easily double as swim suit cover-ups during swimming season, and are also useful for visits to the spa or when you opt for a massage.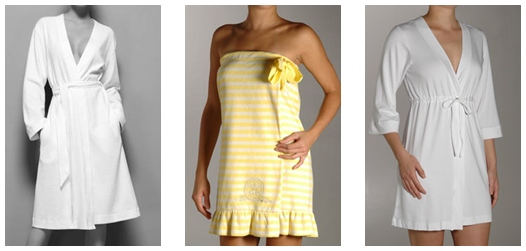 Robes
Some wraps and robes are sold together with a matching "turban" that can be worn to contain wet hair.
These turbans can also easily be fashioned out of towels; the loose ends are twisted and tucked into the back.
Like night gowns most spa robes are exceptionally easy to care for and can be washed and dried in a standard clothes washer and dryer.
Robes made from thicker fabrics such as terrycloth and velour can be rather susceptible to mildew; however, this is easily remedied with a quick wash.
Many will require dry-cleaning or hand washing so that their delicate fibers and embellishments are not ruined.
Robes make an excellent gift for almost everyone on your holiday gift list, including children.
Each robe can accommodate a wide range of body types and sizes.
This makes them useful and economical gifts for growing children and teenagers.
For extra pampering, throw in a matching cotton nightgown, womens pajamas, cushy pair of slippers or a pair of spa gloves infused with lanolin for extra pampering.