*FTC Disclosure - If you make a purchase through a link on this site, we receive a small commission at no extra cost to you.*
Spa Robes - The Most Amazing Styles That You Will Love

Spa Robes - A pampering day at the spa? It isn't just nice - it's downright glorious. The soothing environment, relaxing mood, and of course the amazing luxury robes that you get to wear - what's not to love.
We love the feeling of sumptuous spa robes long after the visit and getting there is easier than you think.
Follow along as we reveal our top picks - from a fluffy terry bath robe to the always fashionable waffle weave robe, you can enjoy your own personal spa without ever having to leave home.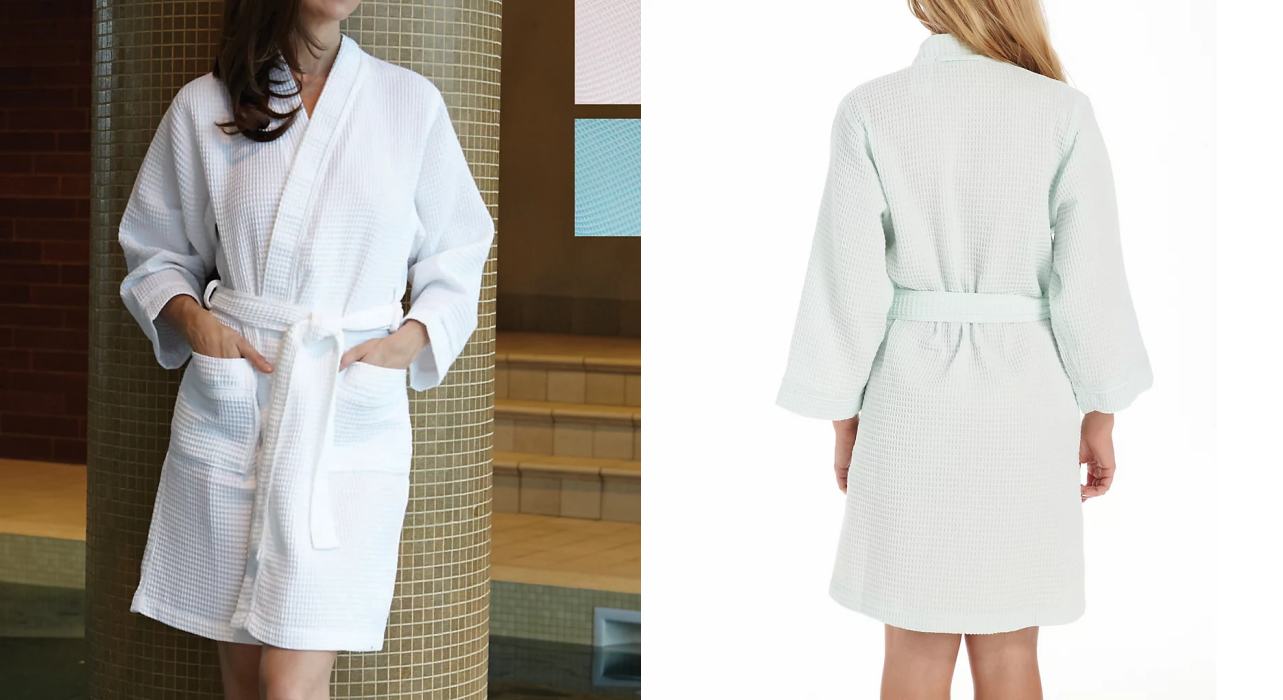 Spa Robes - The Best At Home Styles

Waffle Weave Robe
Clean and crisp, a waffle weave robe is a well-known favorite of many high end spas and resorts throughout the world. 
The best part?  Waffle knit cotton is a super absorbent fabric that is ideal for women who are sensitive to heat, and prefer cooler breathable fabrics. 

A waffle robe is an effortless sleepwear style that's easy peasy to mix and match with your nightgowns and pjs. Choose one in super soft Egyptian cotton that's easy to care for. Look for light and airy colors and fabrics that feel weightless.
Classic and timeless, these ladies robes offer a chic vibe that sets them apart from plain and practical womens robes, especially when the temperature rises and you still crave the sophistication of a spa robe.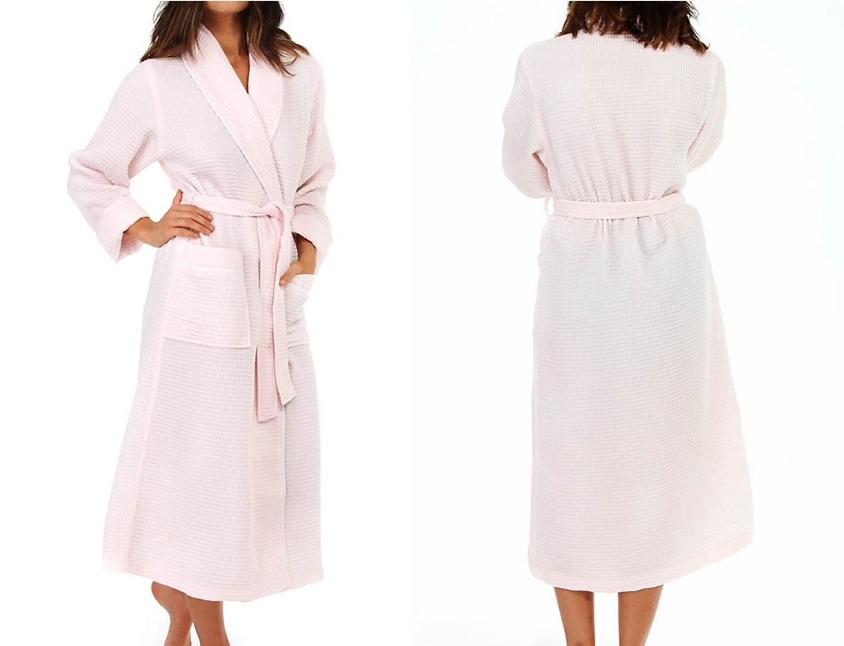 KAYANNA
Did You Know?
When it comes to ladies robes with a luxurious spa feel, velour is another popular fabric choice. Velour robes are normally crafted from a cotton-polyester blend that mimics the look of velvet velour but is far more resilient.
Classic Terry Bath Robe
The perfect robe for any time of year that never goes out of fashion, a beautiful terry cloth robe in fresh white, cream, or earth tone offers the clean and classic spa look that everyone is familiar with.

We love the luxe look and feel of this womens robe - high-end cotton terry knit with a soft inner core that makes you feel like you've just stepped out of a massage or facial treatment.
Take your every day sleepwear from plain to pampered when you top your slips, chemises and nighties with a terry robe that makes precious quiet time a spa-like experience in the comfort of your own home.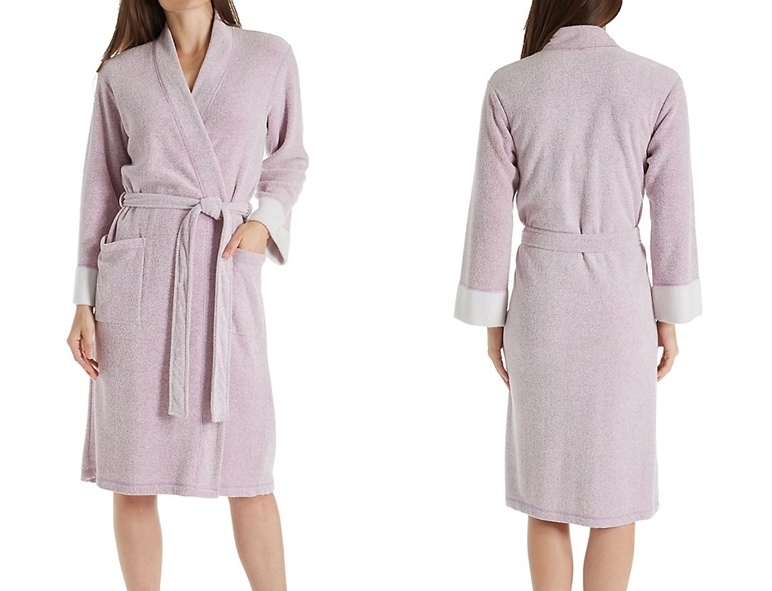 Sleepwear Care Tip
Robes made from thicker fabrics such as terrycloth and velour can be susceptible to mildew.  Avoid this potential problem by keeping them them fresh and fantastic with a quick wash.
Stunning Kimono Robes
Modern and elegant, a kimono robe evokes the feeling of a Zen-like spa day that relaxes your senses and makes you feel posh and pampered.
In lightweight silky fabrics with an exotic design that features signature kimono sleeves and modest coverage, these luxury robes offer a timeless look that's unique yet unassuming.
If you love a little glamour and elegance with your sleepwear, then a luxurious kimono spa robe is a must-have for your collection.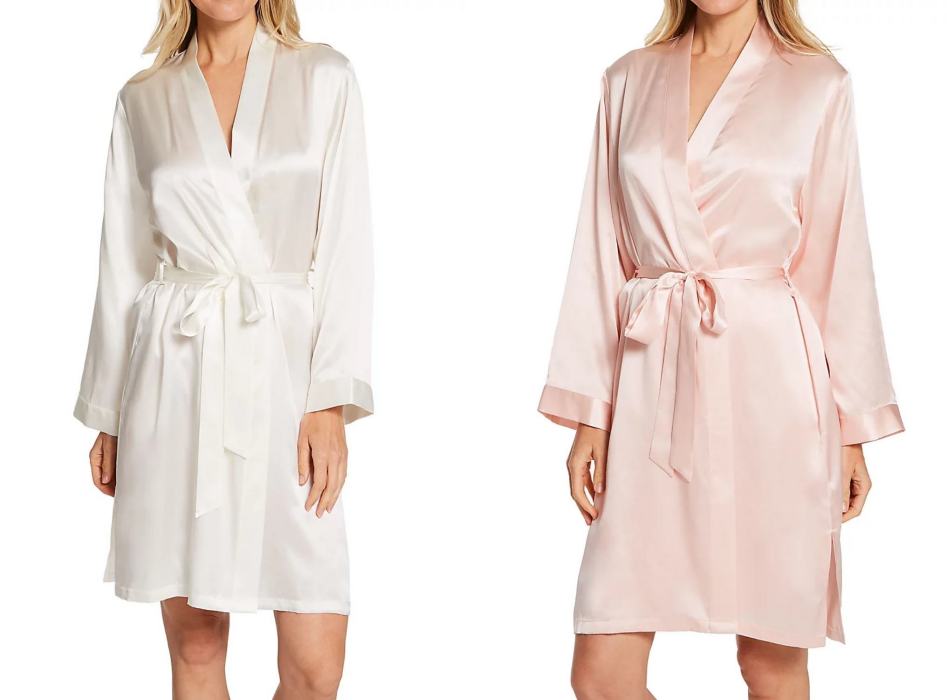 LINDA HARTMAN
Cashmere Robes
Matchless when it comes to keeping you toasty warm, a cashmere robe is a true extravagance that intimate apparel enthusiasts and neophytes alike rave on and on about. 
Whether you opt for one of the classic flowing long robes or sensational short robes, once you cuddle up in one of these spa robes and you'll never want to take it off.
A firm favorite of some of the finest spas, it's easy to transport yourself to a place of utter relaxation and sheer bliss when you slip into the creme de la creme of luxury robes - a super soft womens cashmere robe.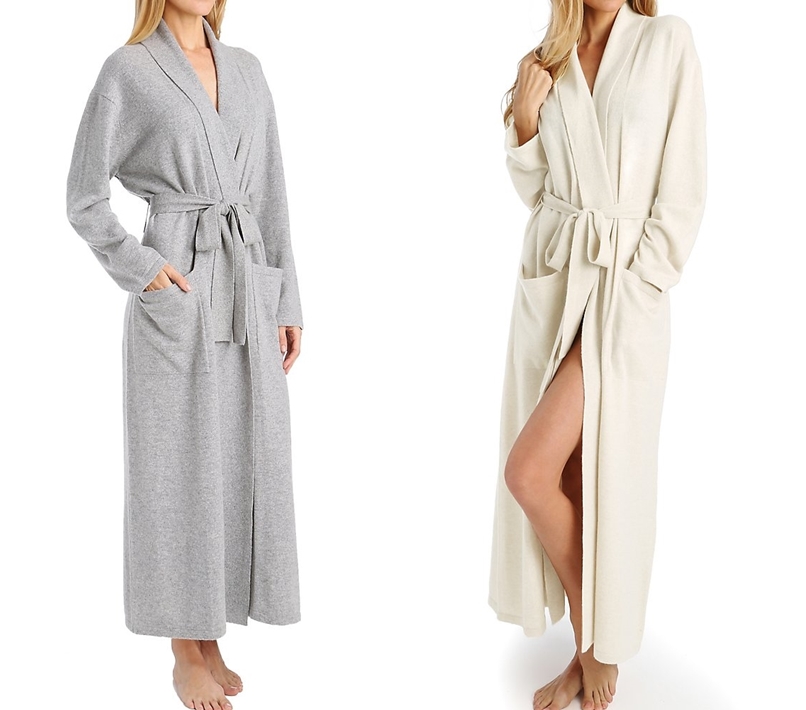 ARLOTTA
Plush Chenille Robes

One of the most comfortable and amazingly popular sleepwear fabrics -  nothing is softer and more snuggly than a chenille robe. Most find that once they slip into one of these beautiful women's robes, they never want to take them off.
Fluffy, lightweight, and easy to wear, chenille instantly transports you to a state of calm contentment and effortless relaxation.
Winter months are an especially good time to indulge your senses in chenille robes, keeping you cozy and comfortable especially when it's cold outside.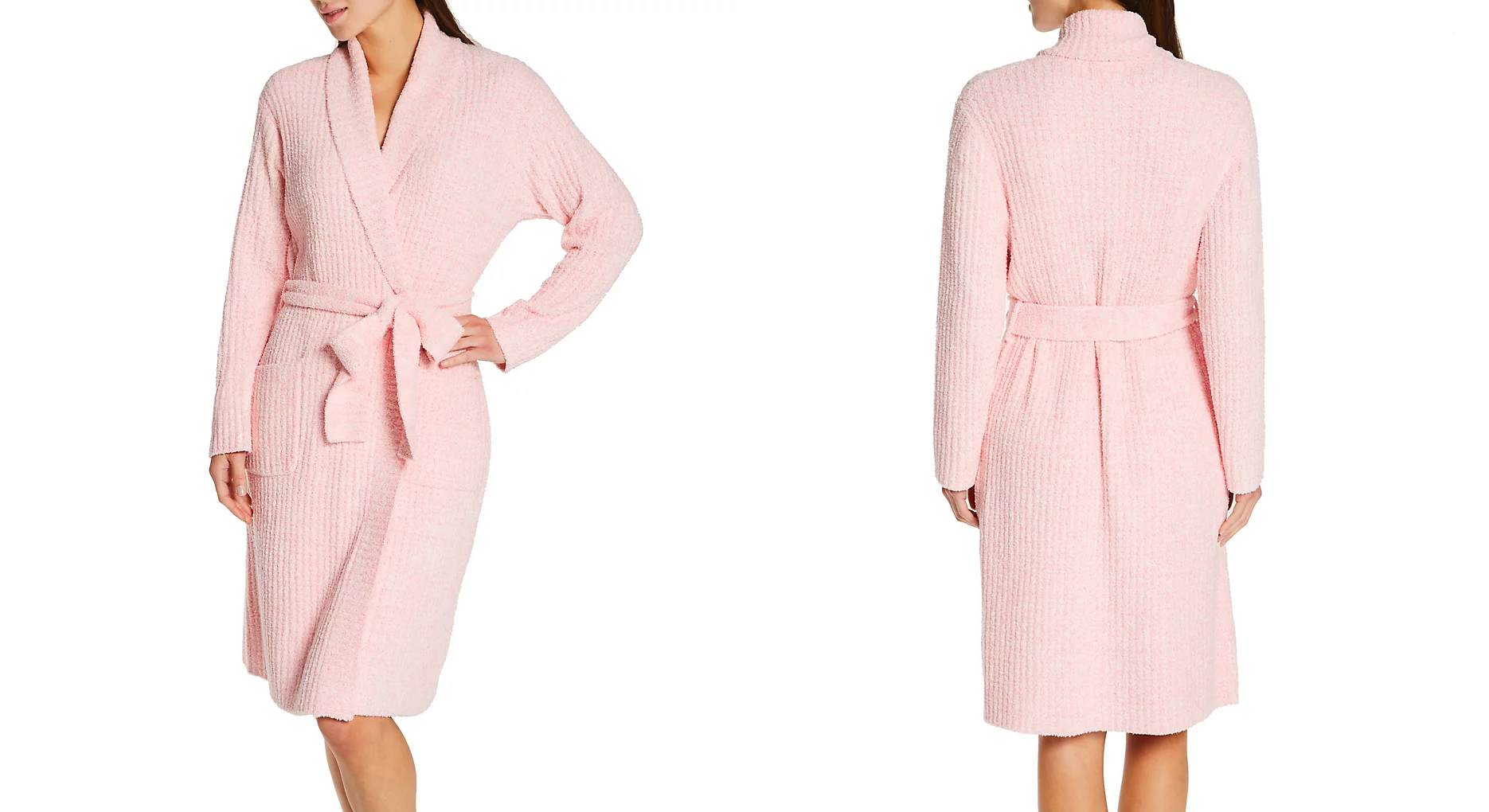 SOFTIES BY PADDI MURPHY