*FTC Disclosure - If you make a purchase through a link on this site, we receive a small commission at no extra cost to you.*
Best Camisoles and Cami Sets You'll Love
Camisoles and cami sets have never been as fashionable... nor as popular as they are today!
Madonna, Kylie Minogue, Angelina Jolie and Kate Hudson have showed us great casual looks, from pairing a simple tank top camisole cami with jeans, capri leggings, summer dresses or skirts to a lace camisole or dressy camisole under a suit jacket or sweater for the office.
Camisoles And Cami Sets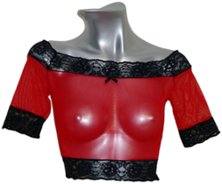 Queen Latifah has shown us how fantastic we can look in a plus size camisole and crisp fitted jeans look.
Sexy and sassy, practical and comfy - camisoles and cami sets are THE modern day intimate apparel work-horse... camisoles are a lingerie drawer basic that has grown from a boring ho hum undershirt into a can't-live-without lingerie must have...

Lingerie History Trivia ....the camisole first appeared several centuries ago as a simple cotton lingerie undergarment ...it was originally used to draw moisture away from the body since people rarely bathed back then!

Camisole Shopping Tips
---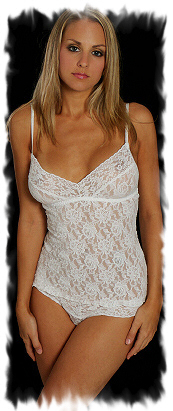 Thankfully, today's cami sets and camisoles have improved... they look (and smell!) a lot better than the lingerie of yesteryear.
Camisoles and cami sets perform double duty as both lingerie and clothing, and can be bought with matching lingerie undergarment panties for a pretty lingerie set.
If you're wearing a lace camisole remember to wear a neutral bra color, so your bra doesn't show through. Nude, natural and skin tone colored bras are a great choice.
If you're wearing camisoles and cami sets with spaghetti straps, take care that your bra straps do not show through - unless you want them to!
Some camisole styles such as the bra camisole come with built-in molded or under wire cups that eliminate the need for a bra. This is great for the summer months when it can become too hot to wear several layers of lingerie.
Camisoles and cami sets often come in a cropped length exposing a wee bit of a ladies midriff...the more traditional and most popular styles actually cover the midriff and torso region, resting around the belly.
Camisole necklines can vary from V-neck to the traditional round neck shape...the style possibilities are endless so your camisoles are perfect under any sort of clothing you are wearing.
Camisoles and cami sets in silk, satin and charmeuse fabrics tend to be dressier and have a free flowing, less fitted, body shaper look.
A soft Hanro camisole is a super choice for appropriate office wear and special outfits.
Stretch fabrics such as lycra (aka spandex), microfiber and nylon, and stretch cotton are flexible and comfortable cami choices.
Cotton remains the camisole fabric of choice for most camisoles...it's a natural, cool fabric that breathes and is comfy cosy against the skin!

Cami Styles For Every Occasion
---
Basic camisoles can be sleeveless garments...there are two basic styles - the first style has spaghetti shoulder straps, which are often the you-adjust-it-yourself kind...another favorite is the stretch elastic it-adjusts-itself strap.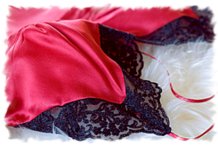 A second style, the very popular tank top camisole comes with a V or round/scoop neckline, with built-up shoulders and is fantastic under sweaters, blouses, tops, jackets, etc.
A yoga camisole is wonderfully comfortable when paired simply with your favorite jeans or casual pants for weekend wear.
Support camisoles are constructed in nylon spandex, super soft stretch microfiber or durable cotton stretch blend fabrics...these camis have molded or underwire cup bras - also known as "shelves" that give support for bigger busts.
Camisole and cami sets also come padded and are a good choice to wear under fitted T-shirts.
They can be worn under clothing or again on their own as outerwear, maintaining a smooth soft fitted silhouette.
Dressy camisoles in silks, satins, and meshes are luxurious and sexy. Look for styles trimmed with laces, bows or pearls with little revealing details for a prettier look.
Think about the look and message you want to send. Sweet and innocent? Choose a silk, satin or cotton with lace camisole and a bikini or thong panty detailed with feminine lace.
Are you going for sensuous and coy for that special evening out?
Choose a peek a boo see through camisole in sheer black mesh or lace... or, sheer camisoles with lace trim....a gorgeous look under those beautiful sheer blouses, and plunging necklines. You'll definitely get his attention!
Cap sleeve and long camisole - are all versatile styles you'll want in your lingerie wardrobe. Black, cream and white laces are timeless basics.
Dress them up, or dress them down, these will quickly become favorites you'll reach for again and again!