Insiders Guide To Velour Robes
Velour robes are an increasingly popular choice for both men's and women sleepwear and with good reason.
These warm, cuddly luxury robes are perfect for wear during fall and winter, and offer wonderful warmth combined with a luxurious appearance.
Velvet vs Velour Robes

Womens robes in velour offer the look and feel of velvet fabric, but are more durable and easier to care for.
Velvet robes frequently need to be dry-cleaned and may be destroyed by harsh chemicals, body oils, and food stains.
However, ladies sleepwear in velour is usually machine-washable and can frequently be dried in an electric clothes dryer. Velour is also often made with an element of spandex, providing convenient stretch for optimum fit.
Another benefit of a womens robe in velour is its affordability: these robes typically retail at a price that is less than half of what one might expect to pay for a velvet robe.
Advantages and Disadvantages
---
Another advantage of these ladies robes is their suitability for both genders; whereas silk robes and satin robes are commonly associated with womens sleepwear and loungewear, the velour robe can be comfortably worn by both women and men.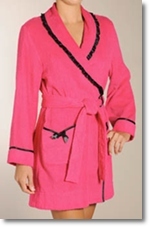 Velour parallels terry cloth robes and fleece robes in terms of warmth; however, they are often thinner, making them more convenient for storage and travel.
While velour is usually not quite as absorbent as terrycloth, velour spa robes are great for wear after a shower, bath, or swim.
One of velour's few downsides is its affinity for lint, dust, and pet hair, which can easily become trapped in its short fibers. However, a lint brush or adhesive tape roller can easily rectify such a situation.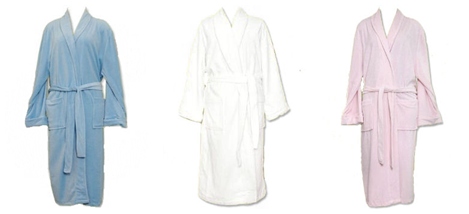 Velour robes are available in both short and long styles. Long robes are the obvious choice for cold-weather wear; a knee-length robe with half sleeves is useful for warmer climates.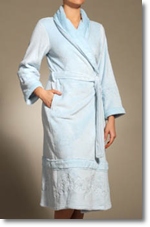 If possible, unless it's your absolute favorite, try to avoid bathrobes with overly trendy prints; these prints will limit the wearability of such a robe as they tend to go out of style quite quickly.
Dark colors, jewel tones, and white or cream are all classic choices that universally flatter almost everyone. And, neutral shades like sand, skin tone, stone and earthier shades never lose their universal appeal.
Bear in mind that dark shades of velour will attract light-colored dust and pet hair quite visibly, while lighter shades will make dark lint, dust and pet hair more obvious.

Wash and Wear...
---
Robes and night gowns should generally be washed separately from all other garments, both to prevent the robe from bleeding its color and damaging the other pieces of clothing, and also to prevent fibers from other fabrics from becoming entangled in the velour.
To protect the velour, always turn the robe inside-out before washing. The belt should be placed in a mesh lingerie bag to avoid knotting and tearing as the washing machine agitates.
Unless it's really soiled, it's really only necessary to use half the recommended amount of detergent.
Avoid detergents with heavy perfumes, bleaches, and other harsh substances.
Remove the womens robe from the washer as soon as the cycle is completed and turn it right-side-out before placing it in the dryer, or hanging it to dry in a well-ventilated area.
Taking these few extra steps will ensure that your velour robe will provide many years of reliable, comfortable, fashionable wear!
Leave velour robes and return to luxury robes

Return to beautiful lingerie