*FTC Disclosure - If you make a purchase through a link on this site, we may receive a small commission on the transaction - at no extra cost to you.*
Best Panties Lace For Your Shape
Panties Lace - There is rarely a lingerie undergarment that makes a woman feel sexier than a pretty pair of panties. Lace panties in particular, are a big confidence booster and perennial favorite of our customers no matter what age.
It's easy to look and feel great, and the choices are almost endless.
From basic full panties and briefs that offer better coverage to peekaboo thongs and g strings, there is a lace panty for every occasion, mood and most importantly, body type.
In this panty guide I'll share tips on how to choose the best panties for your shape and body type...
Panties Lace

Lace Panties For Curvy Women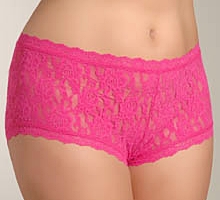 As a woman with curves, your best bet is a lace boy short panty. Boyshorts provide good coverage that "stays put" while slimming the torso.
Another good style is the high-waist bikini panty, which helps minimize tummy bulge and cleverly shifts the focus to your legs.
If, you have a larger midsection, you should avoid low-waist panty styles, like smaller bikinis, thongs, g strings and v strings.
These low rise panties tend to accentuate the dreaded stomach pooch and muffin top - not a sexy look.


---
Panties Lace For Thin Women

If, you have a thin silhouette, a thong, tanga, or bikini panty in lace are smart choices. Why? Here's the trick...
The triangular pattern of these panties creates the illusion of larger hips, while also providing moderate coverage that shows off a flat midsection or tummy.
Hipster panties also create the illusion of more defined and shapely hips and thighs; plus they look fabulous in lace.
Smaller /thinner women are able to pull off most any panty style; that said, be cautious of high-waisted or full panties and briefs that provide too much coverage, as they may hide some of your best features.


---
Panties Lace For Pear Shaped Women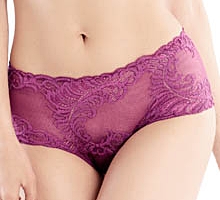 If, you're a pear shape and curvier in the hips, boy short panties are a great choice for your silhouette.
These panties provide ample hip coverage and create length while drawing the eyes upward, away from the hips and mid-section.
Low-waist and low rise panties and underwear like g strings, v strings and tiny bikini panties should be avoided, since these styles draw attention directly to the hips and highlight problem areas.


---
Panties Lace For Athletic Women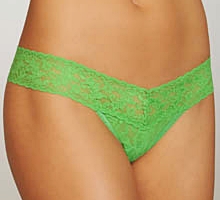 For athletic ladies who tend to lean towards tomboyish underwear, lace panties are a great way to create a more girly and feminine look...plus they're a great way to impress.
Lace thongs, low rise panties, bikini panties, hipster panties, thongs and tangas are all great choices that show off the benefits of working out and being in great shape.
If, you have an angular shape or just aren't very curvy, boyshorts are complimentary and a great way to create the illusion of a curvy waist.


---
Shopping Online on eBay.com

Shopping online for panties lace, low rise panties, womens thongs, panty girdles and your favorite womens panties is easy on eBay clothing.
From bra and panties that match and your favorite exotic panties to bridal panties, granny panties, and more, the selection of underwear and intimate apparel has never been better.
Everything listed is available right now - so if you see something you like, hurry and place your bid.
When you click on a link a new window will open and you'll see a sampling of what's currently available online.
Want to continue lingerie shopping? Just follow the view all items link at the end of the listings...