How To Get The Best
Hipster Panty Fit
Nestled comfortably between bikini and high cut panties, the hipster panty is a medium rise panty that, not surprisingly, combines the best of both panty styles.
Designed to sit at hip level, this popular ladies underwear offers medium coverage and are quite flattering on almost any body type.
The advantage to hipster panties is when they fit properly they won't ride up or fall down, since they're designed to sit low enough that they won't peek over your waistband.
This makes them an ideal choice for many of today's low slung pants, skirts, and shorts; for many women they are the preferred style of ladies underwear.
Hipster Panty Styles

There are several things to keep in mind when buying a hipster panty:
hip circumference
rise
leg style
material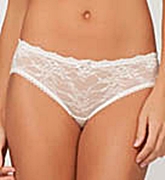 Panties
... will all play a role in the fit and feel, and ultimately how happy you are with the panties.
Many stores won't allow you to try panties on or, at the very least require you to keep your current panties on underneath.
But if you have two layers on, or can't try them on at all, it's difficult to tell how they really fit. After all, you want them to remain comfortable all day long, not just look good in a changing room.
Panties: Hips & Waist

The first thing to take into account is your hip circumference. This may sound odd, but it really isn't.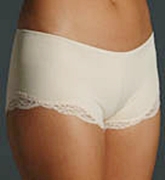 The best way to do this is to take your measurements. The most important measurement when choosing a hipster panty is, not surprisingly, your hips.
Always measure without any clothing on to get the most accurate number possible; not too tight and not too loose; a taut measurement is the most accurate one.
Measure the widest point on your hips, right where the waistband of the panties will sit. Then, when you visit the store you can find the best pair for you based on the hip circumference.
Remember you don't want the panties to be too loose, so when in doubt slightly snugger is the best option.

Getting A Good Undies Fit

Once you've determined your hip circumference you'll need to consider the rise of the panties.
Most hipster panty styles have a similar rise but, like everything there are minor variations from brand to brand or even style to style.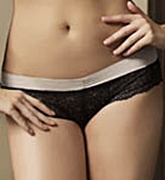 Based on your body type you may need to search a little further for that perfect pair. Do you have a very short waist? Then you'll need panties that have a slightly lower rise.
If, you're quite tall, then you'll need a slightly higher rise, if you want the panties to sit at the widest point on your hips.
Sound confusing? It's not really.
Here's a quick lingerie tip. Compare a few pairs of hipster panties side by side, and you'll quickly see that there are slight variations available.
Keep searching until you find that perfect rise.

Ladies Panties: Scoop or Square Leg

The final thing to consider is the cut of the leg.
Some hipster panties will have a very square leg, designed to cut straight across your leg, while others may have a more traditional scooped leg.
This is a personal preference, however, if you're an active, always on-the-go sort of person, having the square cut style may not be the most comfortable, since it tends to cover more leg and may chafe or irritate you.
You'll be bending all day, right at the point on your leg where your panties sit. In this case a more scooped leg may give you more range of movement.
Not sure which you prefer? Check your current lingerie drawer, which panties are you favorite? What do the legs look like - are they square cut or rounded?
Simple Or Sexy Women Panties

The final thing to consider is the material. While this may not affect overall panty fit, it will certainly affect your comfort while wearing them.
Most people are comfortable in a breathable material, such as cotton, or a cotton blend, and these are a favorite option for day-to-day wear.
If, you want to kick it up a notch and add some sex appeal, a lace panty or sheer panties in lightweight mesh or microfiber have more pizzazz.
But again, this is a personal preference.
If, you're not sure, then take a look at your current favorite panties, what material are they made out of?
This is a good point of reference for what materials work best for you.
At first, finding the perfect hipster panty is not an easy or quick task, but once you find your perfect fit it will be worth the effort.
It may take a couple shopping trips and even a few purchases before you find that one perfect pair, but don't despair they are out there, waiting for you to find them.

Beautiful Lingerie  >  Womens Panties  > Hipster Panty