Padded Panties:
Insiders Guide
Padded Panties - What do Jennifer Lopez and Kim Kardashian have that so many women want? A curvy derriere. It's their calling card. Some women are even resorting to the extremes of plastic surgery and implants to copy their look.
Luckily, there is an easy solution that's less painful than plastic surgery and much quicker than an intense work-out program: padded womens panties.
Today's padded panties are designed not only to enhance and accentuate, but also provide comfort for women who are less endowed in the derriere.
Much like,
Finding a padded lingerie undergarment is not quite as easy as finding a push up bra. Enhancement undergarments aren't often offered in department stores or even specialty boutiques. If you do find them, at best it's a minimal selection. Your best choices are via the internet.


Padded Panties


Padding for panties is made of foam or silicone gel. Silicone pads offer a natural appearance and lifelike touch but foam pads provide the most anatomically correct shape.
Both are available in a wide variety of thickness and diameter for whatever size or contour you'd like to show off.

Padded Underwear Styles
---
There are two basic panty styles that give you the padded option:
Pocket panties are designed with a pocket for each "cheek" allowing you to put in the padding yourself.

You can decide if you want foam or silicone enhancers or buy pairs of each to switch around as you like, which allows for greater flexibility.

This style of panty also allows you to change your mind on what thickness of padding you want and whether you prefer a different contour shape if you wish.

While giving you plenty of choices, the pocket style also have the downside of showing panty lines.

If you don't want the option of changing out the padded inserts or you prefer a sleek and linefree look, then panties with built-in pads are the way to go.

Not only do they come in a multitude of different thicknesses, shapes and sizes, but they can be worn under anything for that seamless look.

Many include an all-in-one body briefer or a panty girdle, which is great for slimming a silhouette.
Both panties are available in almost any cut you can imagine. Popular styles include:
bikini panties
brief panties
open crotch panties
Fabrics used include nylon, cotton, spandex and lace just as in regular underwear choices; though, bodyshapers and shapwear tend to use a heavier nylon / lycra for better shaping and support.


Where To Buy Padded Panties
---
While there are a number of lingerie manufacturers making these types of undergarments, one of the most recognizable names is "Bubbles Bodywear".
Featured in widely circulated magazines and on network television shows, with a great selection of padded panties, they are a leading developer when it comes to enhancing your posterior.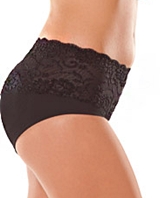 Not only do they have a great choice of different padded underwear styles, they're also IN style with different colors, including a trendy leopard print.
The website includes a comparison chart of style benefits that make it easy to decide which panty best suits you.
Another brand that offers a large array of products including panties in bright and in vogue colors is "Feel Foxy".
Here's a fun lingerie tip - their website offers suggestions on how to help you attain a "celebrity look" when choosing a panty.
Finally, you can also find padded panties on selling sites such as ebay clothing and Amazon; though, when choosing this option it's better to know which style and manufacturer you want.
No matter which brand you opt for, there are a variety of choices and options at your disposal.
The key is finding a pair of panties that gives you the curvy shape you want and that you feel fantastic in.
Remember, it's important to always make an entrance, but it's even more important to make a great exit that they'll remember!

Return to womens panties

Leave padded panties and return to beautiful lingerie