Insiders Guide To Ladies Briefs
Ladies briefs - Offering more coverage than low cut bikini panties or thongs, brief panties are a tried and true classic that many of us wear on a daily basis.
Why? Two words say it all: comfort and reliability.
While some may think these panties are too old fashioned, thanks to new and innovative fabrics such as microfiber, bamboo and lycra spandex, briefs can be just as sleek and fashion forward as other more hip and trendy panty styles. Let's take a closer look.
Brief panties are available in two basic options.
The first are traditional high cut panties that most women are familiar with. These are also called "French cut or French panties".
They're designed to sit comfortably at the waist and provide maximum coverage over the derriere and front.
Ladies Briefs

The second style of briefs is for those who prefer a lower cut with a little less coverage.
These are called hipster briefs. Designed to sit at the hip (hence the name "hipster"), they're a good choice for lower cut jeans, pants or trousers, capri pants, or skirts.
Here we'll take a quick look at the best places to shop that offer the best selection of ladies briefs...

Specialty Stores - La Senza, Victoria's Secret, La Vie En Rose, Jacob Lingerie, Calvin Klein
---
Specialty intimate apparel stores like La Senza, Victoria's Secret, and La Vie En Rose are well known to most women as they're located in major malls throughout North America.
Their ladies briefs often have lace detailing and / or trendier panty styles, which makes them a favorite of both young and mature women.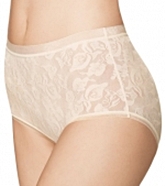 When shopping in person at these specialty lingerie stores, it's important to keep in mind that the price for a single pair of panties more often than not tends to be artificially high.
This is to encourage women to purchase more than one pair "on sale".
One of the most popular promotions that runs at certain times throughout the year includes a "buy three get one free" option that many women wait for when stocking up on their favorites.


Department Stores
---
Department stores like Macys, The Bay, Lord and Taylor JC Penny, Sears, Target, and even Walmart are good places to shop for ladies briefs, especially if you prefer affordably priced brands like Hanes, Bali, Elita, Hanky Panky panties or Vanity Fair panties.
The advantage to shopping at department stores is their best selling panty styles are usually available at most stores, so if you can't find your favorite ladies briefs at one department store, chances are they're available at another store.
Another advantage is that department stores often offer pre-packs or volume pricing throughout the year which is a great way to save money.
So, for example a pair of briefs (or any other favorite style) that sells for $15 individually is often offered at a "buy three for $21" special. Again, this is a great way to stock up on your favorite everyday basic panties.

Don't Forget Fabric & Colors
---
The fabric choices are plentiful:
cotton
microfiber
lace
bamboo
nylon and lycra spandex
...but what about color?
Color choices vary from basic white, cream, black and grey to brighter colors like fuschia, red, green blue, and even floral and print designs; it depends on the season and color choices the manufacturer is offering at the time.
Stores and online shopping often offer multi-packs that allow you to mix and match panty styles which gives you more choices and greater flexibility.

Online Shopping
---
Online shopping is a great option that saves time and money, especially if you're already firmly committed to your underwear favorites.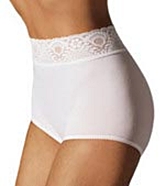 Sites like Amazon, and eBay can compare prices quickly, and you can have purchases shipped right to your door.
But, if, you're searching for something different, then lingerie sites like Herroom are a great option because they have a huge selection of ladies briefs and other panty styles to choose from.
The advantage? You can search by panty style, color, size, or brand which saves time.
Panty reviews posted by customers are also a good indicator as to whether a new lingerie undergarment is comfortable or not, so be sure to check these out as well.
Wherever you decide to shop, take the time to compare styles and prices.
Subscribe to mailing lists for unadvertised insider sales.
Check your weekend newspapers for sales, flyers, coupons and specials, so you can stock up on your favorites for less...a great way to love the lingerie you're in – for less!

Return to womens panties

Leave ladies briefs and return to beautiful lingerie