High Cut Panties:
The Top 5 Brands
High cut panties - In a world where sacrificing comfort for fashion is the norm, hicut panties are a godsend.
For many women they're a tried and true favorite; comfort combined with classic simplicity, which makes them a good option for everyday wear.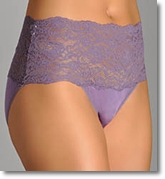 The popular hicut panty ranges from simple and plain, to complex and elegant, making it fit for almost all occasions and moods.

The problem is, how do you know which brand of ladies panties is best?
And, how do you get great quality underwear without spending a fortune?
Not to worry, this article will take a closer look at these questions, and hopefully make your choice a lot easier.

High Cut Panties - Wacoal Panties

Wacoal bras and panties are diverse and range from cotton with lace to all lace panties, giving you a lot to choose from depending on your own personal tastes; attention to detail is fabulous and not lacking at all.
The prices are mid-range from $15-$40 depending on the style of panty, making this a good choice if you`re looking for ladies panties with a bit more panache than regular panties.
Hanky Panky Panties
---
Hanky Panky lingerie is a brand that offers panties, womens thongs and ladies sleepwear of several different varieties.
Their high cut panties come in a wide array of colors, designs and materials; lace is a favorite in many styles. With Hanky Panky panties, it's a choice between vibrant colors, floral patterns, leopard prints and much more.
By far, Hanky Panky offers a better choice for anyone who enjoys wearing vibrant colors. The only qualm, perhaps, is the pricing; so for those who are unwilling to pay close to $40 for one pair of panties, Wacoal may be a better option.
Bali Panties
---
Another rather popular and much-loved brand is Bali bras and lingerie. They too, have a lot to choose from, but their big advantage over other brands is that they have different collections for different purposes.
For example, their No Slip style offers panties that don't fall down or ride up.
Practical in fabrics like plain cotton and nylon, though not glamorous, Bali bras and lingerie do have a lot to offer in terms of basics and functionality and are a great option for everyday wear.
A major advantage of this brand is they're well priced in the $9-$20 range; for people on a budget, Bali panties are a great choice.
Hanes Panties
---
Hanes Lingerie is a well-known and trusted brand in the lingerie and intimate apparel world.
A true workhorse that has been around almost forever, Hanes is known for their everyday wear brassieres and womens underwear.
It offers a modest range of womens panties with a few different colors and designs that often come in an affordable three pack.
They are not the most sensual style available, but for people who are looking primarily for comfort and function in basic cotton panties, this is a nice brand with affordable prices in the $10-$15 range.

Vanity Fair Panties
---
Lastly, a brand that almost everyone will have heard of is Vanity Fair lingerie.
Unfortunately, Vanity Fair doesn`t offer a lot of choice or diversity in their womens underwear, but they are extremely sleek and comfortable, and have a reputation as a solid favorite among women seeking a practical cotton or lightweight nylon panty style.
An everyday must-have for those who value a more low-key underwear for everyday wear that's affordable, these high cut panties retail for under $10.
So, if you value comfort above all else and are not willing to pay a lot of money, Hanes is most likely the brand, or even Vanity Fair lingerie if you want a little more style.
Hanky Panky and Bali panties are good choices for those looking for a more elegant and adult look, with Hanky Panky being slightly more expensive.
Whatever you're looking for in high cut panties, Wacoal lingerie offers, by far, the most extensive range and level of quality for the best price.
The world of lingerie and underwear can be quite intimidating for some people.
It is a common misconception that, if you want an excellent quality product, you will have to pay a fortune, but that`s no longer true.
There are brands that cater to many different styles in every price range; in lingerie, it`s nice to know that there is something that will appeal to even the most discerning up-and-coming lingerie aficionado!

Return to womens panties

Leave high cut panties and return to beautiful lingerie