*FTC Disclosure - If you make a purchase through a link on this site, we receive a small commission at no extra cost to you.*
Low Rise Panties - A Guide To The Most Popular Brands And Styles

Low Rise Panties - As fashions have changed over the years to with the popularity of low rise clothing styles, lingerie has answered the call with an entirely new category of womens panties.
Low rise underwear have become a hit, and a lingerie drawer basic for so many of our customers.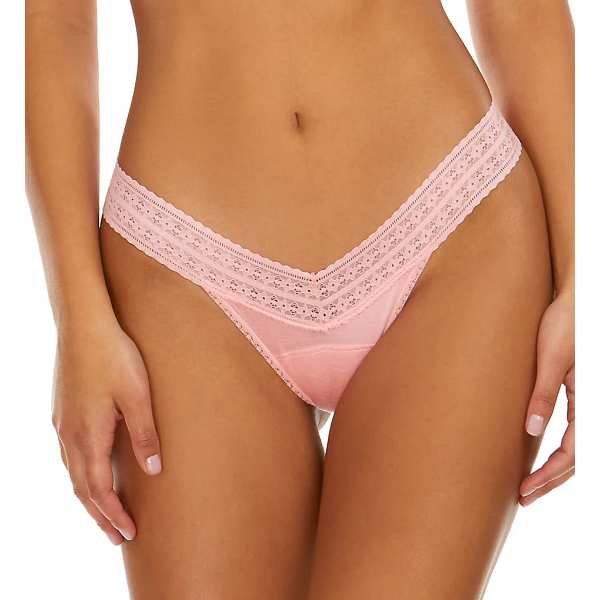 Sexy and comfortable, women love them for fashion, for comfort, and for their sleek form-fitting fit and feel.
And men? Well, men just love them because they're incredibly sexy!
No matter what your reason for wearing, admiring or oogling these beautiful panties, there a several lingerie manufacturers that offer different styles, fabrics and colors to suit every occasion and wardrobe need.
In this article, we take a closer look at six popular low rise panty styles and brands that stand above the rest.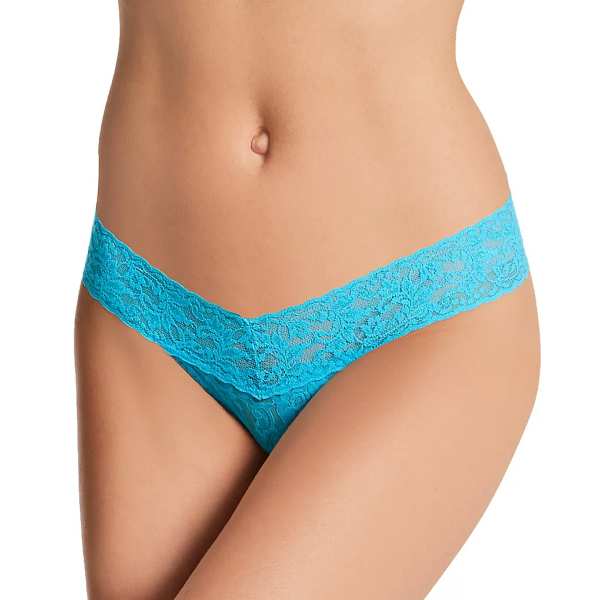 Low Rise Panties - The Popular Picks

Low Rise Thong
When it comes to fashion forward, soft and comfortable undies, Hanky Panky is, hands-down, a Love of Lingerie favorite.
What are they best known for?
One of their signature panties, the 4911 low rise lace thong that offers an effortless feels-like-it-isn't-there feel and fit.
Hanky Panky also has one of the largest selections of other low rise styles - from thongs & bikini panties to boyshorts, v-kinis and more. 
Their sexy lace panties come in over 45 colors and prints to tempt even the most discerning lingerie diva.
Why we like them? With so many undies to choose from, you can mix and match different colors with your favorite bras for a different look every day.
---
G String Panties

The best way to describe Calvin Klein panties is much like Calvin Klein himself - sleek, sophisticated and always on trend.
Noted for neutral colors and earth tones in soft and stretchy fabrics that are perfect for everyday and dressy wear, these low rise panties come in a variety of low rise panty styles.
If, you're in the mood for seamless low profile panties designed for a comfortable fit, Calvin Klein g strings are a great choice.
---
Low Rise Bikini Panties
Commando – featured in magazines like O and Glamour, Commando panties are a great choice if you prefer a sleek and tailored fit.
While Commando doesn't offer a lot of styles, seamless sides, tagless and laser cut edges provide an almost invisible fit which makes them ideal for your tight or sheer pants and clothing.
Several styles are latex free which is a huge benefit to customers with sensitive skin, or who have an allergy to latex.
---
Love of Lingerie Tip

Be sure to check size charts on panties before buying. Panty sizes can vary a lot from one manufacturer to another.

---
Tanga Panties
Natori – smooth with a hint of sophistication, Josie Natori panties combine modern design with a great panty fit.
Available in a number of fabrics such as stretch lace, lightweight cotton and nylon / lace blends in several basic and bright colors.
Soft and comfortable low rise styles include thongs, g string, low brief and hipster panties that are designed to lay flat for a smooth and almost invisible look.
---
Boy Shorts

When it comes to beautiful lingerie, Cosabella comes from Italy with love.
Cosabella panties offer one of the best combinations of European sophistication with American styling.
Styles include boyshort panties, bikini briefs, thongs and Brazilian minikinis.
These low rise panties come in sweet and sexy contrasting colors like fuschia / burnt orange, sheer nude / black, and pink / lemon.
Fabrics such as scalloped lace, baby fine sheer mesh, delicate cotton and soft stretchy nylon offer flat seams with an invisible hug-me fit.
---
Hipster Panties
Hanes – designed with comfort, practicality and affordability in mind.
Hanes cotton panties cater to women who prefer simplicity over sexy in their underwear drawer.
Low rise styles include hipster and bikini panties, boyshorts and thongs.
Hanes low rise panties provide more coverage than other lingerie brands, and come in a variety of basic colors.
Several panty styles are also available in 3 or 6 pair multi-packs.
---
Shopping Online For Low Rise Underwear

Shopping online for low rise panties, lacy panties, and boy shorts is easy on eBay clothing.
From bra and panties that match to wedding underwear, granny panties and g string panties, the selection of underwear and intimate apparel has never been better.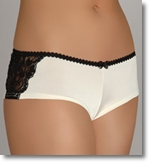 When you click on a link a new window will open and you'll see a sampling of what's currently available online.
Everything listed is available right now - so if you see something you like, hurry and place your bid.
Want to continue lingerie shopping? Just follow the view all items link at the end of the listings...