The Best Brands of
Boy Short Panties
Boy short panties - Who says boys get to have all the fun? With so many different styles and brands of boy short panties for women, now you can have the comfort and freedom that your boyfriend or husband does in his favorite boxers, made with you in mind.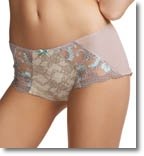 Not as full as briefs, yet offering more coverage than womens thongs these womens panties are designed to fit like a pair of shorts with all the comfort and protection of a full brief panty, and lots of extra style.
Designed to offer comfort and support, traditional womens boyshorts sit higher up on your tummy, perfect for hiding a tummy bulge.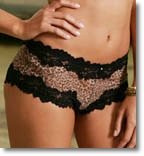 They offer moderate rear end coverage and a comfortable, secure close fit on the legs with hemmed edges.
However, many brands are also offer a low rise option for those who want the support with a sexier fit.
Panties go beyond just underwear, with it's versatile style they are the perfect bottoms for lounging at home and are a popular choice to wear with your yoga, Pilates or work out clothes.
And with brands ranging from high end to true value, you can find the perfect pair to meet your needs, style and budget.

Shopping For Boy Short Panties

Let's take a closer look...
Victoria's Secret - well known for many styles and colors. Ranging from cute comfort, with their Pink collection, to flirty and daring with their Dream Angels, Victoria's Secret offers well know trusted lingerie.
Calvin Klein - for a luxurious splurge, Calvin Klein's Infinity Flex Cheeky or Glamor and Lace short will have you feeling like a supermodel and looking like one too.
Jockey offers a wide array of boyshorts to fit any need. Their Modern microfiber boyshort fits like a second skin. With it's breathable materiel it is the perfect choice to wear under form fitting clothes or while working out.

Maidenform - long known as the go to brand for comfort and style, Maidenform offiers boyshorts that are not only flirty and sexy, but smooth and slim too.

For ultimate sex appeal choose their Charmed Cheeky style. With sexy lace and mesh sides, comfort is not sacrificed with this sexy option.

Their One Fab Fit and Flexible Comfort Fit allow for maximum comfort while still paying attention to sexy details like lace trim legs or cute bows and the hips.

By far their most popular panty is the Dream Short. These satin shorts have hidden features that smooth and slim your tummy and hips and offers a lift and definition to your rear end.

Instead of being called Dream Shorts, Maidenform should rename them The Miracle Short.

The Gap - for ladies who are looking for a panty that is ultra-low and similar to low rise panties , Gap Body offers both traditional boy short panties and an ultra low rise option.
Old Navy - Old Navy takes a fun twist on these possible panties and sells them along with a cami for a popular lounge or sleep option.

Even retailers such as Target, Kmart and Walmart sell these versatile panties. At stores such as these you can find great value since most of basic boyshort panties are available in an affordable three pack option.

Panty Materials


Materials ranging from nylon, microfiber, cotton, lace or silk make finding the perfect panty as easy as one, two, three.

No matter if you choose no nonsense white cotton, romantic lace, or a fun, fierce leopard print, these popular panties are the ultimate find for comfort and style.

No more stealing your boyfriend or husbands boxers to find a comfortable pair of lounge undies. Women of the world now have their own.