Bride Lingerie
Bride lingerie...you've chosen the perfect wedding dress for your dream day, and need some help choosing the right intimate apparel.
Can't decide between a traditional white strapless bustier, pearl sheer bustier, bridal corset, or one of the more practical long line bras for your gown?
Not to worry, once you understand the different elegant bridal lingerie brassiere, corset, bustier and bra styles, and which intimate apparel to look for your wedding dress, your shopping trip will be so much easier...

Bride Lingerie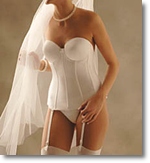 Often overlooked but incredibly important, one of the most important choices you as a bride will make is the foundation wear you decide to wear under your wedding dress - the bridal undergarments.
Will you wear the traditional lace and satin or silk underwear ? What is the look of your wedding gown? Sexy or traditional?
Some brides decide to opt for the ultra sexy look of an open bra and matching g string panties, while the majority choose the traditional route.

An example of this would be an an elegant silk bridal bustier and matching garter belt, or camisoles and cami sets, or silk panty set, the choice is yours...
So, how do you choose? Be true to your personality, and remember comfort is key.
It can be a VERY long day in a scratchy bridal bustier or satin bra that isn't soft and comfy! Above all, choose a wedding lingerie brassiere or bra style that fits your shape well and is absolutely smooth for a nice sleek look.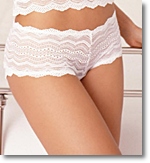 Look for bridal and wedding lingerie undergarment styles that will flatter your curves and amplify your assets.
A wedding dress corset or victorian bustier corset with matching panties and garters is a popular choice, and a wonderful way to enhance your silhouette.
Lingerie tip - corset and bustiers are a super choice to wear under your wedding dress, since they ensure a smooth shape, pushing your breasts upward, and forcing you to stand up straight.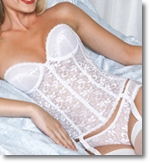 Whichever wedding bustier, brassiere or corset style you do choose to wear under your wedding dress, it is wise to opt for bride lingerie and undergarments that are completely smooth for a more finished and tailored look.
It's also a good idea to bring any brassieres, panties or any bridal undergarments that you buy with you to all of your wedding gown fittings, to ensure a perfect fit!

Shopping For Bride Lingerie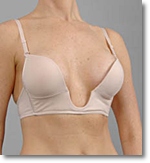 Allow yourself plenty of time and don't rush...it's not a race.
Start by visiting the bridal lingerie and/or bridal sections of department stores in your area like Macy's or Neiman Marcus.

The elegant bridal lingerie selections in these stores may be limited though, so be prepared to shop at several stores.
You can also shop online where you'll find far better choices and sizes, particularly if you're curvier.
Many online stores now carry plus bridal lingerie, as well as regular sizing. And the bonus is you can do all of your wedding lingerie shopping 24/7, from the comfort of your own home.
When shopping online, be sure to double check sizing charts, and return policies.
If you're really daring, opt for an open bustier and matching sheer bikini panty. Feeling a little less risque? Choose a more subdued silk chemise or sheer chemise with lace bra and panties that match for your romantic vacation after the ceremony.

Bridal Lingerie - Quick Links

Bridal Undergarments - Choosing the right bridal undergarments and bride lingerie are an important part of any wedding dress and special day.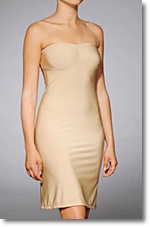 Bridal Bustier - A bridal bustier or wedding corset is a favorite of brides everywhere that provides a smooth and fitted look under virtually every wedding gown.

Bridal Nightgowns - Whether it's a silk nightgown, satin chemise, or satin and lace lingerie, your wedding night lingerie should be sexy, soft, and special.

Plus Bridal Lingerie - curvy women have a fabulous variety of plus size lingerie options available for their wedding day lingerie. Here we offer suggestions and intimate apparel advice.
Beautiful Lingerie > Bride Lingerie