How To Find And Pick
Womens Robes
Guide To Womens Sleepwear And Robes
---
Womens robes have always been a popular ladies sleepwear choice, whether it's a luscious long silk robe or a crisp short cotton robe.
From long robes in cosy cotton to short robes in sexy satin, there are a multitude of robes for women to suit every personality and taste.
Whether plain and functional or rich and luxurious, ladies robes are the height of comfort and affordability since they are come in a wide variety of styles, fabrics, sizes and prices.
As a result, it is virtually impossible not to find a womens robe that you'll love. When shopping for this favorite womens sleepwear one of the most important questions is what will you use it for?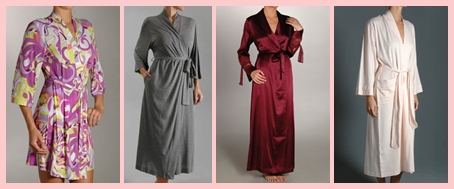 Will it be dressy or plain, romantic or casual? Will it be used to dry yourself off after a relaxing bubble bath or shower?
If, this is the case, then terry cloth robes or spa robes are great options that are absorbent, comfortable and incredibly soft on your skin.
Or, do you want a thick robe to wear over your pajamas to keep toasty warm?
If, you live in a colder climate or just like to be cozy warm, then a flannel or chenille robe is a good choice as they are thick, fluffy and very soft.

Take your time and look through these robes and find the best one for you...

---
Spa Robes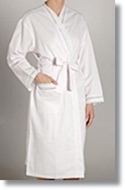 Spa Robes - are another luxurious yet comfortable style of intimate apparel.
These plush robes come in cool and soothing shades of white and neutral tones.
They are most popular with an outer lining of microfiber and an inner lining of soft looped terry cloth.




---
Down Robe


Down Robe - Ultra light, practical and luxurious, this womens sleepwear style is both sleek and toasty warm.
Down is a natural fiber that is light and soft and comes from the under covering of geese or ducks.
It is used for insulation in a variety of coats, duvets and of course womens robes.



---
Long Robes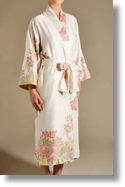 Long Robes - these robes are a wonderful choice that keep the legs covered and keep you warm.
They offer a greater degree of modesty than short robes and are optimal for dorm, co-ed and college living.
If, you live in a cold climate, opt for long robes in warmer, cosy fabrics like flannel, chenille, down or even luxurious cashmere.


---
Short Robes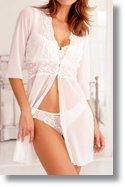 Short Robes - For today's busy woman, short robes are easily one of the best lingerie wardrobe choices.
Why? They are the perfect complement to night gowns, womens pajamas, camisoles, and bras and panties.
A fabulous alternative to popular long robes, the short robe provides a greater range of movement and flexibility.



---
Satin Robes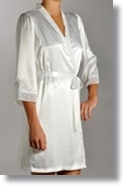 Satin Robes - offer practical comfort with a touch of glamour.
Sturdier than silk, satin fabric is a combination of nylon or polyester fibers spun to present a smooth and glossy sheen.
Satin sleepwear is often sold as a set with matching satin nightgowns or satin pyjamas.


---
Kimono Robe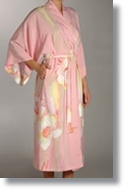 Kimono Robe - are fluid and lightweight and are usually quite dressy.
These silk or satin robes are often offered in a wrap design with an exaggerated print.
Floral prints and bold colors are favored by many for their glamorous look and old world feel.



---
Fleece Robes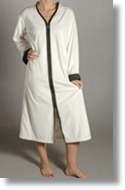 Fleece Robes - and chenille robes are best known for keeping you warm on a cold winter night.
Fleece and chenille are thick and cuddly cotton fabrics that hold body heat and help prevent chills.
Tempting colors range from cool spa white to candy apple red and virtually every shade in between.



---
Silk Robes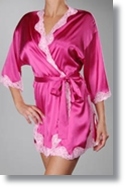 Silk Robes - Silk robes are the ultimate in luxury and sophistication. Silk sleepwear is lightweight and incredibly soft on the skin.
A favorite of many for traveling and as loungewear, these luxury robes make wonderful birthday, anniversary, and "because I love you.." gifts.




---
Cashmere Robes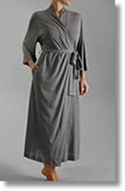 Cashmere Robes - Cashmere robes are the creme de la creme of luxury robes and make wonderful gifts for holidays, anniversaries, birthdays and just because.
Well known for its fine texture and soft feel; it is a strong fiber and provides a high degree of warmth that insulates very well against cold and drafts.




---
Terry Cloth Robes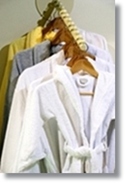 Terry Cloth Robes - Terry cloth robes are one of the most popular and affordable bathrobe styles on the market today. This womens robe style comes sized to fit every adult, teen or child.
Often called spa robes, the thick, nubbly texture of cotton terrycloth fabric does a great job of removing excess moisture from the surface of the skin.



---
Plus Size Robes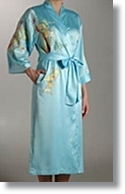 Plus Size Robes - are available in a fabulous assortment of styles, fabrics, colors and sizes from 1X to 3X and beyond, just like their smaller size counterparts.
These womens robes are often sold as part of a matching lingerie set. A variety of styles and fabrics can be lined or unlined to suit the purpose.



---
Hooded Robe
Hooded Robe
- are a long time favorite of both men and women who enjoy the luxury of thick and soft velour or favorite cotton fabric.
These womens and mens robes are one piece bathrobes with a connected hood.
Great for slipping into after the shower as they are made of absorbent cotton, terry cloth or velour fabric, which are all designed to dry you off quickly and keep you cosy.


---
The mens and womens robes listed above will give you a good idea of the styles that are currently available.
Whether you want to purchase a simple cotton robe for yourself or a luxurious silk robe as a gift for your sweetheart, you cannot go wrong with the choice of beautiful and comfy bathrobes.
They make wonderful gifts and are available in a variety of styles, and fabrics to suit every personality and taste!


Leave womens robes and return to exotic lingerie

Return to girls robes